Taking the AWS for Telecom experience to the next level at MWC23.
Challenge
The GSMA Mobile World Congress (MWC23 Barcelona) is the world's largest exhibition for the mobile and tech industries. It's also a key opportunity for AWS to demonstrate how they're helping telcos and their customers to transform and digitize.
As a trusted long-term partner to AWS for Telecom (and other AWS IBUs), JPC's played an intrinsic role in their MWC presence for a number of years now, helping them to generate better engagement through digital activations and a strong brand presence. But this year, we really wanted to raise the bar. Taking their industry-leading demos, innovative and engaging customer stories and thought leadership to the next level.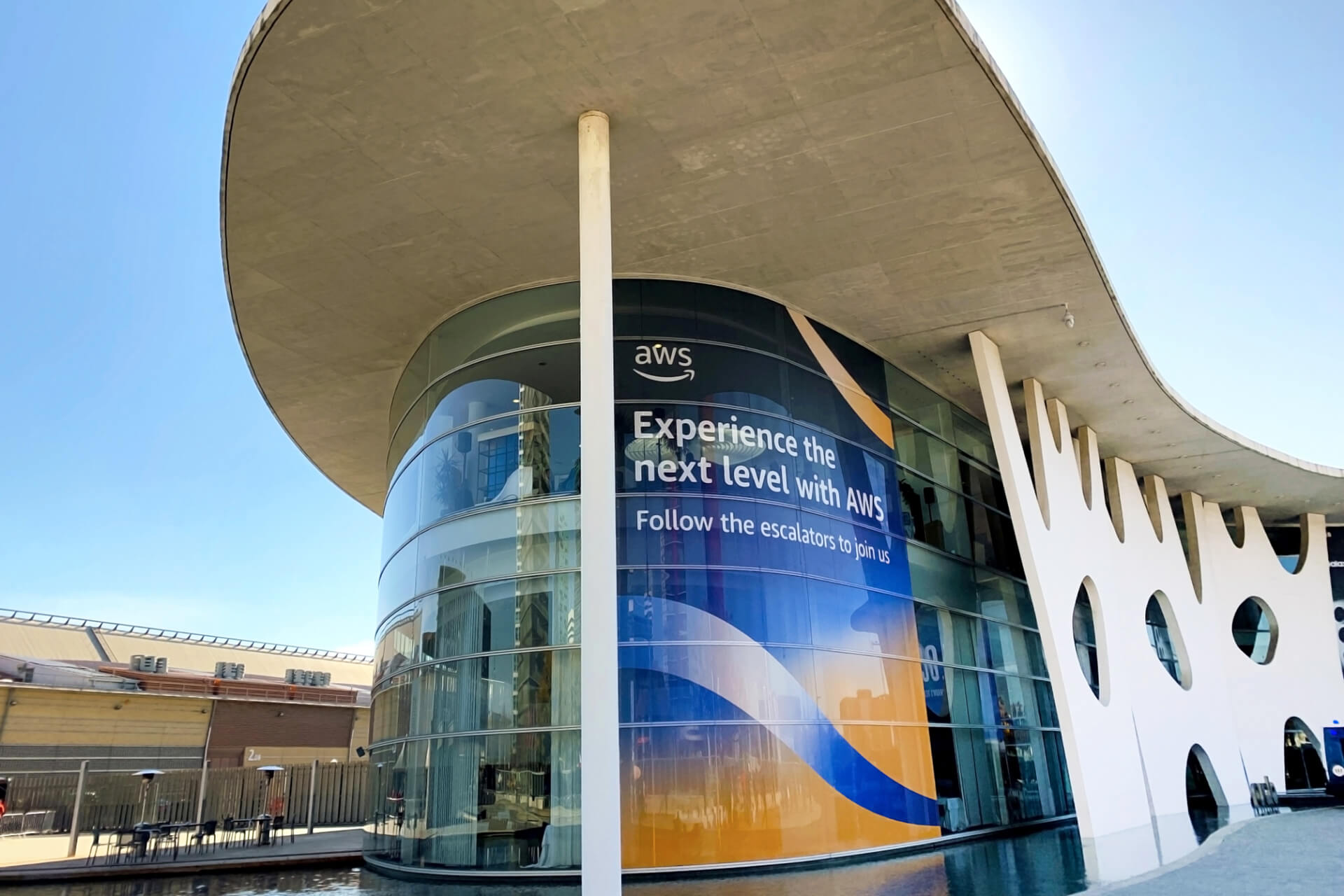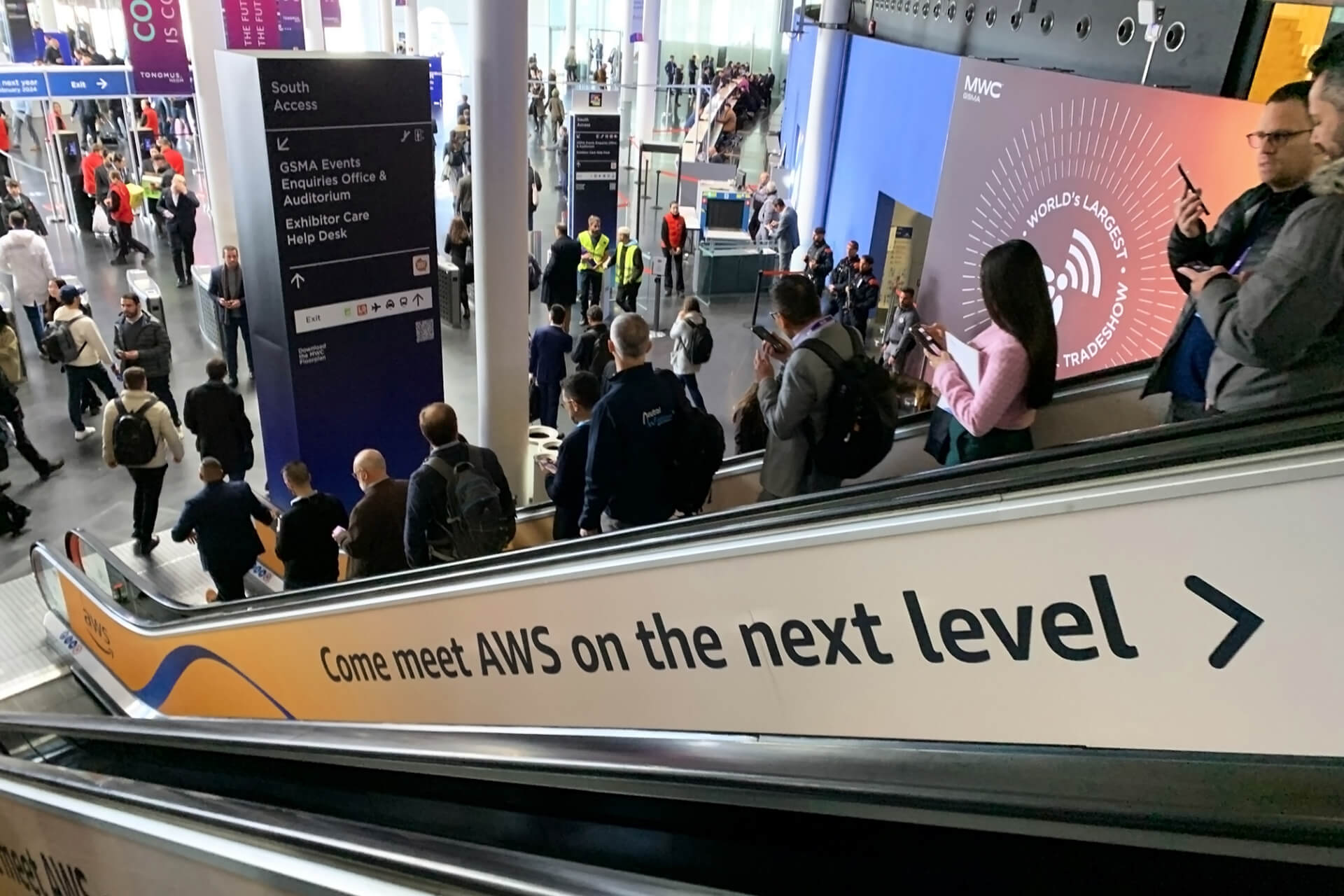 Solution
Building on the MWC23 theme of Velocity, unleashing tomorrow's technology – today, we created a naming and messaging platform – 'The Next Level' to underpin AWS's entire show presence. Delivering the bold promise that AWS are raising the bar on what's possible for CSPs, while also metaphorically linking to their unique upstairs location 'on the next level' at the FIRA.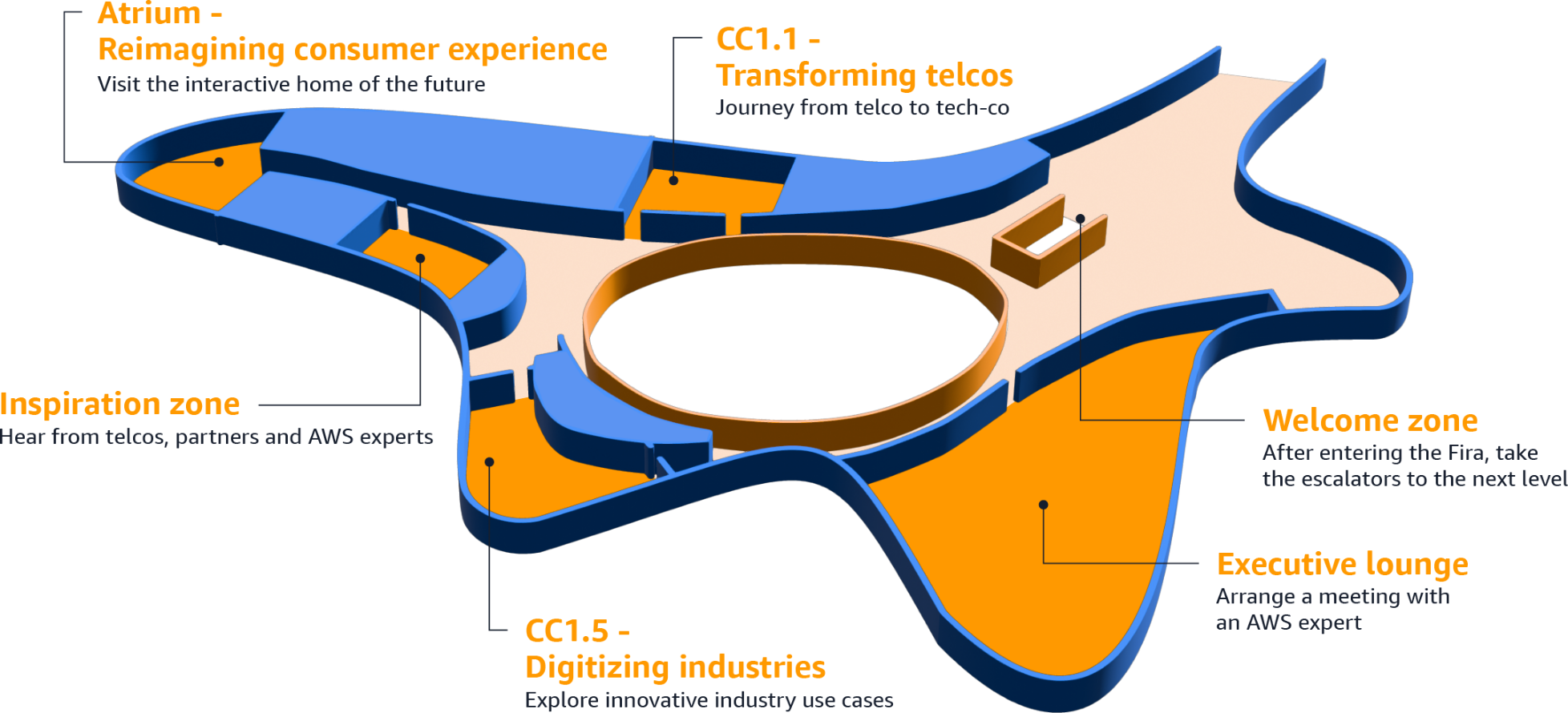 Then we turned our attention to the customer journey, helping AWS deliver a seamless and intuitive customer experience throughout the next level, focusing on 6 key engagement areas:
Welcome zone – with bold branding across the event space, driving engagement and enticing attendees upstairs to visit AWS. Once there, we delivered a social engagement wall with a 90" monitor displaying wayfinding and event promos
Digitising industries – an innovative, interactive zone that brought to life AWS' private networks capabilities with 7 key customer use cases—featuring real-life examples of robotics and virtual and augmented immersive experiences
Transforming telcos – taking attendees on the journey from telco to tech-co via interactive demonstrations, innovative tech and deep dive slideware
Reimagining consumer experience – including an immersive smart home experience showcasing key customer stories, complete with smart curtains, smart glass and even sensors in the couch to activate your favourite TV settings and viewing ambience
Inspiration zone – where attendees could relax with a chat-show style theatre and studio area, all filmed for post event sharing
Executive lounge and meetings area – an engaging VIP area with branded private meeting rooms and executive breakout space
4. Reimagining consumer experience
6. Executive lounge and meeting area
Alongside the naming platform and journey, JPC were tasked with developing the narrative for each of these areas, offering joined-up messaging, with accompanying graphics and refreshed branding. And to drive engagement before the event, we developed the content collateral, from attendee guides, to demonstration decks, videos, social and landing pages. With a quick refresh to the AWS for Telecom website as well, we were able to support the content and drive further engagement post event.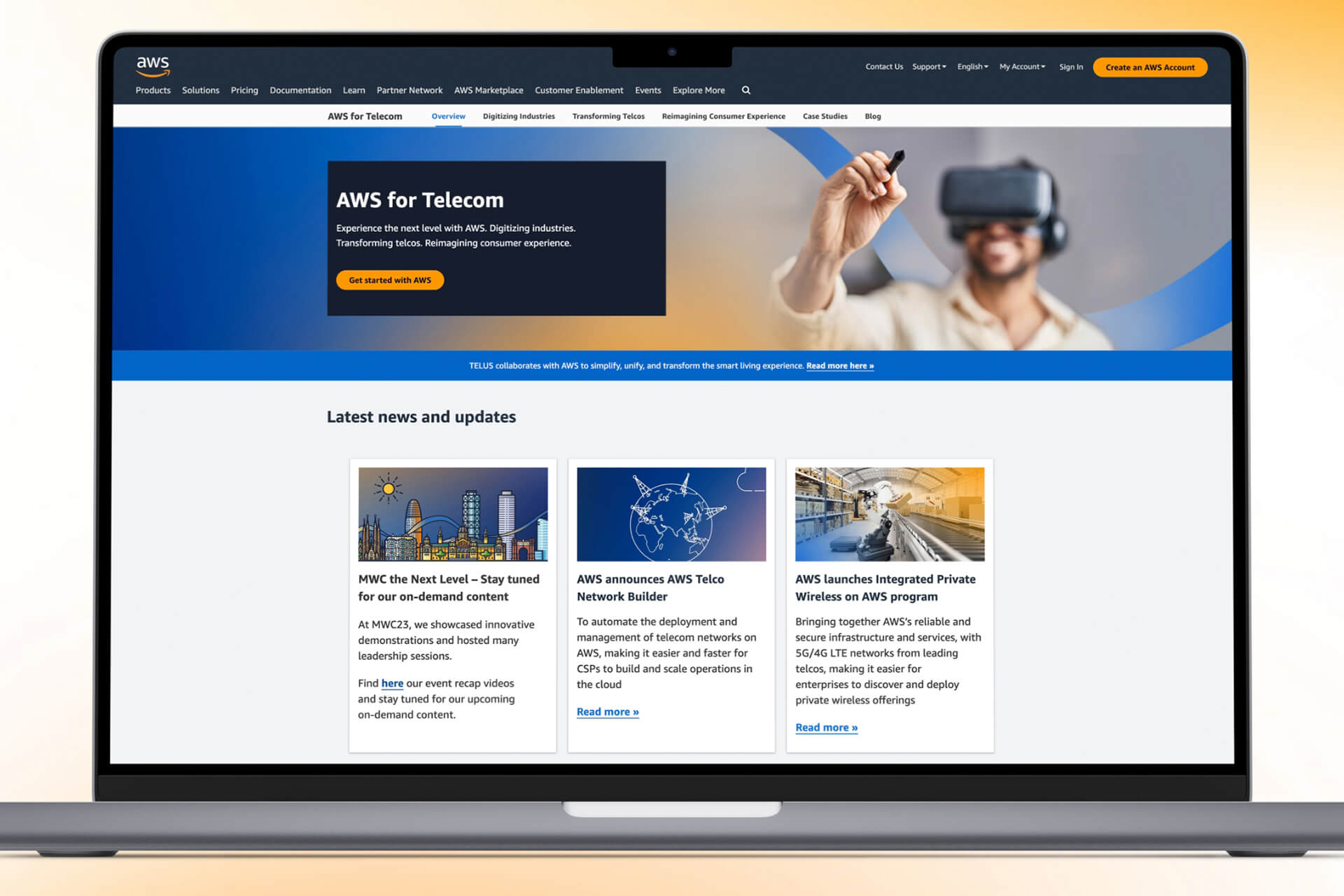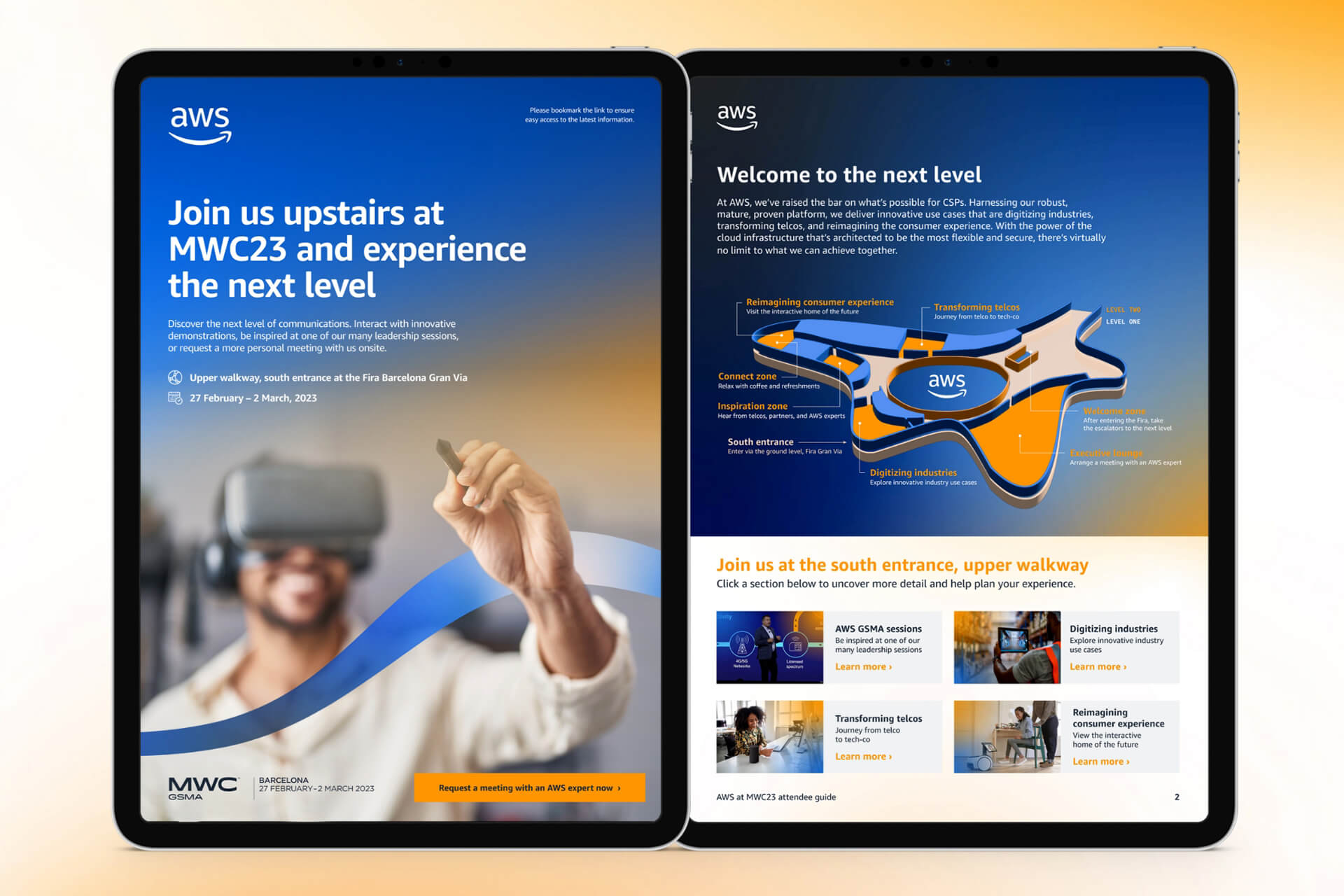 Outcomes
MWC23 was visited by 88,500 in-person attendees from 202 countries and 2,400 journalists and industry analysts. The constant buzz around the AWS 'next level' experience showed our event strategy had done the trick. Meanwhile, the AWS team were delighted with the clarity of messaging, the cohesion of the customer story, and the interactive and engaging nature of the demonstrations.
Overall, the AWS presence was seen as a major evolution from 2022, with the next level theme resonating so well that it's been introduced as key campaign messaging for AWS for Telecom throughout 2023. It even led to an article from Light Reading suggesting that AWS might have 'won MWC' – read it here.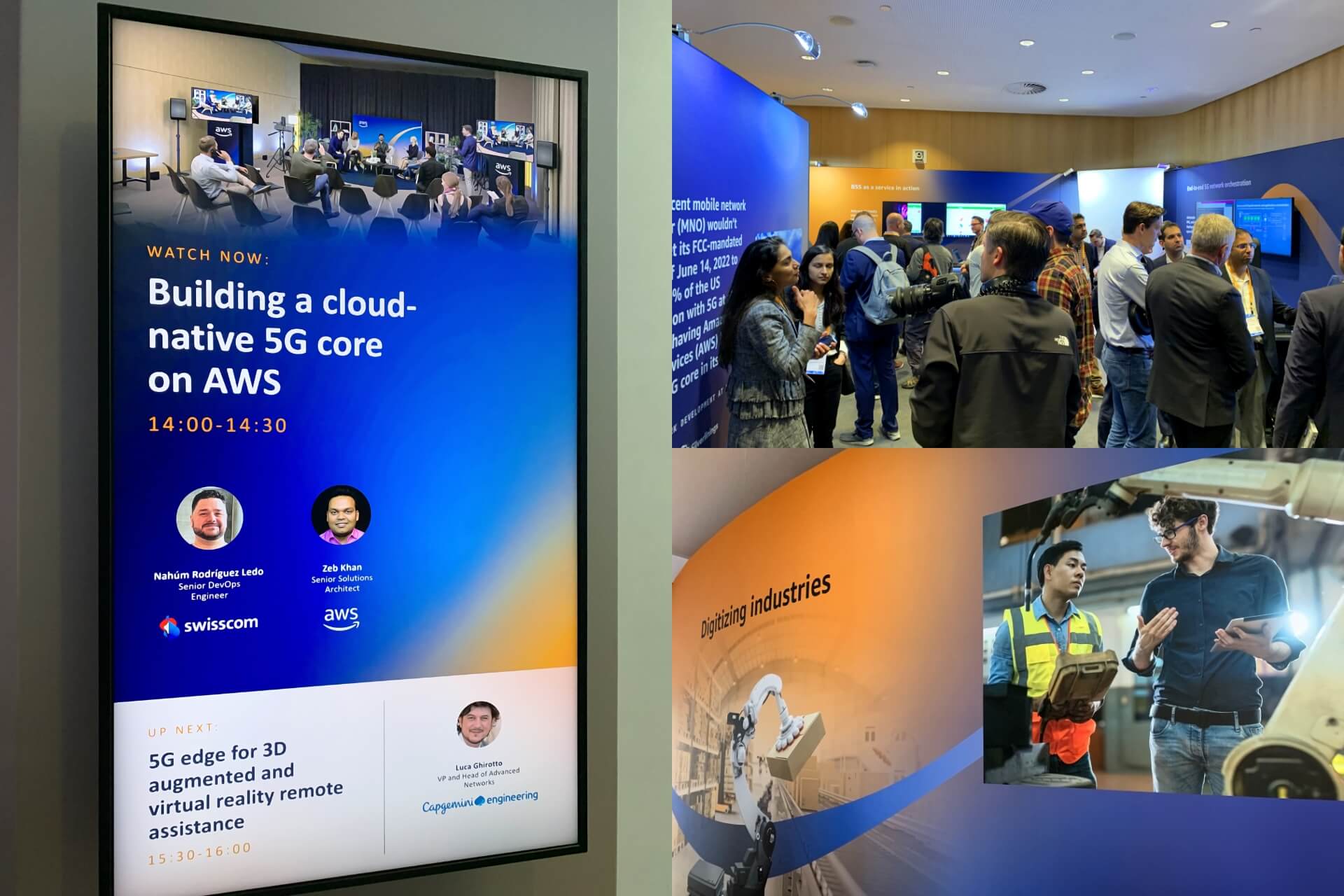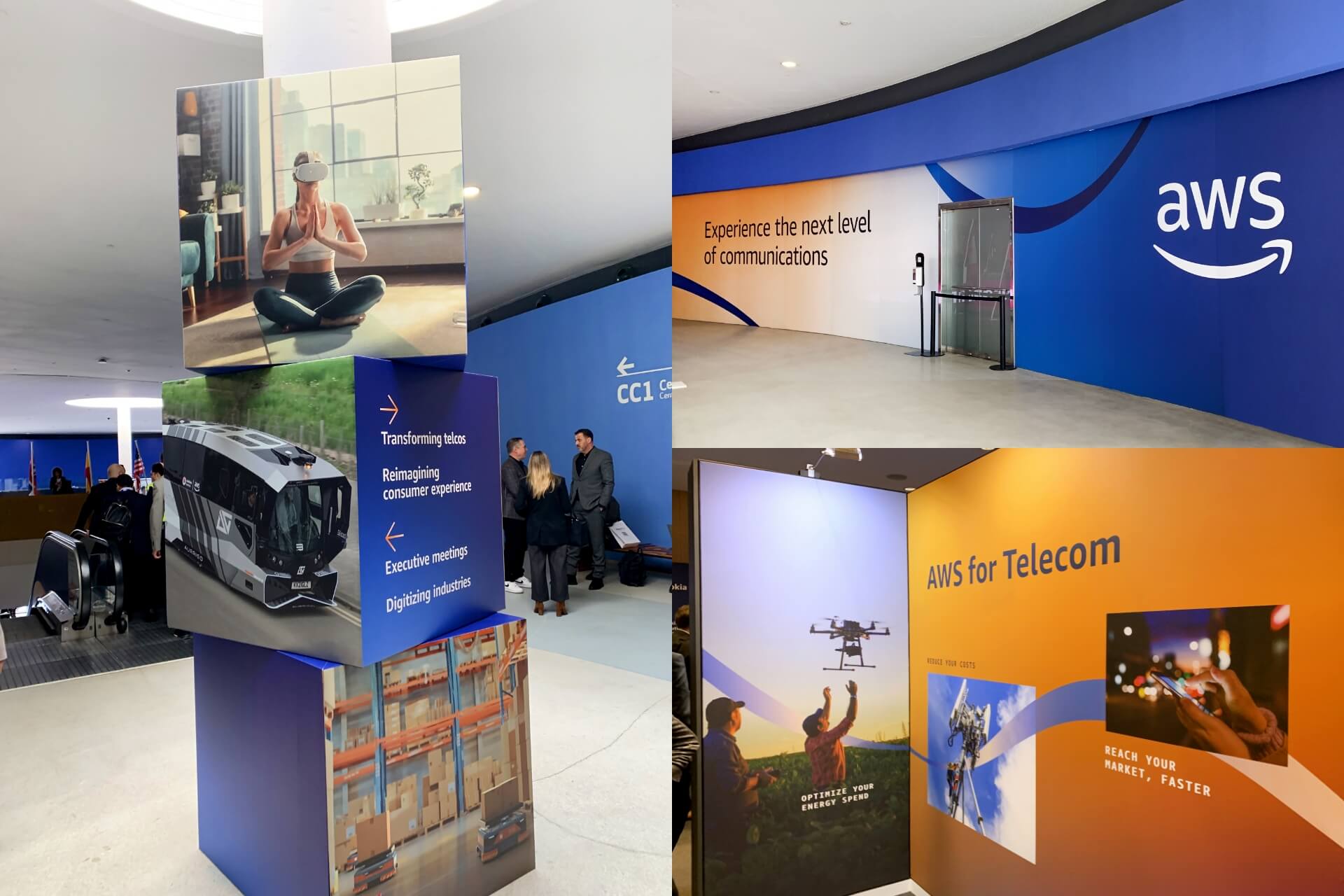 "We are still recovering from last week – but I can already clearly say that it was a BIG success!!!! The feedback from customers and partners was amazing and they all liked our presence at the event and the e2e storytelling! You really brought our different stories and demos to life! Thanks again for everything!!!"
Dafna Yanay
Head of Marketing, Telco at Amazon Web Services (AWS)