Your digital experience may be excellent, but are you catfishing your customers?
Are you catfishing your prospective customers? 'Catfishing', or, according to an informal dictionary definition 'luring someone into a relationship by means of a fictional online persona', is common in online dating (or so my sons tell me…) but you may not realise that it's rapidly becoming just as prevalent in the corporate world.
Can you be confident that your company's face-to-face offering lives up to the promise of your digital experience?
Are you ready for the era of B21?
It's no shock to hear that the consumer is rapidly evolving. We want the Amazon-on-steroids, personalised, customised, 'what's in it for me?' completely integrated experience, whether we're buying shoes, a car, or business solution.
Which means that the lines between B2B and B2C are blurring, as a new era emerges. Marketo recently described this as B2E – 'Business to Everyone', but at JPC we call it the era of B21 ('everyone' kind of assumes we're all still the same, which is counter-intuitive to the self obsessed consumers we're all becoming!), and it's characterised by an ever-rising focus on the holy grail end-to-end customer experience.
Many organisations are turning to digital, data and AI to try and meet rising expectations. And, if judged on their digital experience alone, these organisations might seem like your perfect corporate match. They share the perfect content and give you everything you want, right when you want it. They really do seem to be in tune with your needs…
So you might be smitten with the seamless digital interactions, but what happens when you meet their sales people for the first face-to-face 'date'?
Disconnected physical experiences are losing you sales
For many customers – the moment they walk into the room for any form of physical sales interaction, the illusion is shattered.
In stark contrast to their digital interactions with the company, there's often a glaring disconnect! That business that built such a great rapport suddenly seems to know nothing about their customer. They break out the 100-slide dated PowerPoint deck, last updated a decade ago, and drone on endlessly about all the great features of their technical products or awards they've won! The customer's eyes glaze over and they start daydreaming about escaping this date from hell through the toilet window! And as for the business – in that final critical decision-making moment, they've not only lost the sale, but they've also damaged their reputation by highlighting an unforgivable gap between their online CX promise and the realities on the coal face.
How can you make the face-to-face experience better?
The face-to-face experience is often key for closing the sale. 93% of communication effectiveness is determined by non-verbal cues and while you might be talking 'business' – we still ultimately engage with people. We better remember experiences that engage different senses and create a more emotional connection. Which is why when we can experience something first hand, we are much more inclined to buy. So much so, that 87% of professionals believe F2F events are essential for sealing a business deal. And 98% of people feel more inclined to purchase after attending an activation.
It's not that digital isn't important. It's vital of course, in this day and age, that your digital experience is delivering and it can offer you exceptional insight to better target and personalise your CX, but the real magic happens when it's backed up by an equally personalised and innovative face-to-face experience. Then you can close the loop and reassure the client that you can deliver what you promise.
This was the approach we took to help Brightstar, a global communications company, disrupt perceptions at Mobile World Congress last year – moving them from being seen as a logistics/supply chain business to a strategic value partner.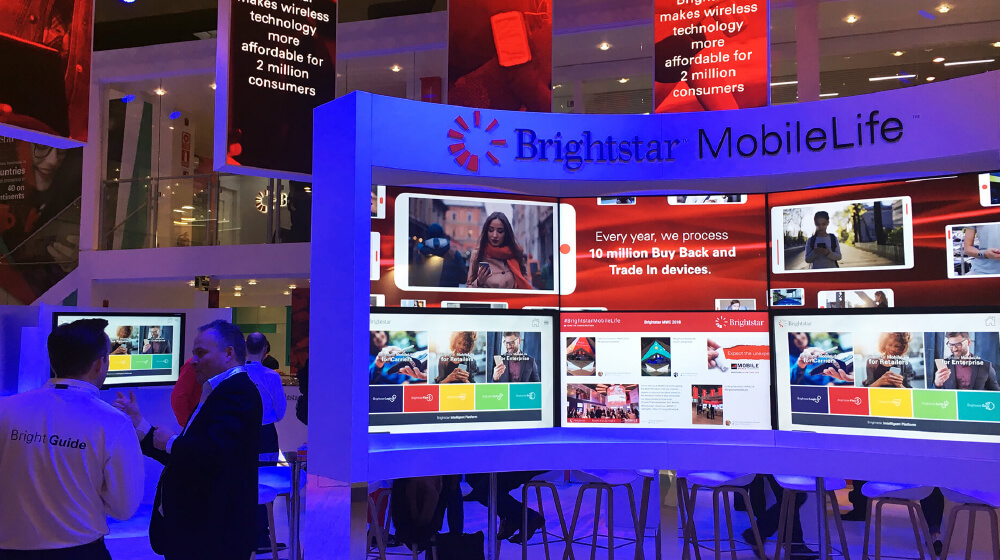 See how we created a simple, humanised and highly personalised content platform, designed around individual customer outcomes, for leading mobile services company Brightstar at the world's largest exhibition for the mobile industry.
We translated complex propositions into simple, digital interactive 'day in the life of' immersive customer journeys that allowed users to explore scenarios and outcomes from the viewpoint of multiple stakeholders, while also offering a deep dive of the solution that was sitting behind this and enabling these potential new outcomes.
It also offered a flexible and adaptable journey for every visitor, while completely changing the dialogue for our client with their target customers.
Most critically – the entire experience was designed to be just that. An EXPERIENCE that the customer can control, instead of a controlled passive presentation environment. Are you delivering a connected customer experience?