Office Refurb – Chapter 2
WOW!
We are nearly there! In the past few months we have seen some pivotal changes taking place in our workspace. From transforming modular tables to spatial branding designs, we've seen it all!
And we're ready to share the process, and all the nitty gritty details that have pushed the studio to the finish line.
We loved our old office, but unfortunately there was ineffective use of space, and we're a growing team! So we needed to re-evaluate how we use our desks and how we project our identity to visitors and clients.
We have a lot of System 180 desks,  (https://www.system180.com) So what better way to reconfigure the office than by using existing modular components? With our roots in set design, we also have some beautiful pieces ready for a new lease of life. The project quickly became a champion of up cycling and inventive reuse of materials.
The old office with its clusters of desks.

The old brand, with the overly spacious hexagonal tables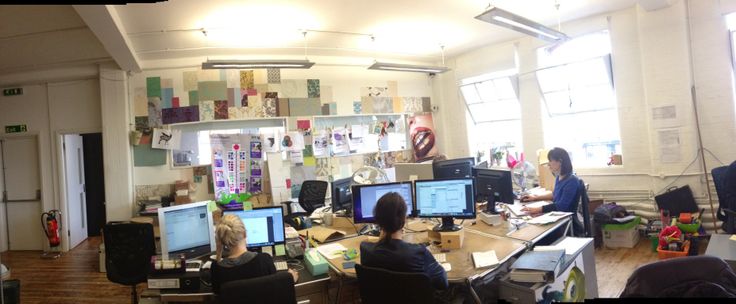 The old hexagonal tables, though generous with their room, were evidently space guzzlers – we needed to fix these before we could grow!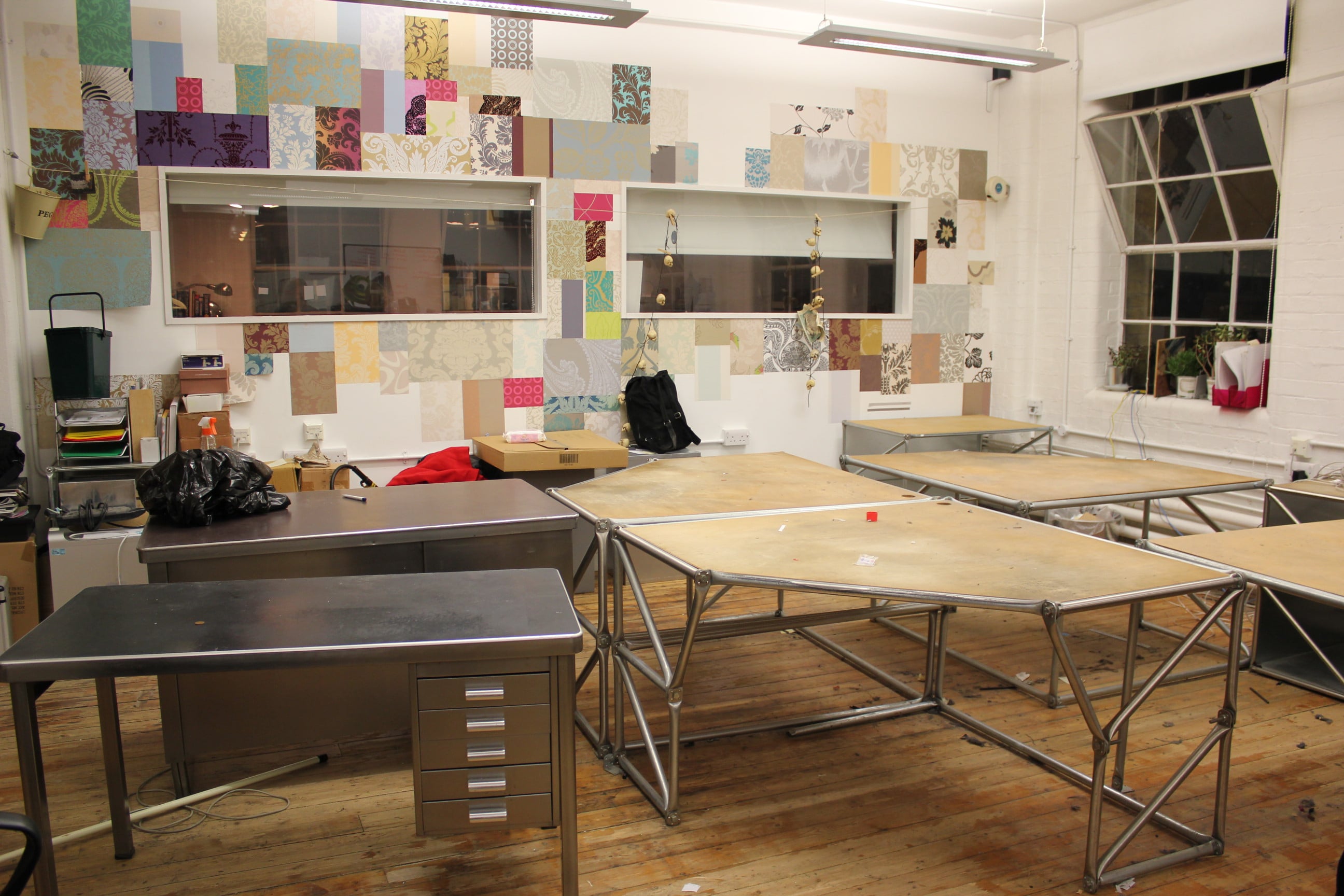 We re-constructed the desks from hexagonal shaped to rectangular – this gave more uniformity and opportunity for cross collaboration between neighbours.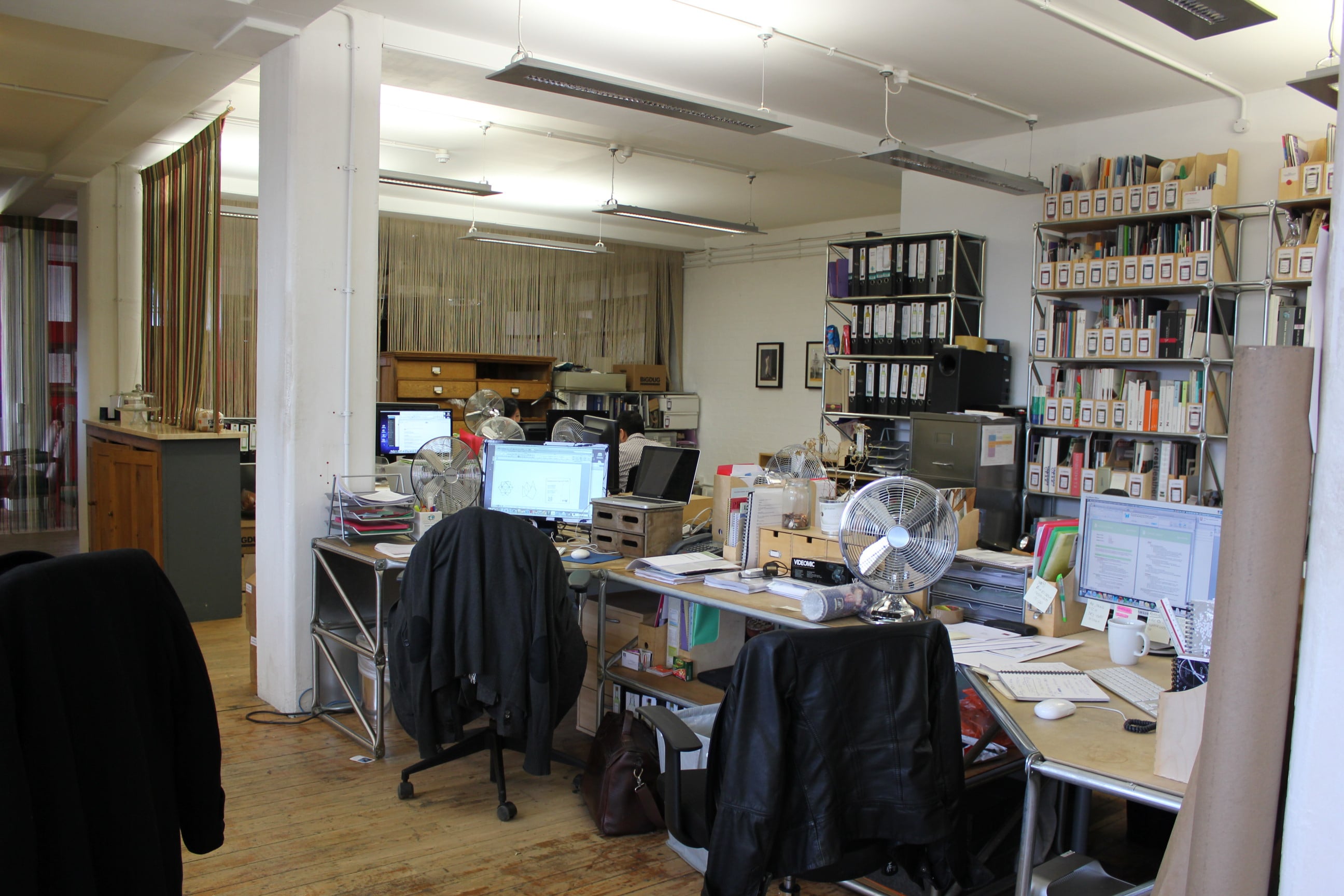 As part of the system 180 kit, we had several of these brushed steel sheets stored away. When put together they made a quirky industrial aesthetic look and feel, which mixed in quite comfortably with existing elements of the office. We'll show you how we re-used these sheets in the final chapter of the studio refit story.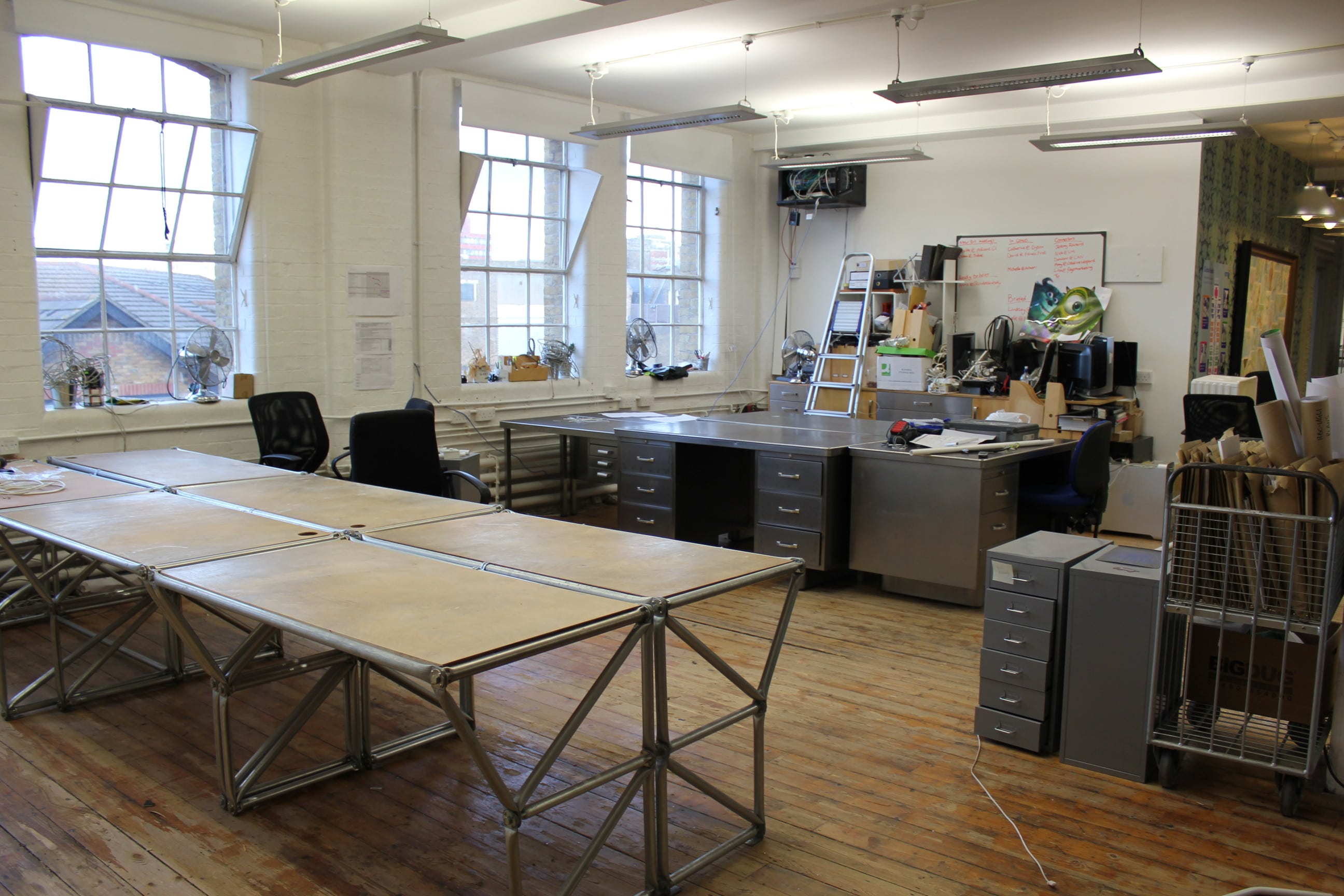 Though we still love the old brand, with its French vintage florals and Damask patterns, we have outgrown it. Our new geometric identity definitely needs to come through. Here's a photo of our old entrance wall and logo.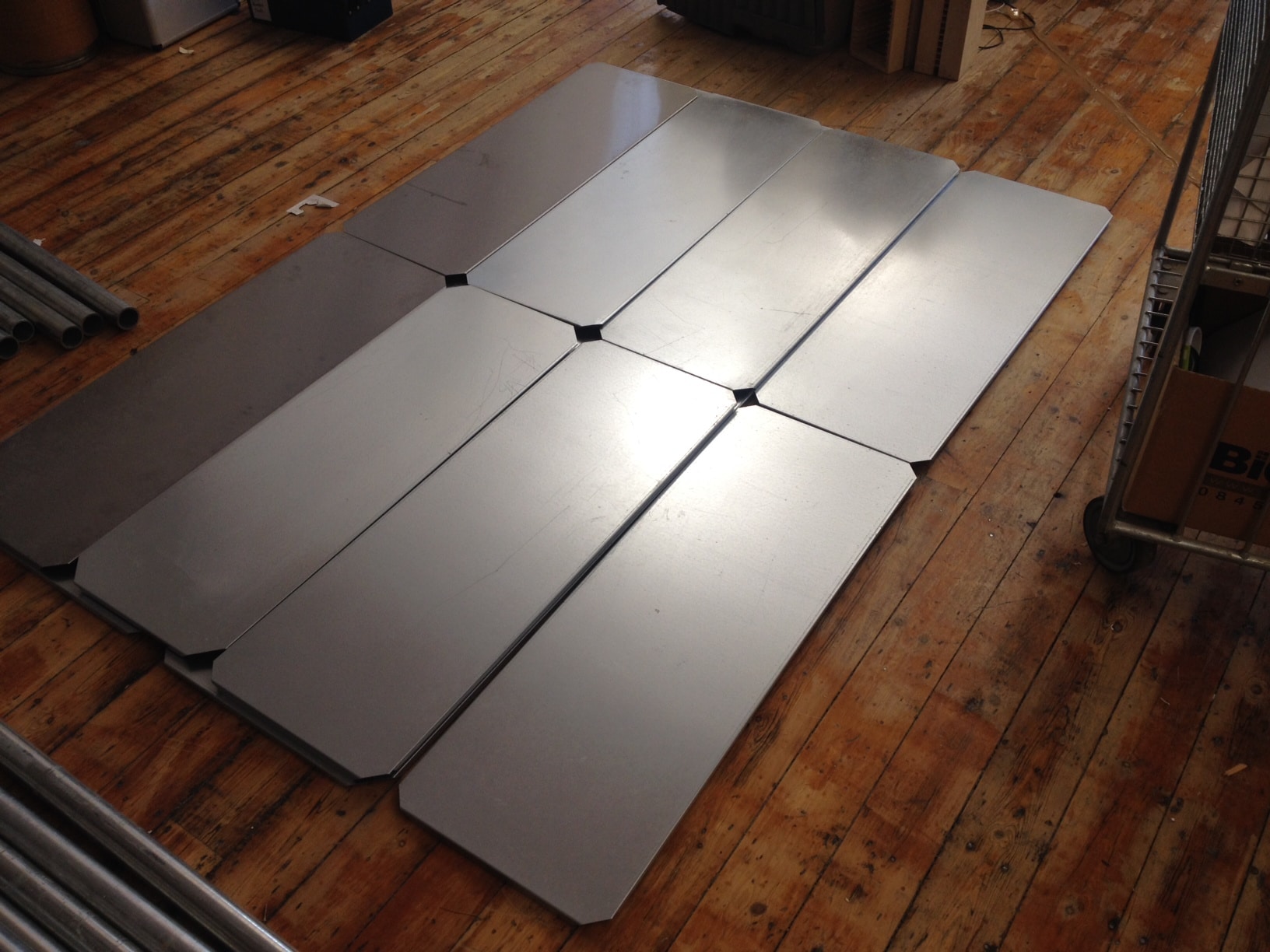 Red patchwork decorated walls with vintage frames gave a quirky retro feel, however this wall is key for brand identity when clients and visitors come in.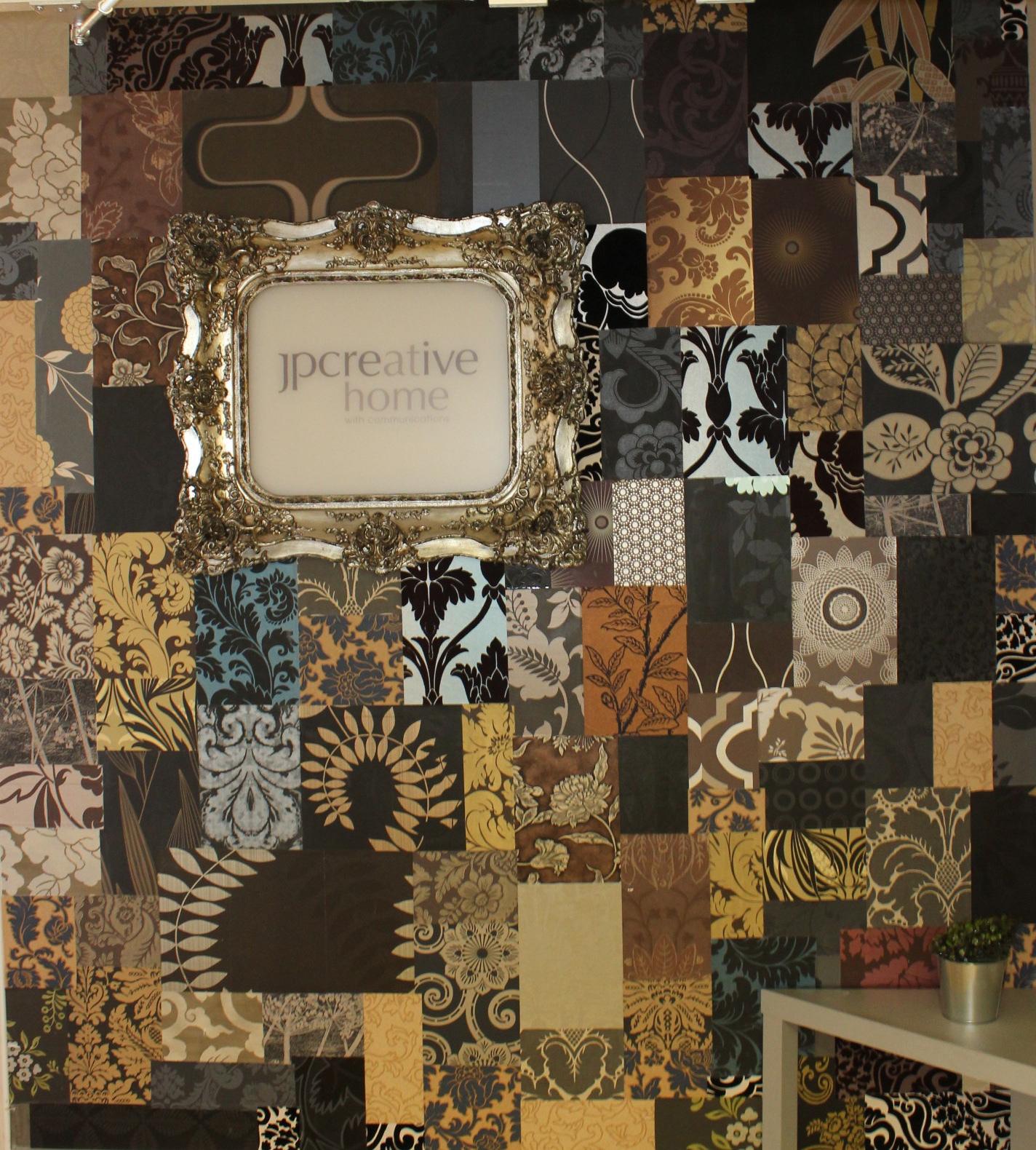 The old meeting room, the colourful damask wallpaper, the coloured space dividing fringe, all need to be uplifted and given a new lease of life.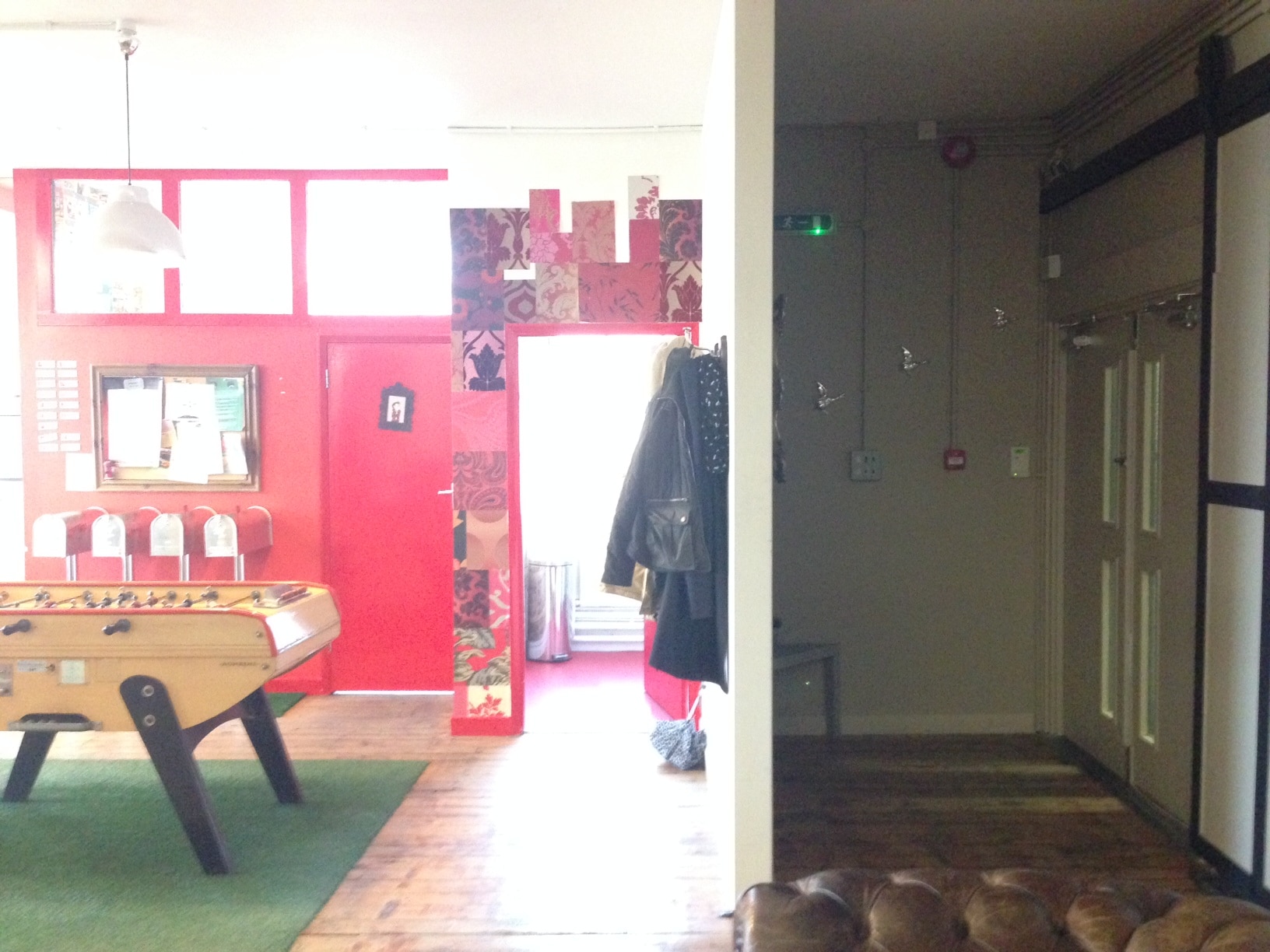 The old meeting room had definitely begun to overflow whenever we had a full house in the office. The room just wasn't big enough to accommodate the growing number of people.  Our plans suggested a switching of room functions was in order!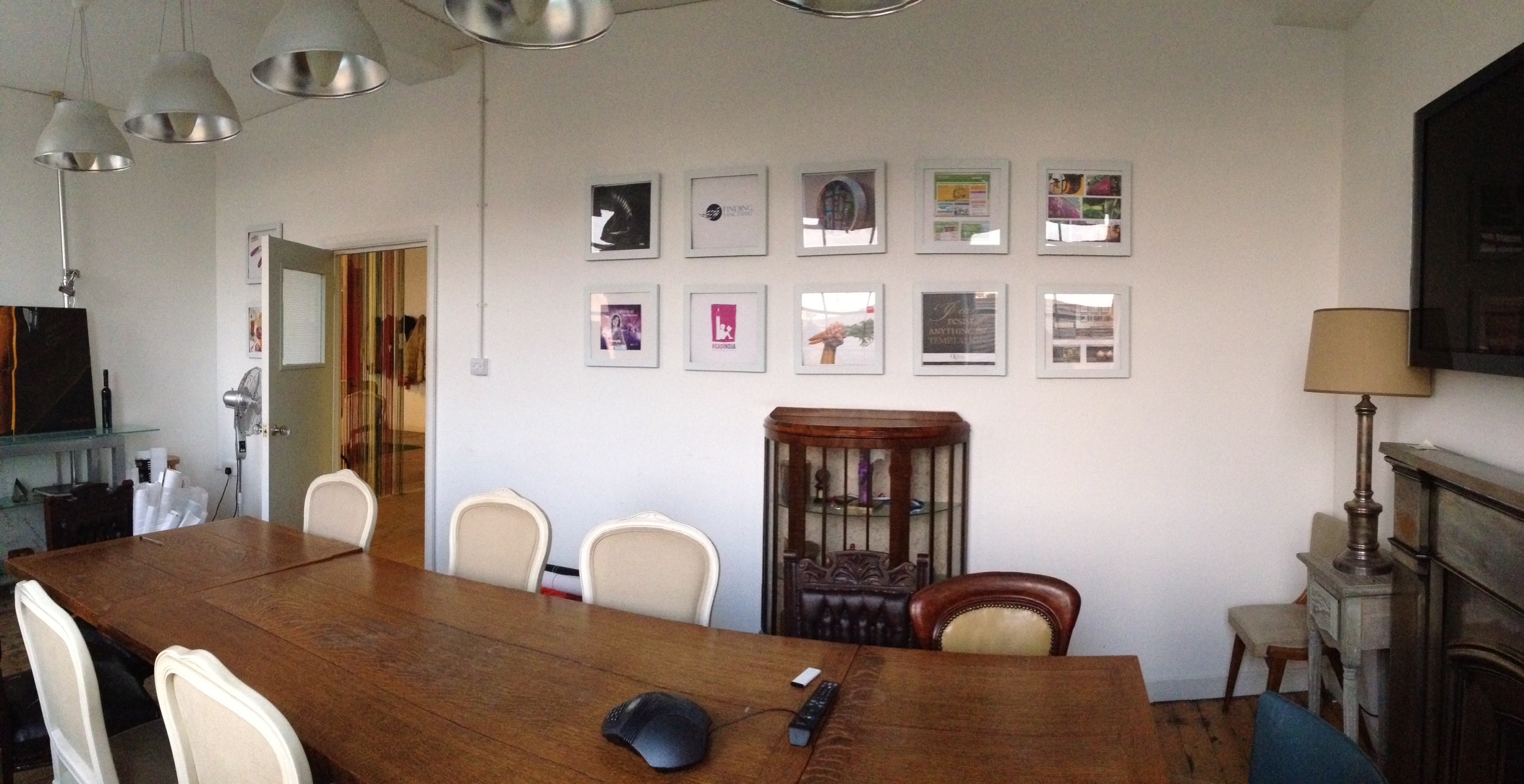 Many things were given away to recycling tech companies and local charities, one of which was the awesome British Heart Foundation, https://www.bhf.org.uk/shop/our-local-shops.aspx who are now selling some of our funky tables and storage units in their Brixton shop.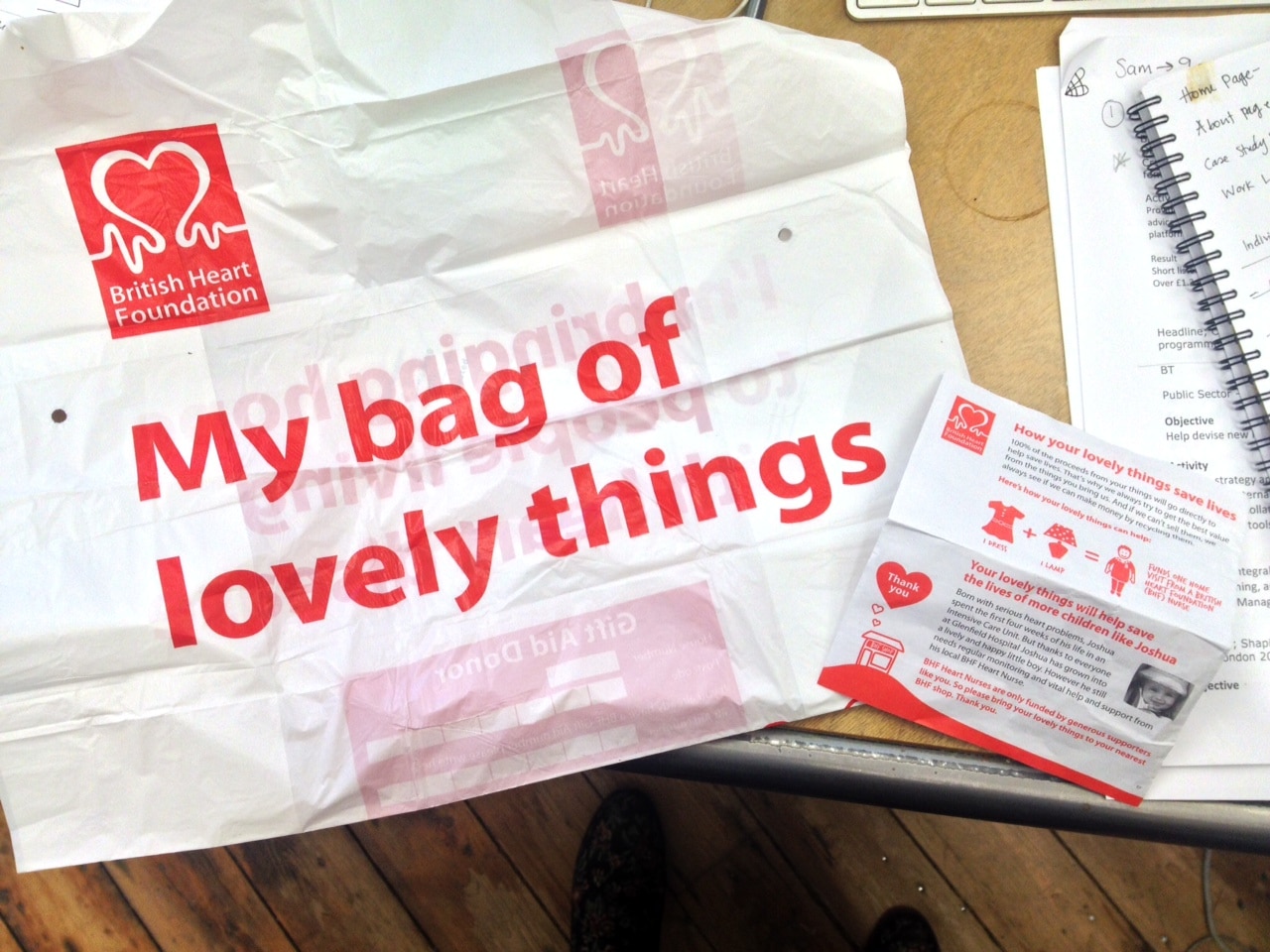 We also found a couple of boxes full of old cassettes- a slice of Nick and JP's Eurythmics and Madonna listening days! These are too precious to give away!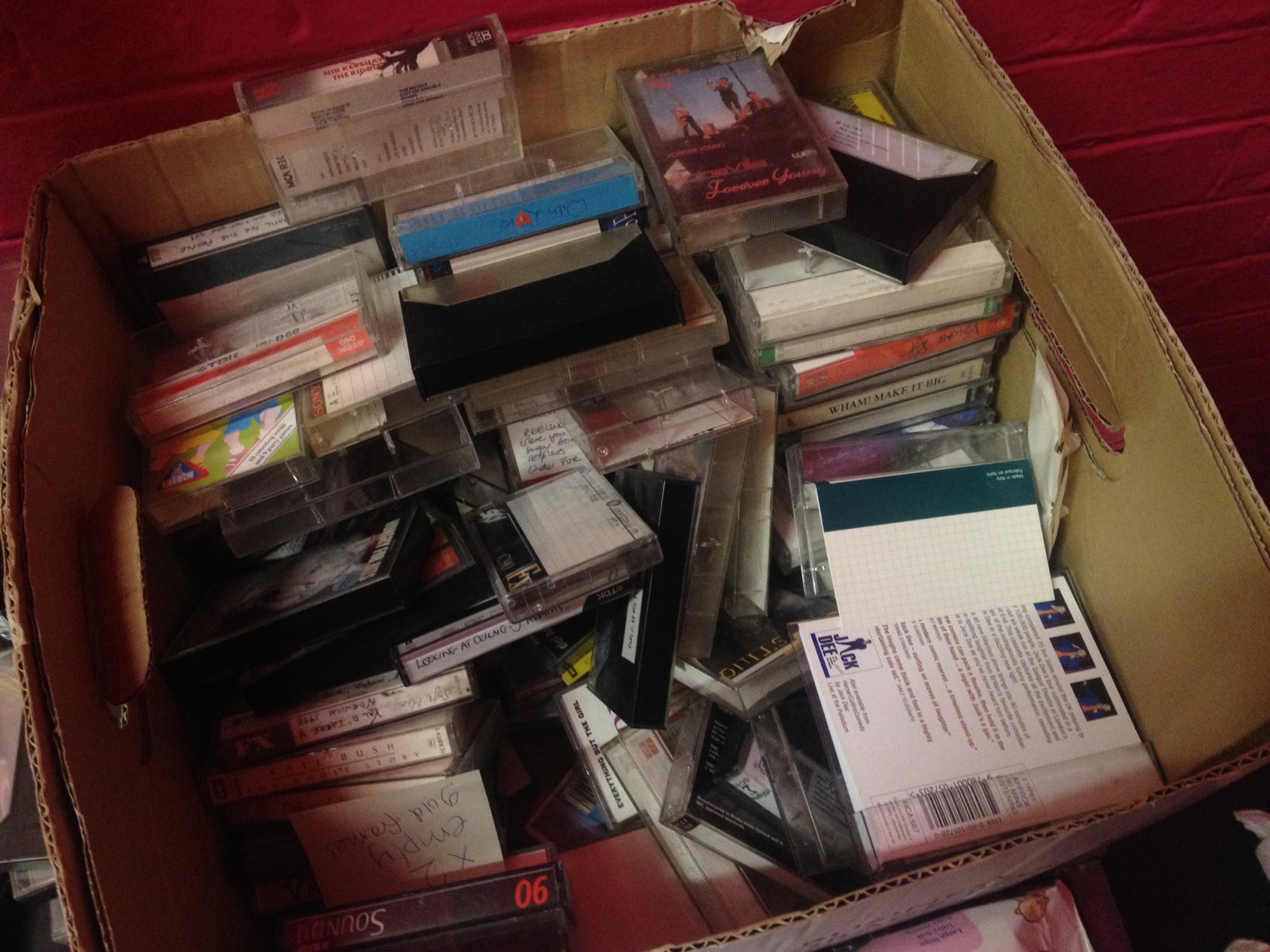 We were also looking to create a new meeting room, in addition to the two existing rooms. After we've made a concerted effort to recycle and reappropriate much of our accumulated possessions, we were able to carve out a small meeting room space in the office.
Photos of the new wall and space created for a new meeting room. The wall was built using recycled ply worktops from old table tops.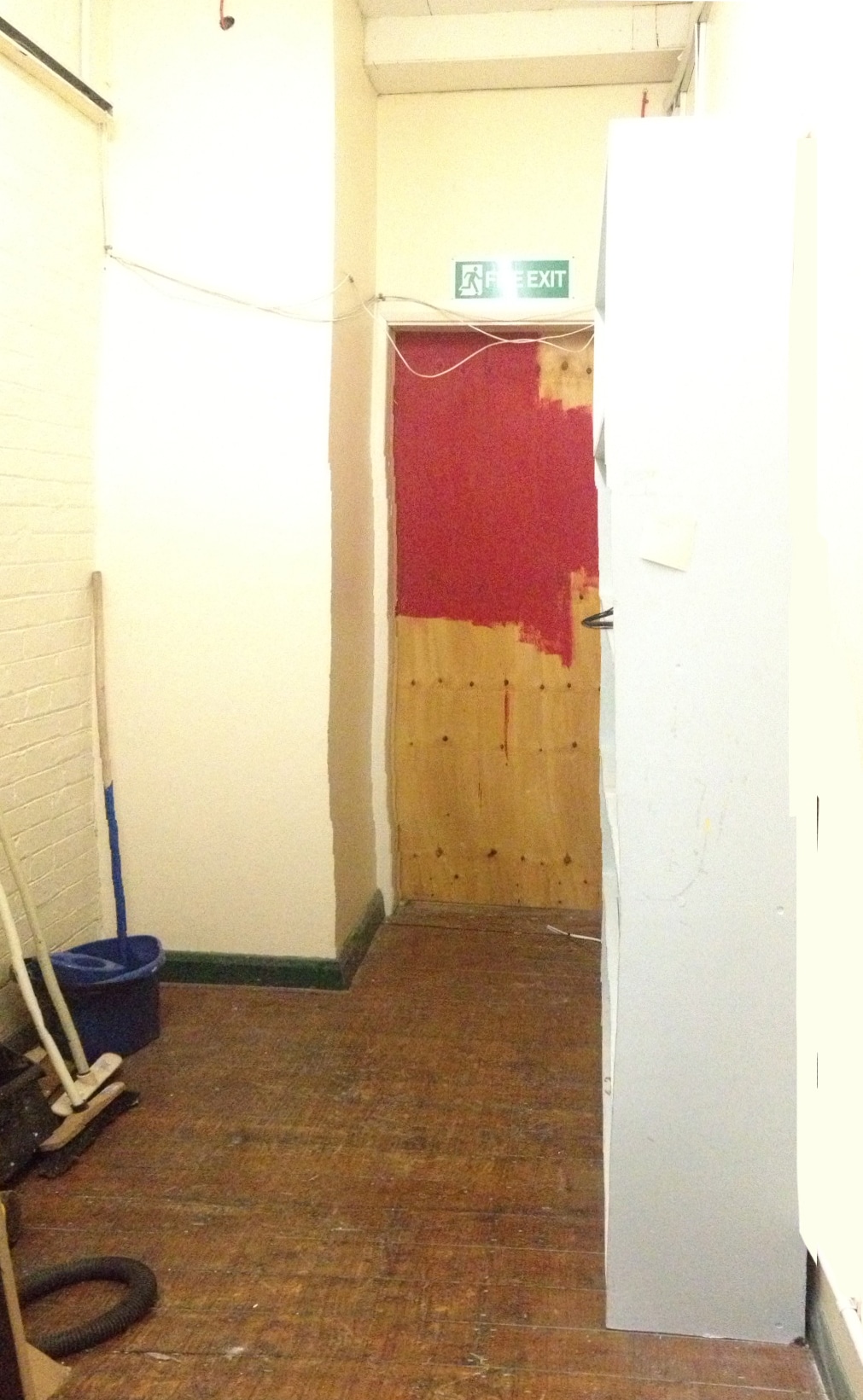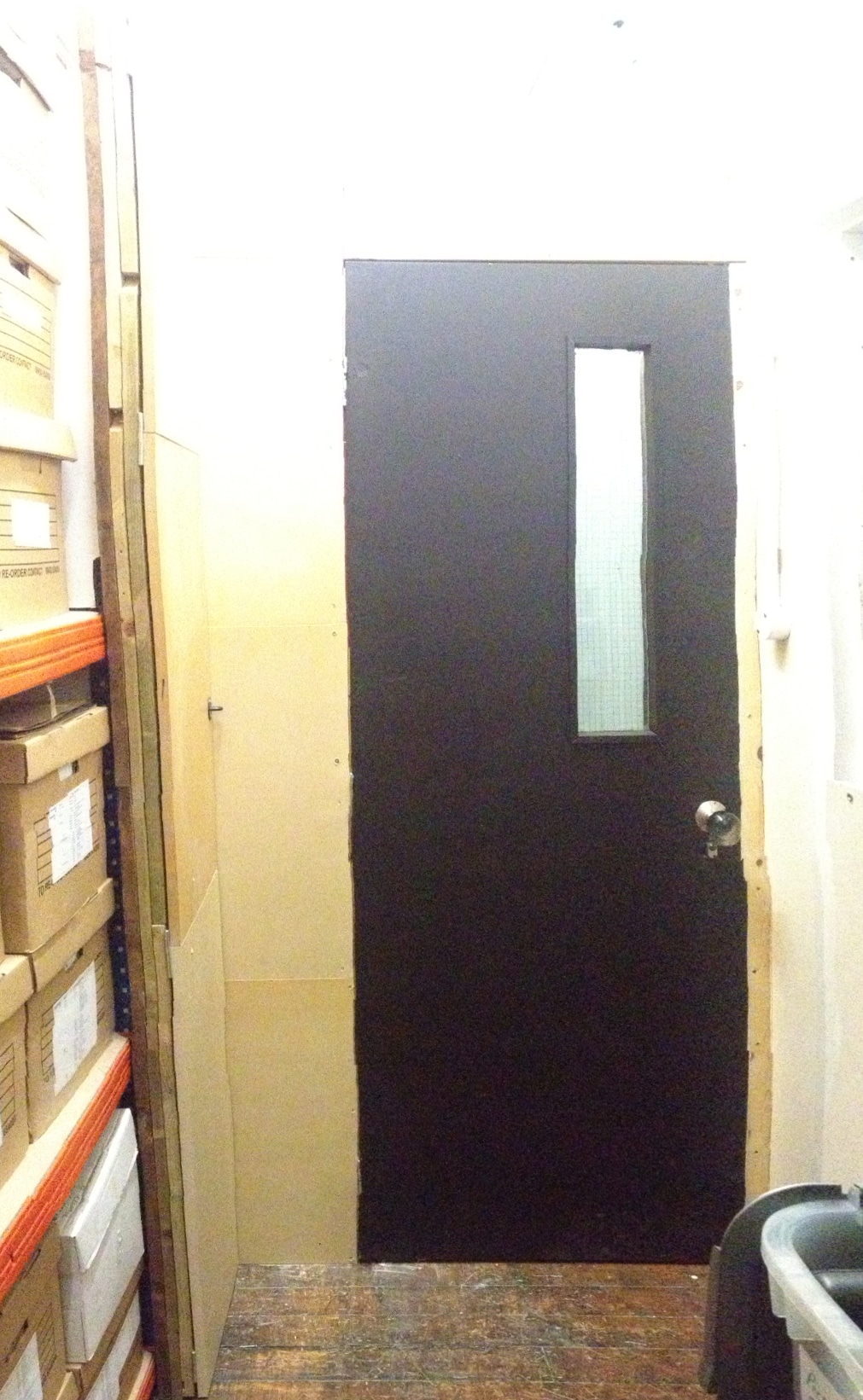 The old layout of the office was arranged in small clusters of groups, this was not conducive to the cross-collaborative approach of the office.
We therefore needed a centralised hub where the powerhouse of creativity & design could be channeled.
We designed an extension of the existing scaffolding table. A 7metre long table to house the talent pool- a team of designers, developers and copy writers- the production powerhouse!
The first part of the table goes up!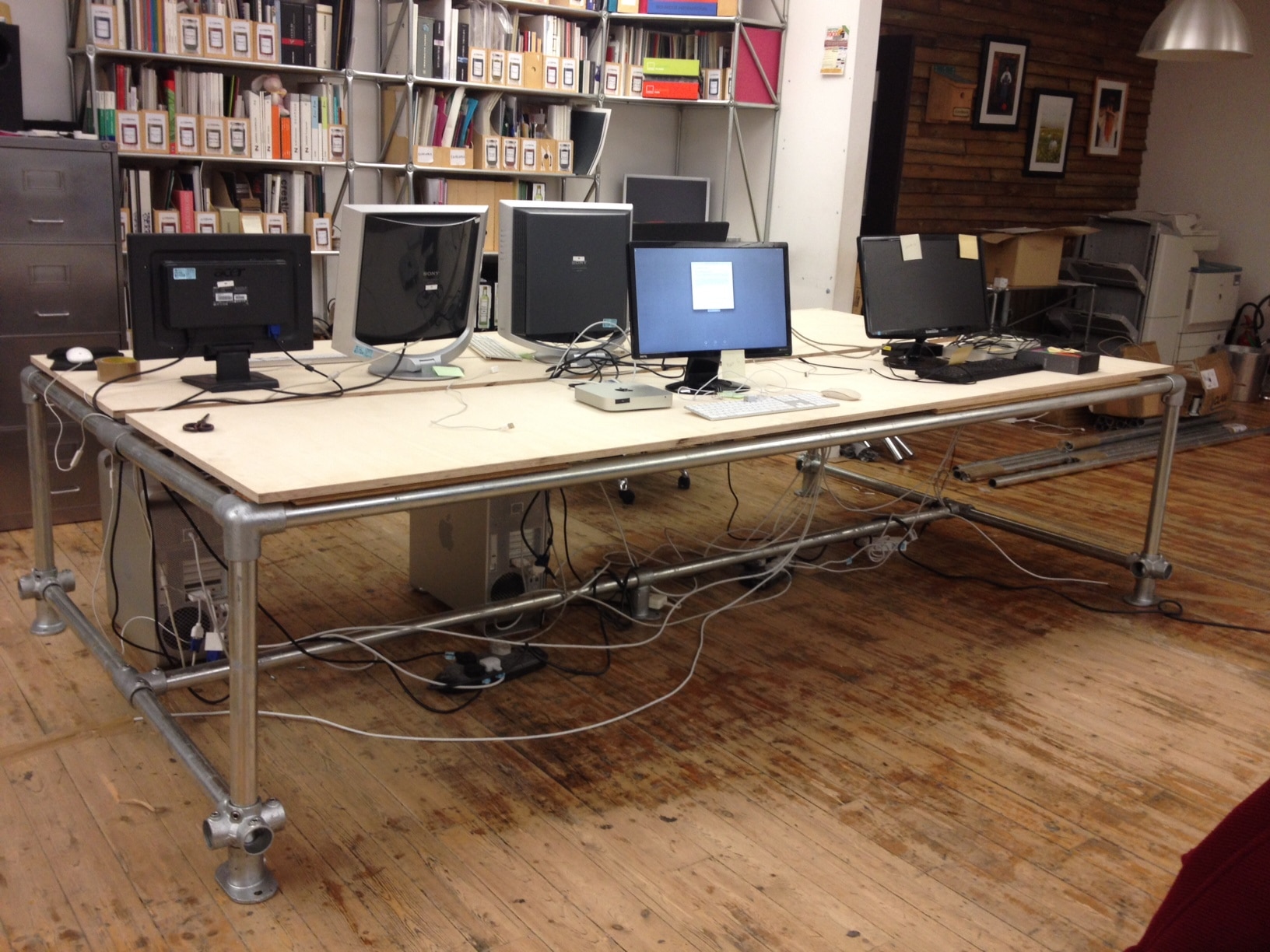 The second extension of the table. Our graphic designers enjoying their new space!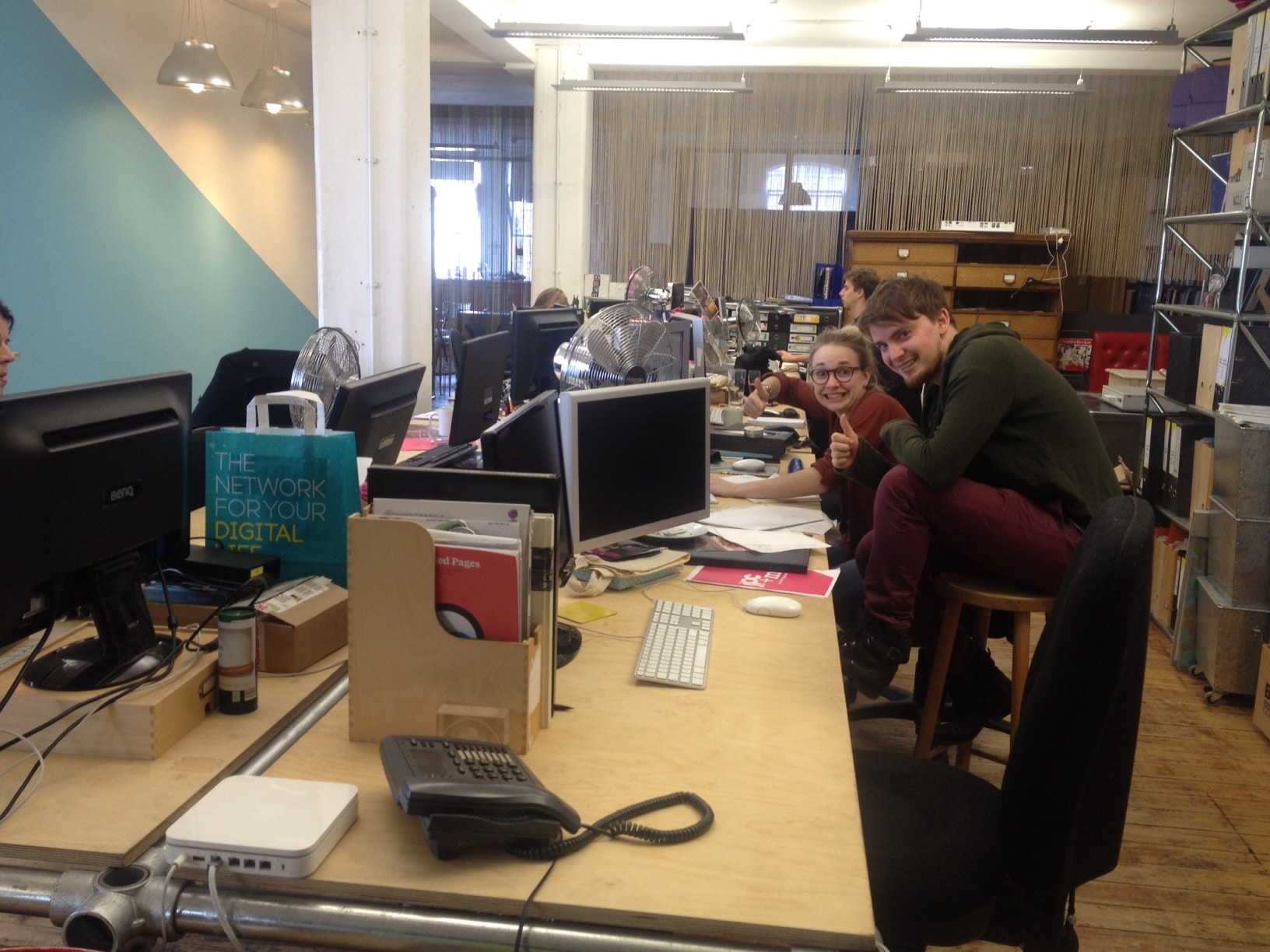 The final segment of the 7metre long scaffolding table is yet to be complete!
We're not far off now- a few final finishing touches and the office will be able to sing in all its glory! Wait for the final 3rd installment of the JPC office refit story to see how we've cleverly used existing elements, upcycled old unwanted things, and given the office a new rebranded lease of life!