Unfriendly Skies: How United Airlines failed at customer experience and lost $1 billion in market value
It probably hasn't escaped your notice that a man was dragged from his seat on a United Airlines plane on Sunday evening because his flight, which was bound for Kentucky, was overbooked. An eyewitness said the man was a 'Chinese American doctor' who refused to leave his seat when asked because he had to be at hospital in the morning, and it wasn't long before a video of the incident began to circulate. Photos of the man's bloody face soon followed. The video was watched more than 12 million times and shared 161,000 times on Facebook while everyone waited to hear what United's CEO, Oscar Munoz, would say about the incident, if anything. 'I apologise for having to re-accommodate these customers,' he said.
Ouch. One Twitter user said the CEO's 'apology' sounded like a teenager's response to an insult, as in 'I'm gonna re-accommodate your face with my fist.' Another user, drawing on last week's PepsiGate, dryly added: 'The #United incident could have been easily diffused if someone had offered the guy a Pepsi.' The passenger in question may not see the funny side. And nor did the thousands of internet users who first posted angry replies to United's statement and then created the hashtag #BoycottUnitedAirlines.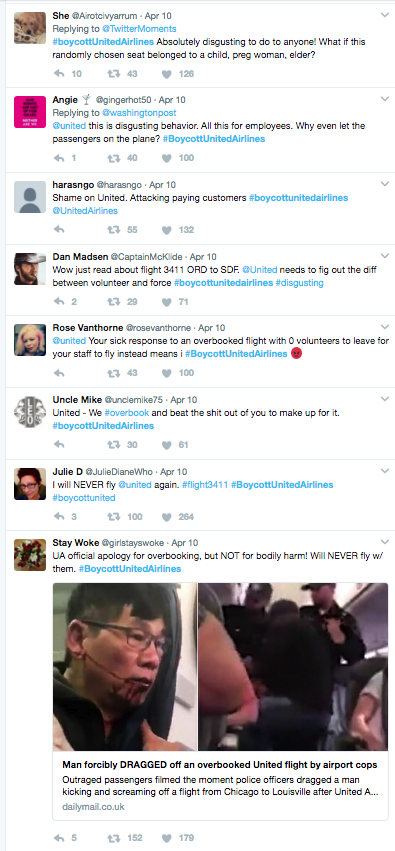 A nose dive in customer experience
United added insult to injury by issuing a legalese statement that failed to acknowledge the fact that the incident had gone viral, demonstrating a blindness to the power this sort of incident can have over their brand. It's an extreme example, but many other brands – especially B2B, where social has lower penetration – can fall into the same trap. United's response was clumsy (not to mention completely unsympathetic and unreasonable) and more reminiscent of the '90s PR policy of omerta than something suitable for the social media age. Instead of promising to reassess their policy or retrain their staff and apologise to the passenger and the witnesses, United have condemned themselves to becoming, for the next few years at least, 'the airline that beat up the doctor'.

So what should United have done? Is there any way to resolve the situation in a way that would have protected their brand? An incident of this severity will always be hard to contain, but here are a few simple ways they could have avoided disaster:
Respond quickly

– being ready and aware of the issue and responding – preferably by acknowledging that the viral footage was distressing and reflected badly on them. Most consumer brands have learnt to do this – but many B2B brands are still struggling. If you're used to relying on account managers to deal directly with clients, it can be hard to make the shift to social interaction that takes place in an instant.

Acknowledge the mistake

– You can't get away with indirect statements when a large chunk of the world's population has

seen

your staff assaulting a customer. United should have acknowledged what happened, admitted it was wrong, and apologised.

Repair/Reassure

– United seem so far to prefer to leave the matter of this rather public assault to their legal team – and have given no indication whatsoever that they are reviewing their policies. This will do nothing to repair their reputation. Instead, they should be reassuring the public that they are dealing with this as a serious matter. Publicly sharing what steps they can take to ensure this never happens again and what reparations they are planning to make would go a long way to restoring at least some confidence.
United demonstrated an arrogant attitude that is characteristic of many brands: once the customer pays, businesses far too often treat that customer as a unit of data that automated systems can manage. Huge corporations continue to at best underestimate and at worst ignore emails or online interactions as if the concerns and comments of the customer don't matter to them. In a world where we're all connected all the time by technology, but also increasingly influenced by our ever-growing communities of 'virtual peers', the ability to portray your company not simply as authentic but human is invaluable. Because we all recognise that humans are not infallible. We do make mistakes. But deal with it brilliantly and you can not only repair the damage, but in some cases you can even build greater brand loyalty.

Look at Virgin Media's social accounts and you'll see plenty of criticism and complaining from their customers and of course that's never going to go away. But they're responsive, they acknowledge difficulties and they offer solutions, and this reflects well on their brand. If your business does make a clear mistake, you need to admit to that mistake and offer a reasonable response to those affected. And if it's a public one, it's worth remembering that the internet doesn't forget.