How to avoid arriving at the RFP table cold
Build a winning strategy with an Account-Based Marketing approach
You get one shot at articulating your capabilities and convincing a prospective client that they should choose you over some tough competition. Yet, all too often, companies are coming to the RFP table cold.
Why? Because, currently the average complex deal has 7 decision makers involved, meaning it's getting harder and harder to engage with and demonstrate unique value to each and every one. And with product complexity and competition continuing to increase, it's a problem that's only going to get worse. Which is why understanding every person in the purchase cycle – getting to know their unique needs – what makes them tick – and building engagement and proactive disruption long before the RFP is issued – is fundamental to a successful engagement or bid strategy.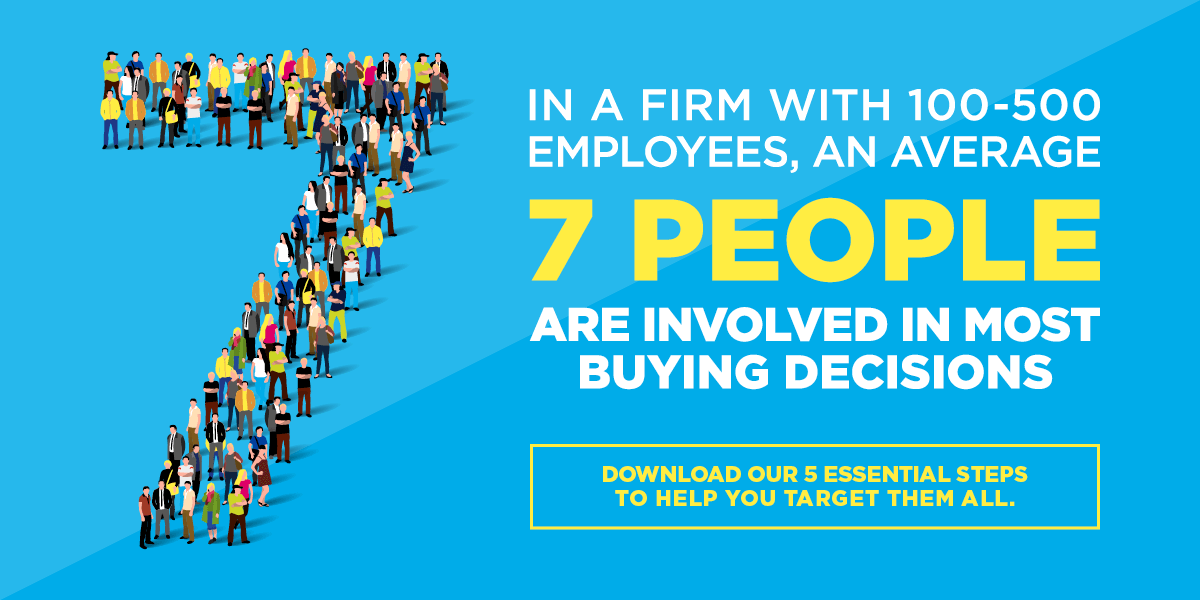 A laser focused man-marking approach.
In attempting to tackle this challenge, many businesses have turned to Account Based Marketing (ABM) – to focus on growing accounts rather than filling the pipeline with nameless leads. An approach where Sales and Marketing work closely together to identify and target their communications to prospects who are most likely to need their products or services.
ABM flips the sales funnel, and reaches out to predetermined groups first. Not only that, but like the traditional 'key account marketing' approaches that came before it, it does so in a laser-focused, highly personalised way… but only when you've got both the technology AND the content right. Which is why at JPC we use the same powerful, laser focused, personal approach to winning bids as we do for building value in our customer relationships and propositions.
The 4 steps to build your Account-Based Marketing programme.

ABM prioritises your most important accounts so you can focus on building deeper relationships with every key customer and maximise your retention rate. Renowned ABM Author, Sangram Vajre describes it like fishing with a 'fish finder on steroids, rather than a net and a prayer'. Not only can you determine exactly where the fish you want is, you can get more insight into the type and size of it too. Meaning you can choose the perfect bait to grab its attention!
ABM thinking for a winning bid strategy
All too often, we hear first hand from clients that they are finding it 'harder than ever to break through and engage as the RFP process becomes more complex and ever-more constrained', not knowing where, or how, to find and reach key decision makers, while remaining compliant.
And with 50% of your bid success coming from pre-RFP efforts, and 90% of RFPs issued already with a preferential bidder in mind, it's critical you understand every one of the potential '7 people' in the room when you submit your proposal, enriching their perceptions of your brand and offer, and engaging early so you don't show up as the odd group waiting in the foyer who are making up the numbers.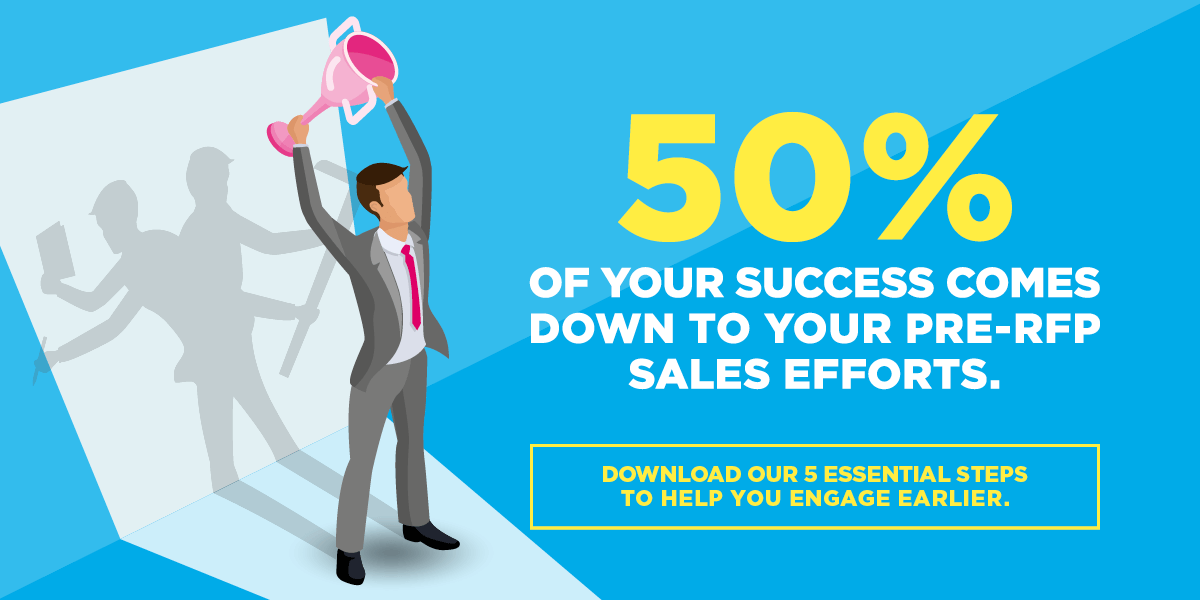 Building early engagement is crucial in helping shorten deal cycles and creating the perfect environment to build, retain and nurture deeper personal relationships. But it also requires new thinking on what engagement even means. It's everything from face to face customer innovation experiences, personalised live demos, hot-houses and workshops, to thought leadership articles and white papers that address issues the CEO's not yet thought of, to social media content that's laser focused to plant the right message at the right time. 82% of business buyers are influenced by multiple sources of information, so the more creative you are with pre-empting their needs, the greater your odds are at striking the right chord!!
To truly understand how it can help you win more bids, it's important you understand the fundamentals of ABM. Not surprisingly, it starts with getting the first critical step right – Identify.
Step One: Identify.
Identify your perfect target.
The first step in building your ABM strategy is to identify who your perfect target market is, specifying the company's industry and size. For example, if you're a global travel operator based in London, perhaps your most profitable market is clients looking to globalise and expand overseas, or large enterprise with a high ratio of business travel. So these are your high priority, 'top tier' targets your ABM programme needs to be tailored to. Simple.
Now, who would your ideal customer be?
Once you've identified your perfect target, you'll need to define your ideal customer profile (ICP), specifying the industry and company size, along with their department, responsibilities and role. In the case of the travel operator, your first port of call might be the travel booker or Ops Manager. Don't just focus on their professional profile though, think of their personal character, so you really understand their needs and expectations. The devil's in the detail. Avoid generic 'one size fits all' demographics, so you can get to know his/her traits and tailor your marketing with absolute precision. This is the critical step that can really determine the success or failure of your programme. If your profile is too general, you can't hope to really align your messages. Remember that the age of pure 'B2B' marketing mindset is becoming out-dated as our professional and personal lives converge. Think of the approach as 'one-to-one, rather than one-to-many' marketing!
Turning your ICP into a persona – or person.
Too many of the customer personas we encounter are guilty of broad-brush generalisations. Perhaps largely caused by the very concept of a 'persona'. We think it helps to give your 'ICP' a name to truly see them as a person – let's say, Simon. Now consider the problems Simon might be facing. Is he experiencing any problems with his current service providers? Perhaps he's unsatisfied with his customer communications or feels he's spending too much? And what keeps Simon awake at night? What are his personal motivations? His fears, goals and even dreams? Perhaps he needs that next promotion, or he wants to simplify his working day so he can spend more time at home with his family?
Thinking in this way will help you determine how you can target your messages on a whole new level to show Simon how you can provide a solution to his problems. This level of human engagement is the slight edge you need to stand out and make a breakthrough (to build and retain those ideal customers).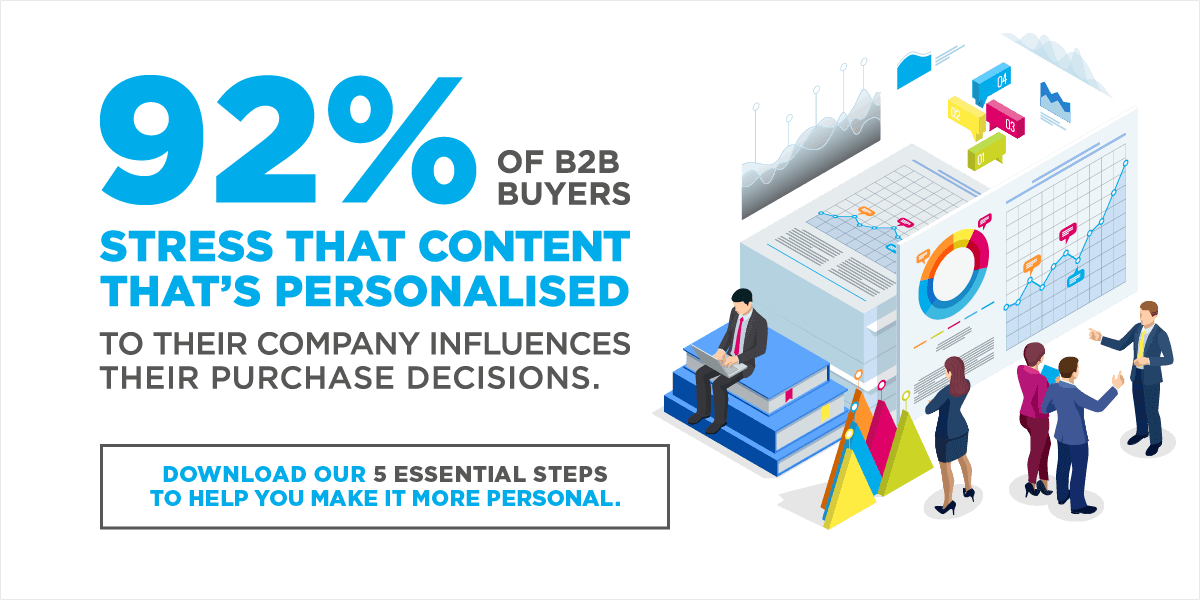 92% of prospects say content targeted to their specific industry is more valuable, so when a company demonstrates they've really taken time to 'know' you, you're a lot more likely to give them a few more minutes of your attention.
Remember Simon is just one of the '7 people' you need to connect with. Go into the same level of detail and repeat all of the above for each of the critical key stakeholders in your target account. Again, this is important so you can offer engaging, tailored insight and conversation angles for the HR Manager to the CEO, or Commercial Director.
What's next?
Aligning your true value to the new B2B buyer journey.
In our next blog, we'll look at how the B2B buyer's journey has changed along with the tactics to better align your sales and marketing efforts, to create value propositions that are centred on individual needs with pinpoint accuracy.
Check back for our next blog: THE BUYER JOURNEY HAS CHANGED – HAS YOUR VALUE PROPOSITION?
Over the last 20 years, we've helped our ambitious clients distill complex solutions, products and features into powerful, winning propositions. With an 80% average bids win rate and more than £1B in contract value won, see how we can help increase your bids win rate now.