The Consumer Strikes Back: When a brand takes customers for a ride
Unless you've been hiding under a rock for the last year (at least), you'll know that Southern Rail customers are not happy. Nor are the guards, the drivers, the unions, or the UK Government. Last Thursday (supposedly) saw the end of strikes after a deal was struck between ASLEF and Southern, which should result in service returning to "normal" – but the legacy of the past 12 months will be a fundamental change to what customers expect from Southern's service.
At the height of the strikes, Southern was cancelling around 250 trains per day. Months of delays, disruptions and cancellations have left their customer experience, and their brand, in the station gutter, with Southern's lack of communication, inefficiencies, and the ever-growing gap between customer's expectations and their service causing irreparable damage. Unsurprisingly, they now rank as the worst rail service provider among national surveys: just 21% of customers satisfied with Southern's service.
Power to the People
There is an upside. The Southern nightmare has driven those with purchasing power to demand more, optimising every digital channel to make their voices heard. This is nothing new. 67% of customers use social media to share customer service opinions, and up to 90% of purchases are influenced by online reviews. It's no surprise that as the delays and disruptions have gone on, Twitter, Facebook, Instagram, and Snapchat have been filled with rants, rages and video footage exposing the horrors of Southern customer experience in real-time.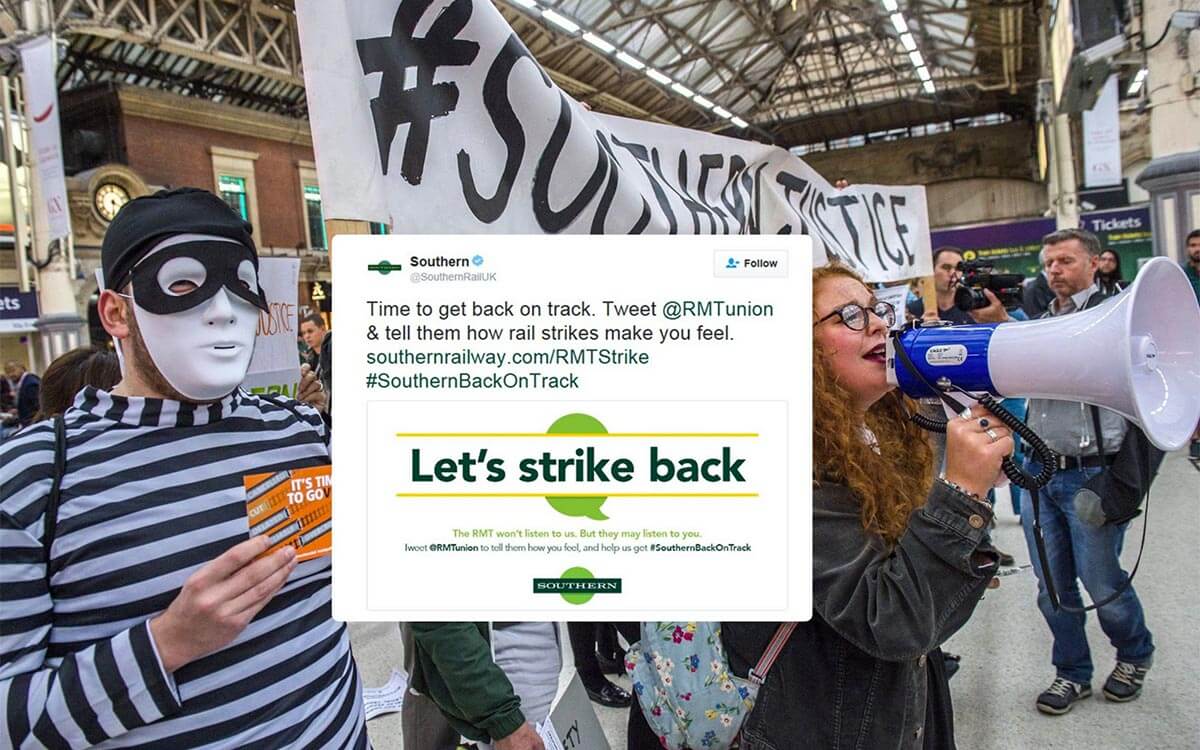 @SouthernRailUK offers a masterclass in how not to handle customer service complaints – which has driven people power to the extreme, just search for #mysouthernstory or #southernfail. These anti-brand hashtags are being used by passengers hundreds of times per day, with one in twenty posts accompanied by imaginatively foul language. Extreme customer dissatisfaction expressed in the worst possible rail rage.
Beware the consumer scorned
Other more creative initiatives have also been doing the social media rounds, with customers taking ownership of Southern's own campaigns and tailoring the messages to the realities of their customer experience. One of the most popular social trends is the 'Southernfail' app, which responds to a recent campaign introducing passengers to the people behind the Southern brand. The original poster campaign, featured on all Southern trains, shared simple, human stories about individual staff members. An effective, and very authentic campaign – until tricky scenes and customer complaints tested Southern's authenticity, and exposed its failings. Not only were customers left disgruntled, but (if you cast your mind back 6 months ago) one of Southern's first public responses to the strikes, instead of taking ownership and seizing the opportunity to turn negativity into a positive was to shift the blame and steer raging customers towards the RMT Union. "Let's Strike Back" was the rallying cry of their Metro takeover, urging customers to tweet @RMTunion and share their grievances. So much for the human, personal approach then.
And customers jumped on the chance to expose this failing – using Southern's own promotional material as the template to highlight their poor service and apparent lack of genuine customer care. Commuters are sharing their own 'human' stories across social media with selfies, cameos from their pets and children, and real examples of their experience and grievances. Talk about taking the brand into your own hands.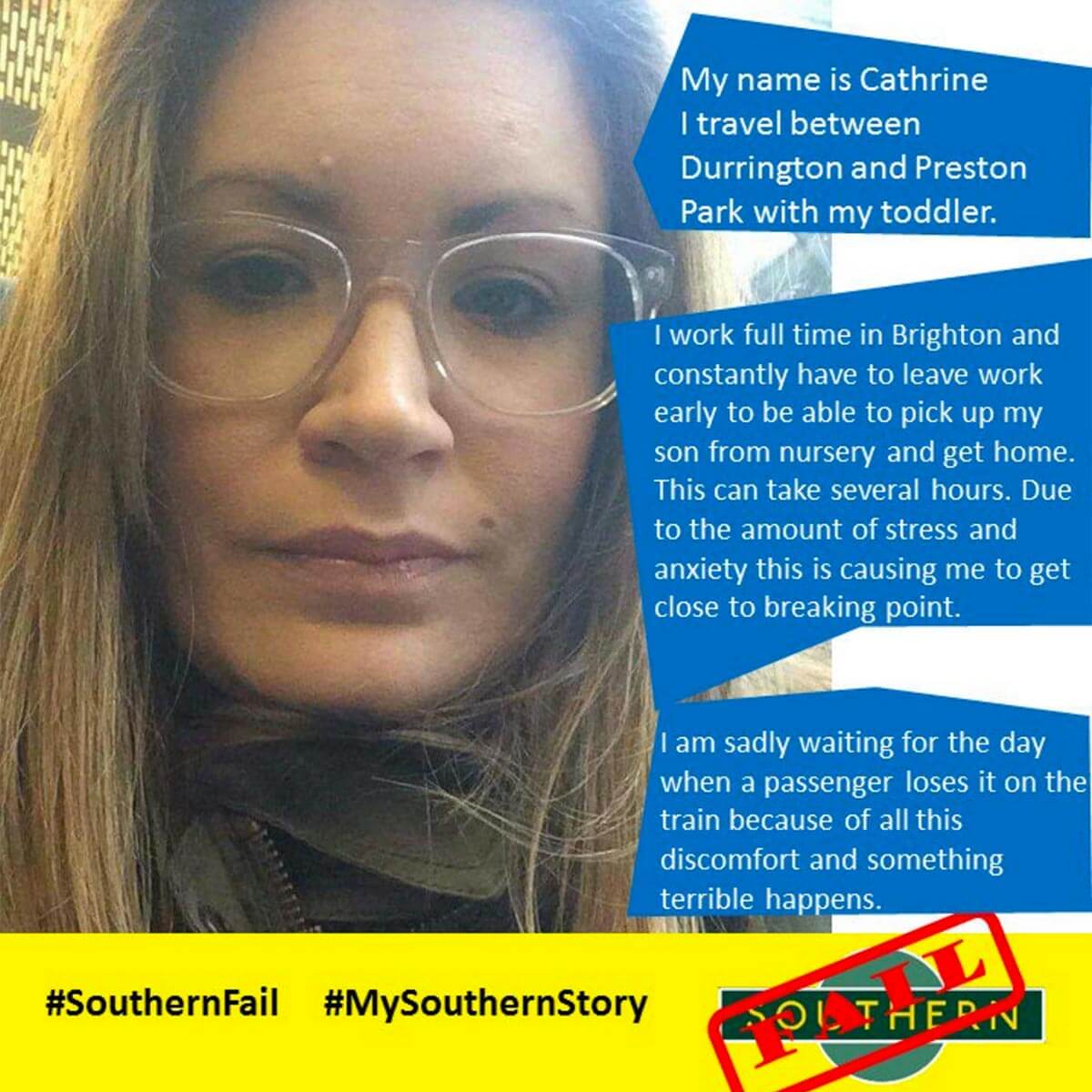 Control of brand perception and satisfaction is firmly in the hands of the customer. And so are the prospects of business growth and success. Once customers take to social media, managing this social "badvocacy" can be a major headache for brands.
What stood out most for me was the serious commitment of time and effort that people invested in venting their rage. The creations I've seen included tailored ads to 'Southern Rail Tycoon', a bespoke viral game (played over 100,000 times) where the objective is to steal profits from guards whilst stopping them boarding trains, and amusing rewrites of Thomas the Tank Engine. Generating this kind of organic customer engagement as a brand takes serious hard work – and it's this widespread commitment to the cause that's most concerning for Southern's hope of salvaging their brand loyalty.
Can this trainwreck get back on track? As one of the 300,000 passengers regularly left stranded, I've got very dim hope left in Southern's ability to function as a business and provide their customers with a basic rail service, let alone deliver any kind of acceptable customer experience. Fundamentally all Southern customers want to get from A to B safely and on time. But it's also worth remembering that in the near century of Southern's existence, customer volumes, expectations, and behaviours have changed. People are no longer content with just reaching B – they want an experience to go with it. Complete with wi-fi, air-conditioning and a comfy seat for longer journeys.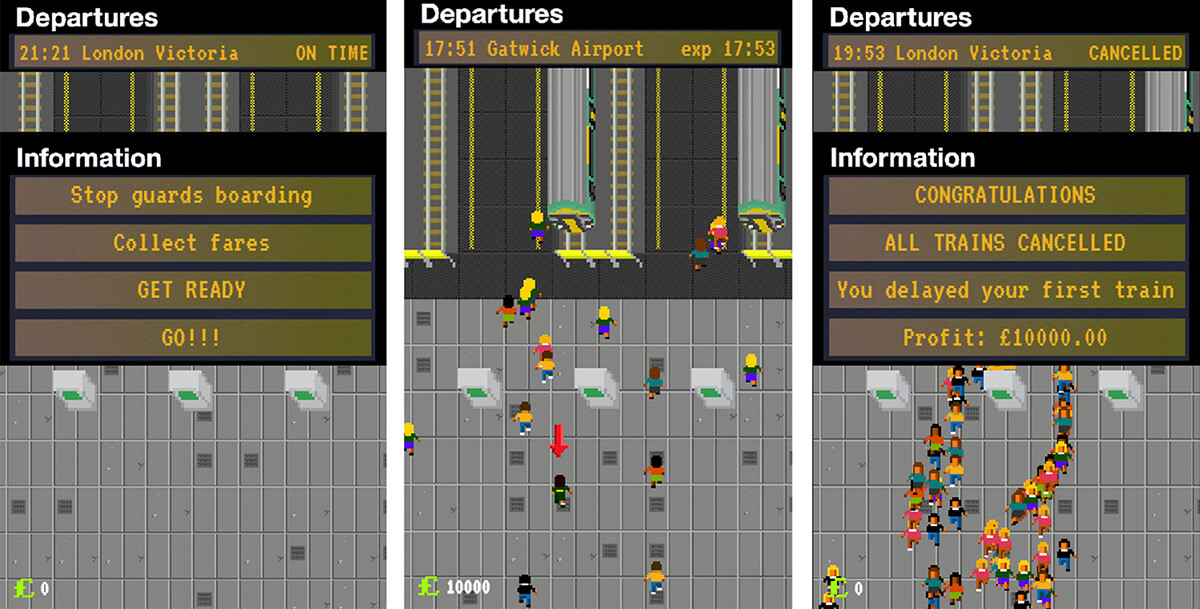 Although they might seem as far apart as two brands can get, there's a lot Southern can learn from the 'magic' of Walt Disney. You might go so far as to call him the maestro of customer experience. Ahead of his time for sure. He founded his company on the mission to "make people happy" and this customer-led approach continues to influence every touchpoint of the brand – from the parks to the products, to the people you'll interact with and everything in between. His very simple secret, as brought to life by the Disney Institute, Be Our Guest book, is to Optimise the Mundane. Ensure everything works brilliantly and that everything is based around giving the customer an experience they'll remember, which is why even the distance between waste bins was high on Walt's agenda. And the magic is real – Disney has a 70% return rate from first-time visitors.
Measure Southern against this and you can see where they're failing; it's not just the strikes…or the delays…or the cancellations…it's the way these are communicated to customers and the way they treat their customers when the proverbial hits the fan. Standardised, depersonalised emails, pre-recorded announcements and last-minute text alerts or updated departure boards aren't good enough for today's buyers. Despite attempts to make a connection with their customers, such as the real people campaign mentioned earlier, Southern failed to seize a great opportunity to be truly authentic and turn the situation around for their customers, if only by empathising with them. In a world where customers can be online 24/7, they expect brands to be as transparent, honest and agile in their handling of bad news as they are with all of those 2-for-1 travel deals. By continually failing to identify with their customer's situation and the very real impact they have had on everyday lives, Southern not only failed to address this and appease their customers, but instead fuelled their steadily mounting anger.
The past week has seen some sense of routine restored to our commutes. But despite the unions staying strong in the face of extreme pressure, ultimately it has been the power of the consumer's voice that has driven us back to this. Never before has the power shift from brand to customer been so strong. So, whilst I'm not confident this peace will last, should (read: when) Southern's schedule get derailed again, I'm in no doubt as to whose voice will be responsible for creating lasting change.