The Guerrilla Girls – Is it even worse in Europe?
We're all about challenging creative ideas at JPC, and you can't get more challenging than The Guerilla Girls. Formed in 1985, the American art activists have had over 55 member combinations throughout the years, who all remain anonymous to this day thanks to the gorilla masks they wear. On a mission to highlight discrimination in the art world – their work uses advertising to produce posters, banners, stickers, billboards, projections and other public projects to overtly expose sexism, racism and corruption amongst statistics from some of the most famous art museums and institutions in the world, as well as in film, politics and culture at large.
Given that JPC's charity, Brand Amplifier, is largely focused on supporting female entrepreneurs in the business world, our team was naturally excited to see the some of their work, in the form of a FREE exhibition at Whitechapel Gallery, London – A follow-up to their 1986 original campaign, entitled "Is it even worse in Europe?".

We arrived not only expecting it would provide an insight into the success of their campaign, but also to see what was next on the agenda for breaking sexism in the art world once and for all. We wanted to know what they'd been up to for 30 years. Did they have a fresh, ground-breaking campaign that could top the 1986 version? Have they continued with their vivid, controversial billboards to project in front of thousands for a public shaming of the art industry? Well, in a word… no.
By anticipating a room that would reflect some sort of visual joy, we had made our first mistake. The size and overall lack of impact was a real flop. Where we expected to see their famed sharp block type and vivid colours plastered onto huge graphic billboards, we were greeted with a miniature television looping a video, and one wall in a small room covered in A4 photocopied questionnaires.

The equal rights they were fighting for were swiftly drowned by equal lefts – beating our expectations to a pulp – with a finish more awkward than a Mike Tyson ear biting; ultimately leading to the demise of any hope we had for this exhibition.
Not only were we disappointed with the exhibition's graphics, our hopes were further pummeled when we realized that not much had changed since the original 1986 project. The largest common factor between the feedback was that they still didn't have many women holding solo exhibitions in their art space. So much for the popular opinion that discrimination against women was left in the 80s!
In true Guerilla Girls fashion though, humorous and somewhat sassy quips to director's statements were scrawled across some of the questionnaires in bright ink and the exhibition also featured a floor poster detailing all the institutions that did not send responses at all, for the public to trample over. A nice touch, but still not enough for me.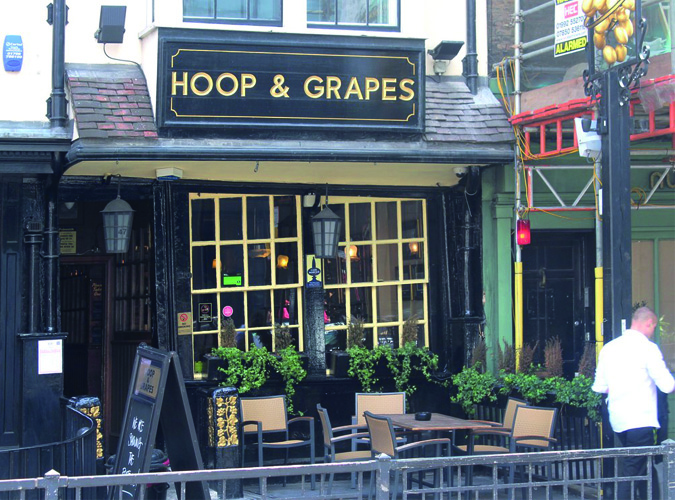 Luckily it wasn't all bad, and true inspiration wasn't far away – just over the road in fact, at the old Hoop and Grapes pub. We ended up there after spending less time than expected at the gallery, discovering some inspiring handwritten typography on the walls – very similar to the wayfinding and storytelling we try to create in our experiential projects. Not only was it interesting on the inside, it dated back to 1666, with the great fire of London stopping a mere 50 yards from it! The building was one of the few timber-framed styles to survive from this period, wrapped in a twisted frame bent by time.

Ironically, the time we spent there provided far more inspiration than the exhibition we'd just been to see. Who'd have thought it?