Revolutionise the client experience
In its simplest form, the Tour de France is an athletic contest: Cyclists pedal the arduous 2,200 or so miles, over 21 stages, and whoever does it in the shortest time wins.
But to the millions of fans and thousands of competitors, the event is of course so much more. It's steeped in history, tradition, and pedigree. It's global sportsmanship and the epitome of endurance. It doesn't need stadiums or arenas with thousands of fans who've paid for tickets. It spans countries. And, what may easily be mistaken as simply a pack of riders, actually involves an incredible amount of strategy, teamwork and ever advancing technology.
The same sort of strategy and teamwork that we have experienced first-hand with Dimension Data. Not only in their sponsorship of a challenger South African team riding for Charity, but also in their journey to revolutionise the viewing experience of The Tour de France. And we are exceptionally proud to have been a part of that team. A team that demands absolute dedication and a chess-like strategy that would easily rival any sport on the world stage.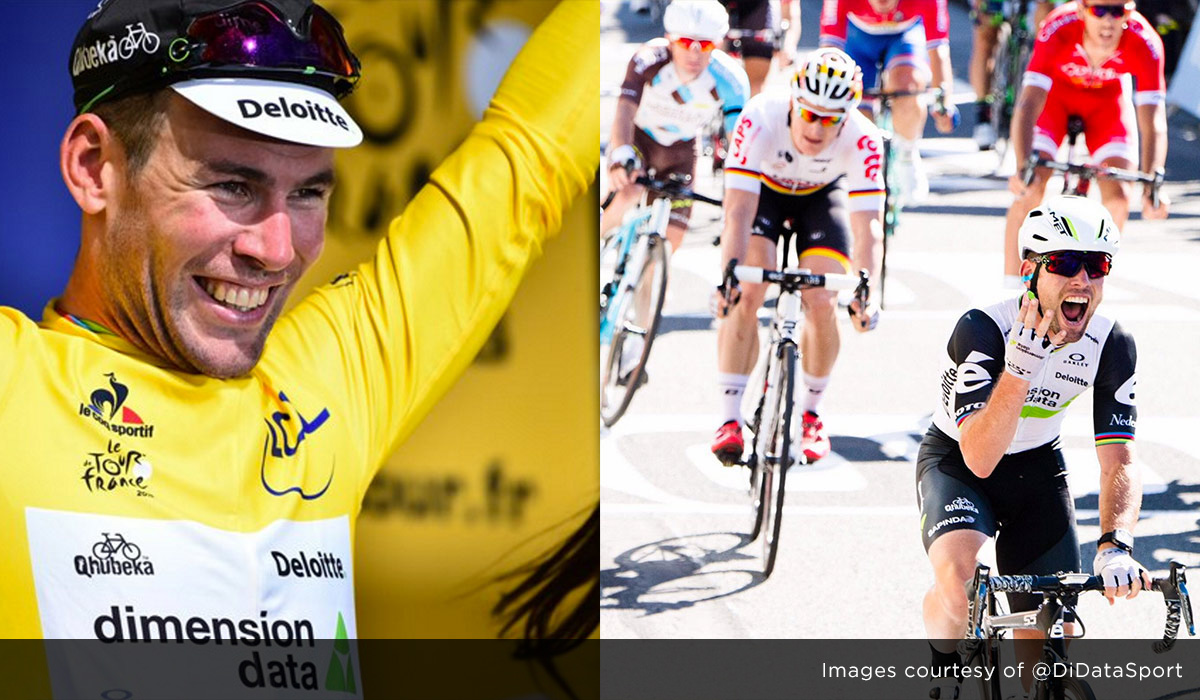 While the riders were chasing a jersey, we dreamt of an experience that could not be rivalled. An experience so immersive it would leave Dimension Data's clients feeling like they were wearing the yellow jersey themselves, while also taking them on their own journey to new digital possibilities.
So, together we designed and built 'Ambition' a mobile Executive Briefing Centre that would follow some of the key stages of the Tour. A 135 sq metre experiential environment designed to place customers at the heart of the Tour – bringing to life some of its unique behind the scenes insights. Its technological advances. The astonishing feat of logistics and teamwork that go into pulling off the largest sporting event in the world. And the new digital era Dimension Data have introduced as the Tour embarks on its next chapter to greatness – bringing the tour to fans across the world in finite detail and real-time through the power of big data and cloud. As guests went on their own tour of the EBC, they enjoyed all of this and more, while also being able to see for themselves, how this same technology could help them address some of their own business challenges.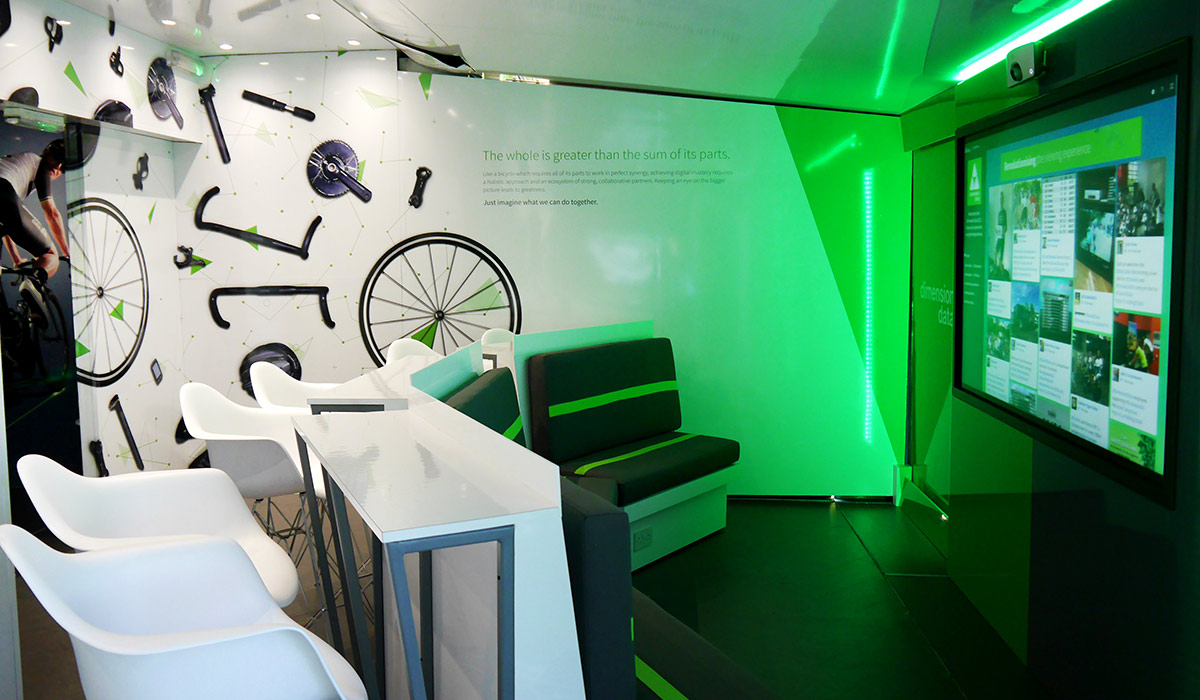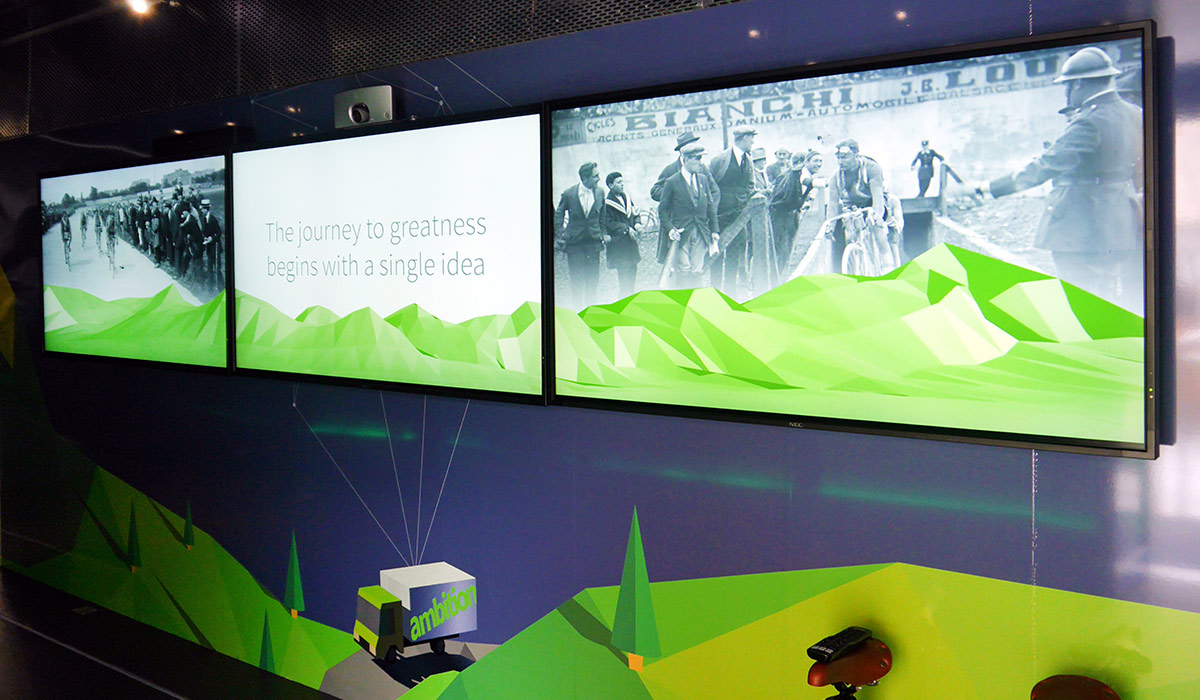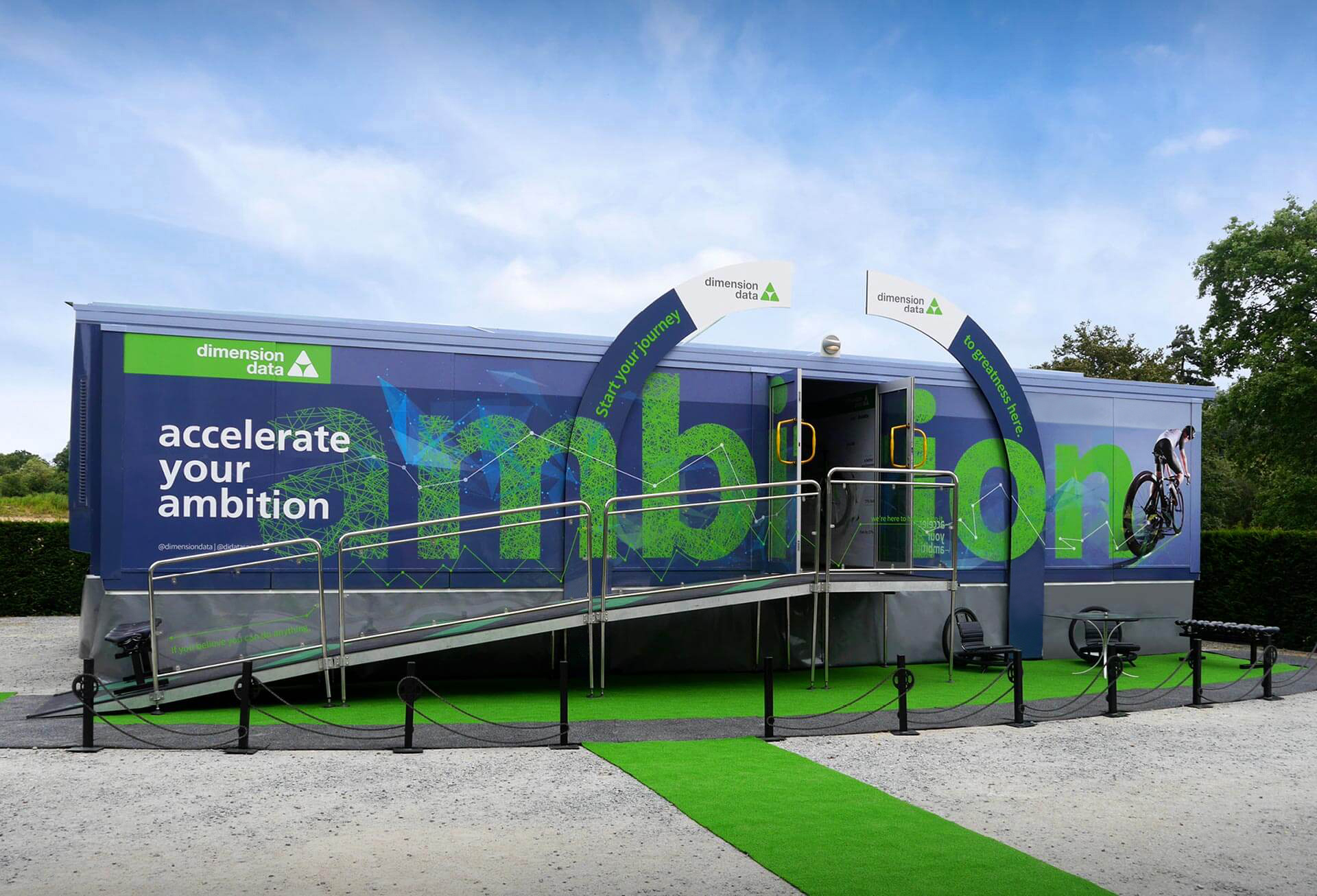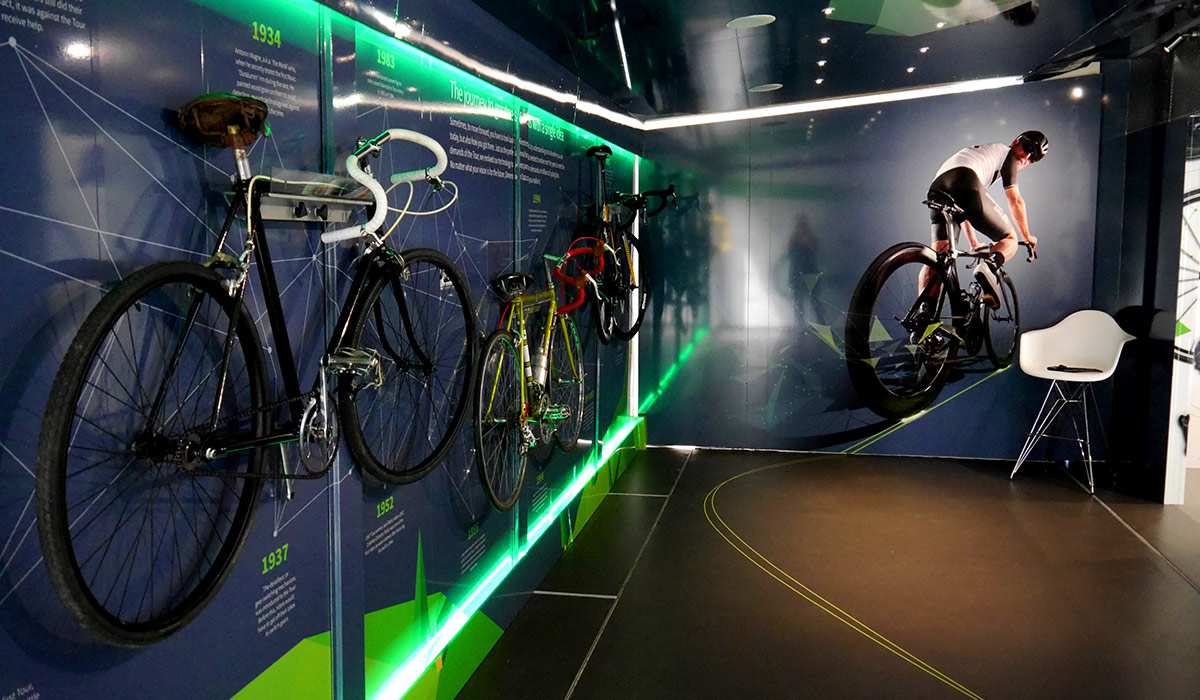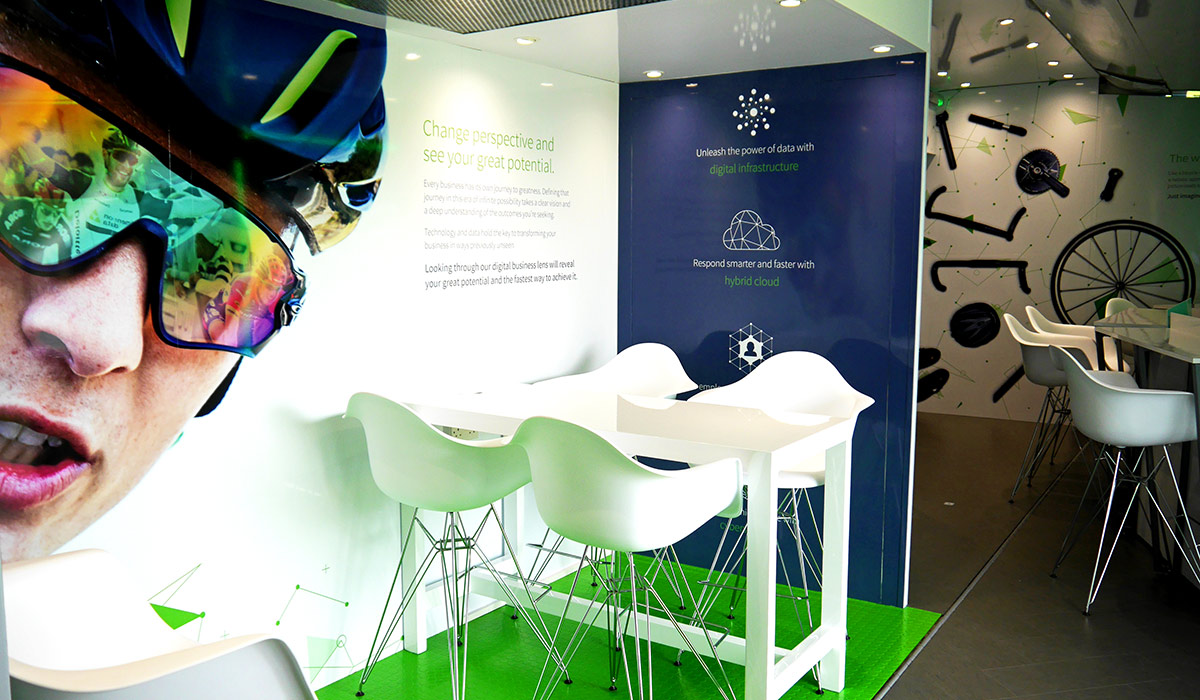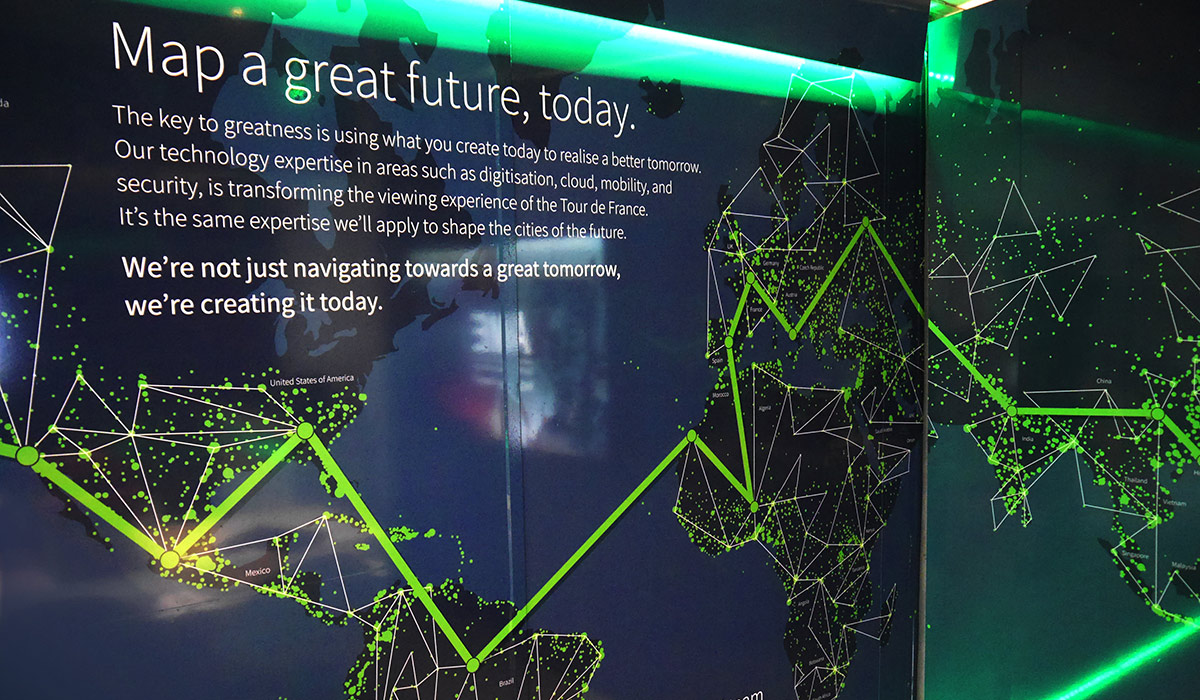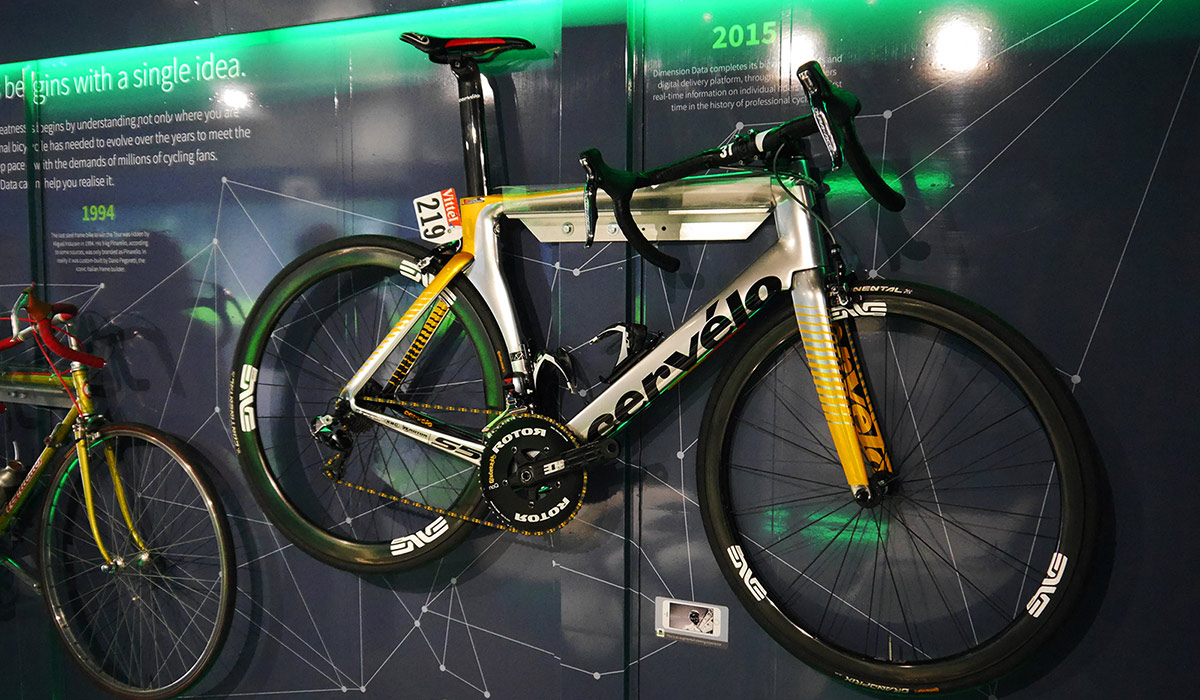 But, like the Tour, it was so much more than a mobile Briefing Centre to us at JPC. With so many (literal and non-literal) moving parts it has been a true example of our Raison D'etre. A holistic 360º experience, that humanised a complex proposition and brought it to life through every single sense, every small creative detail designed to surprise and engage. A photoshoot with The Manx Missile, Mark Cavendish (Team Dimension Data's lead rider) to capture the spirit of The Ambition. Timeline videos to bring the history of the Tour to life across a high impact video wall. An installation housing 103 years of bicycle advancements. A physical cycling challenge that put guests in the race – while tracking their own stats and data in real time. It was cycling inspired furnishings, stunning historical venues (capable of housing a 40-tonne unit while delivering the wow guest experience). It was getting helicopters to remote rural French villages. Augmented reality… To actually being a reality.
It was the greatest challenge, experience and result that I've probably faced in my career, a true testament to what really is achievable when a team pulls together. And, whilst it's difficult to draw comparisons to the inclement weather and backbreaking hill climbs Tour riders endure, I can genuinely say that the JPC team and everyone else involved shared a similar dedication and hunger to succeed with no detail left to chance. A journey we can all be proud of.
So, as we begin to see some of the early results of our enormous race, (such as 4.5 times more reach to business clients and more engagement than ever before as this went to press), we see Dimension Data, our own team's sprinter, take an incredible lead. And, more than ever, we believe that like the Tour de France, it takes an incredibly strong team to win.