Challenge
Already a well-known brand in the B2B space, premium transport service Addison Lee were keen to build on this success and grow their B2C presence with strategic partnerships at key locations.
To support this ambition, they had signed a 3-year partnership contract with AEG to be the Official and Exclusive Car Transfer Partner to The O2 and The SSE Arena Wembley.
With a combined yearly footfall of over 10 million, these venues held huge potential for securing Addison Lee as London's premier car service. This partnership was an opportunity for continued brand visibility and awareness in their active passenger base, as well as a chance to start building awareness and engagement with people who may not have considered Addison Lee before.
The challenge? Cutting through the noise to reach these audiences in the AEG spaces.
Having worked with JPC on multiple B2B creative projects, Addison Lee approached us to create consumer-friendly concepts and styles for animations to be shown on digital signage screens throughout the venues. The concepts needed to reflect the different elements of the customer journey, highlight the partnership with AEG and also demonstrate how simple it is to book an Addison Lee car.
Solution
Our concept emphasised the ease and convenience of Addison Lee with the catchy strapline 'App. Tap. Snap'.
We expanded this concept to illustrate three customer touchpoints – home time, party time and your time – with different animations shown on different screens to correspond to the physical customer journeys happening in that space, serving the right message at exactly the right time. For example, at the end of the evening when an event is finished, visitors leaving the venue see the 'home time' animations and reach for their phones to 'app, tap, snap.'
Consistency was key to the campaign's success as we adapted the concepts to fit 15 different screen sizes – including an extremely long arenamation that wraps around the seating at The O2 and a tricky gable end at Wembley.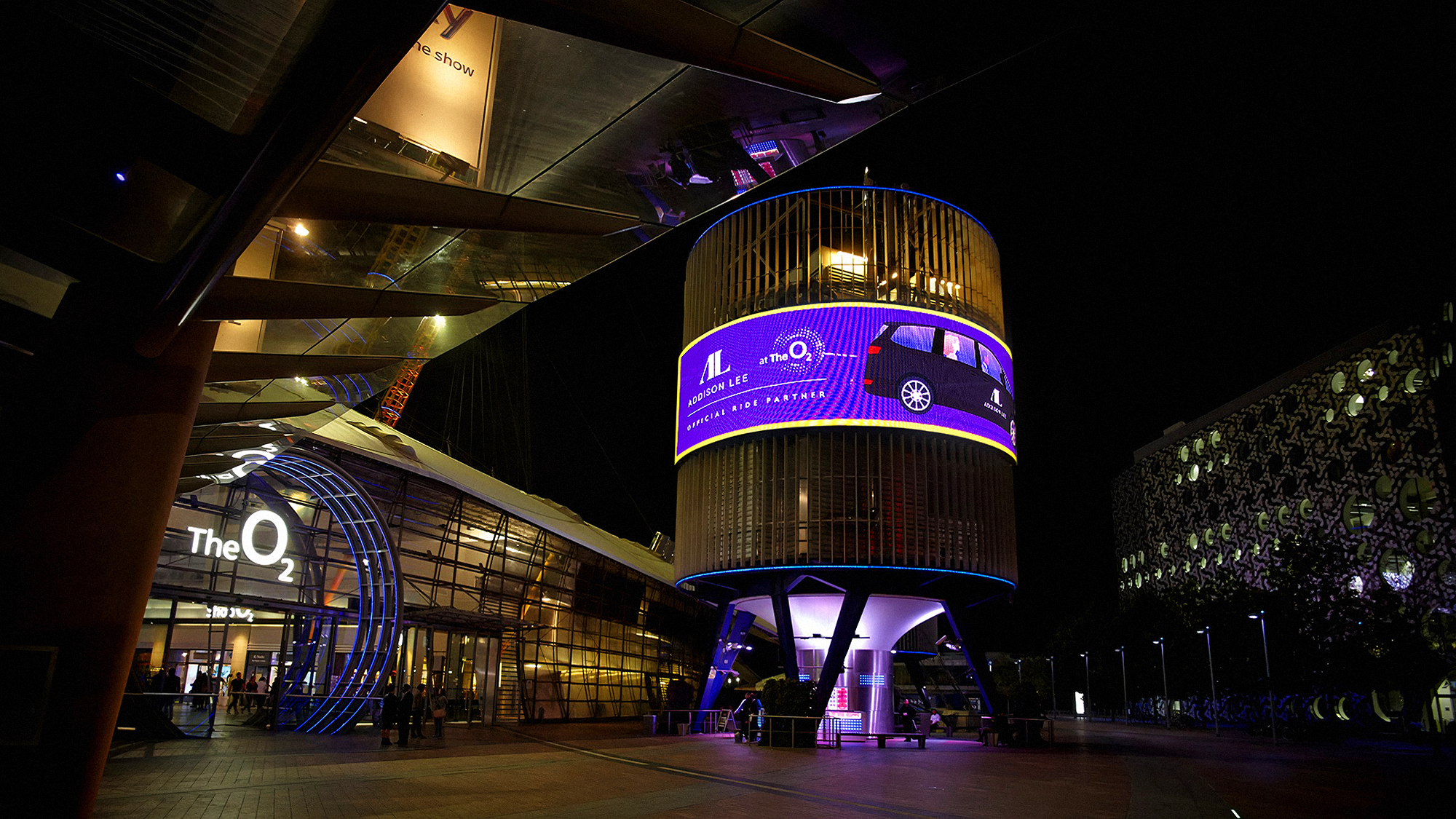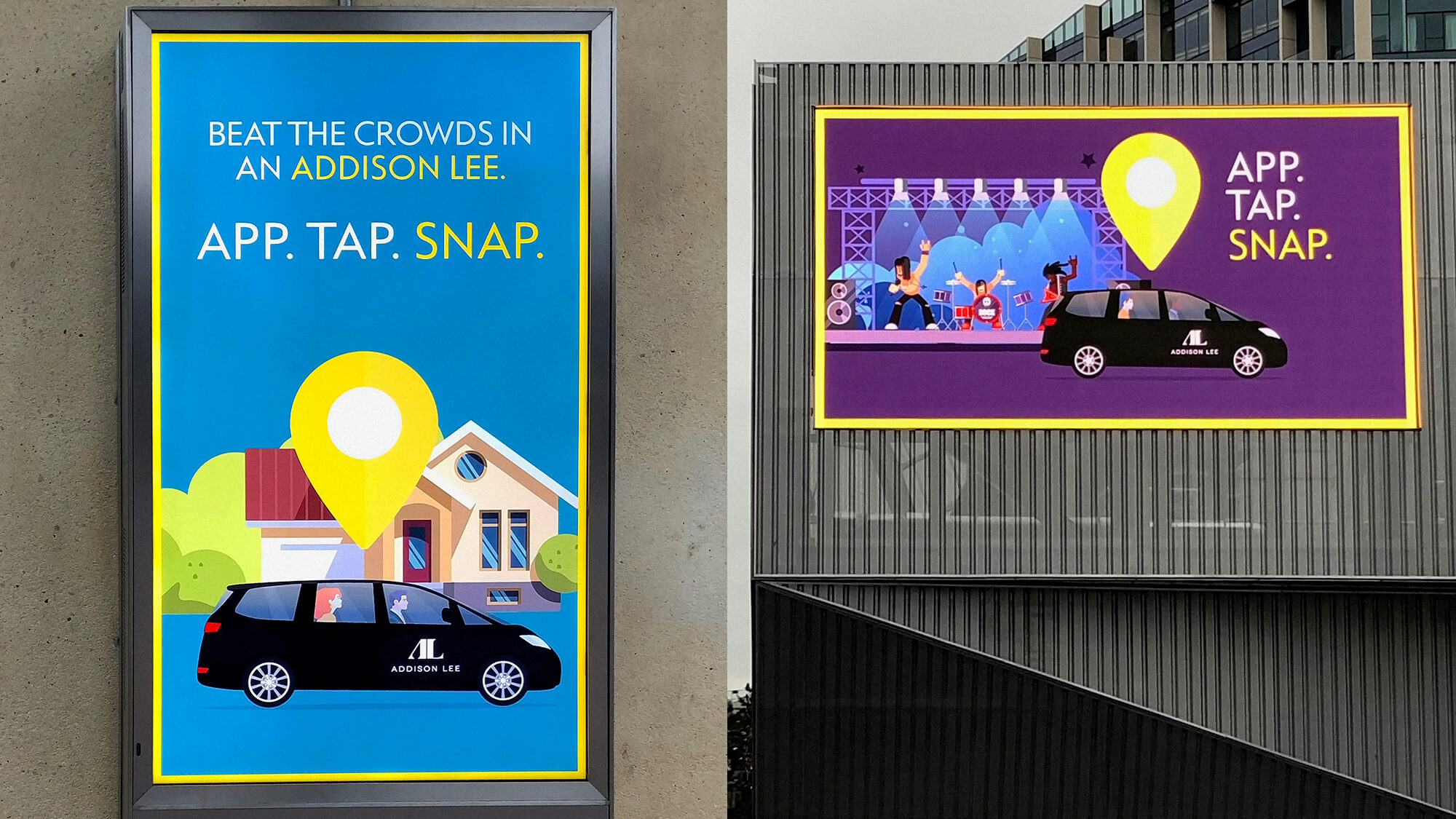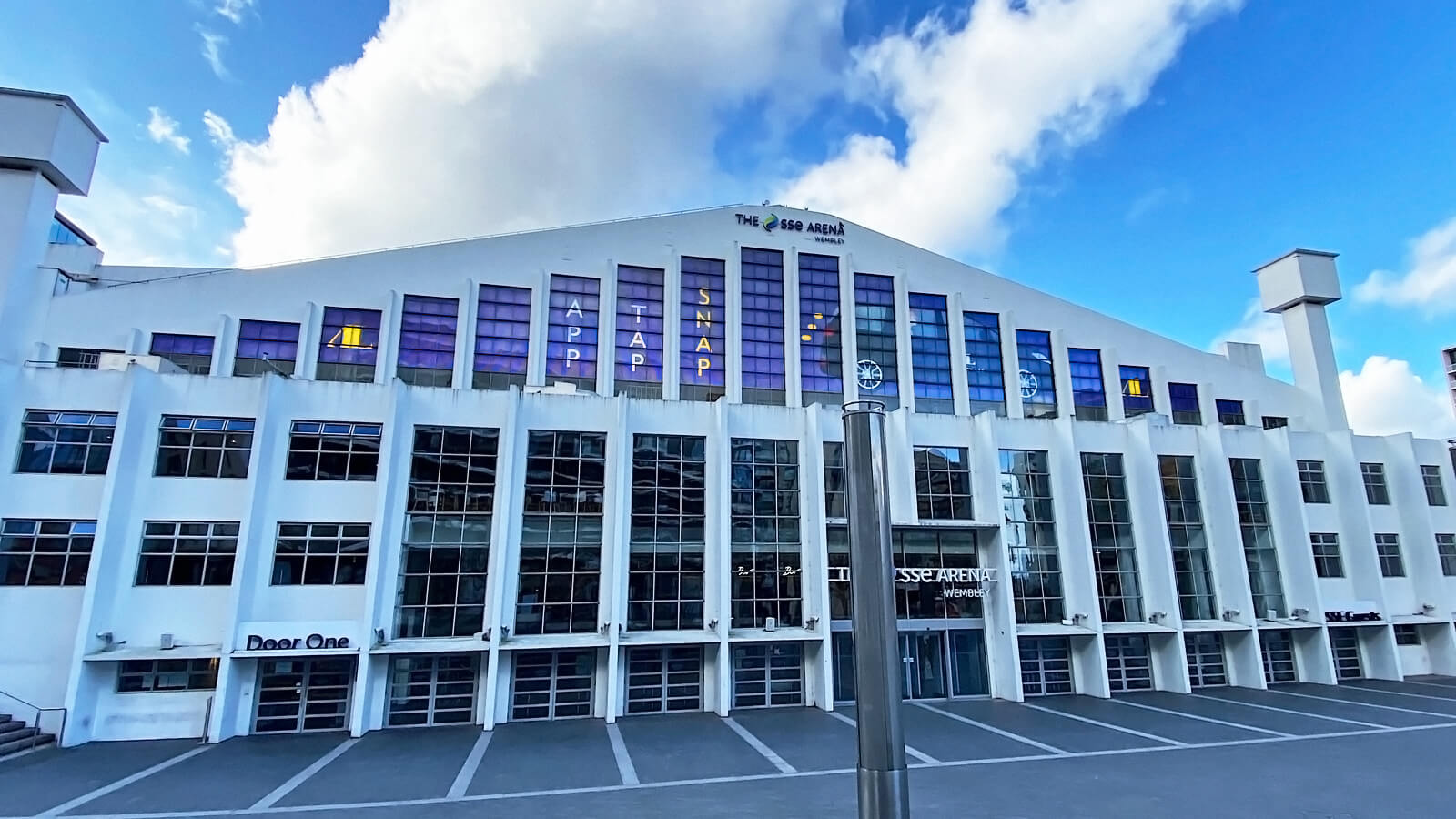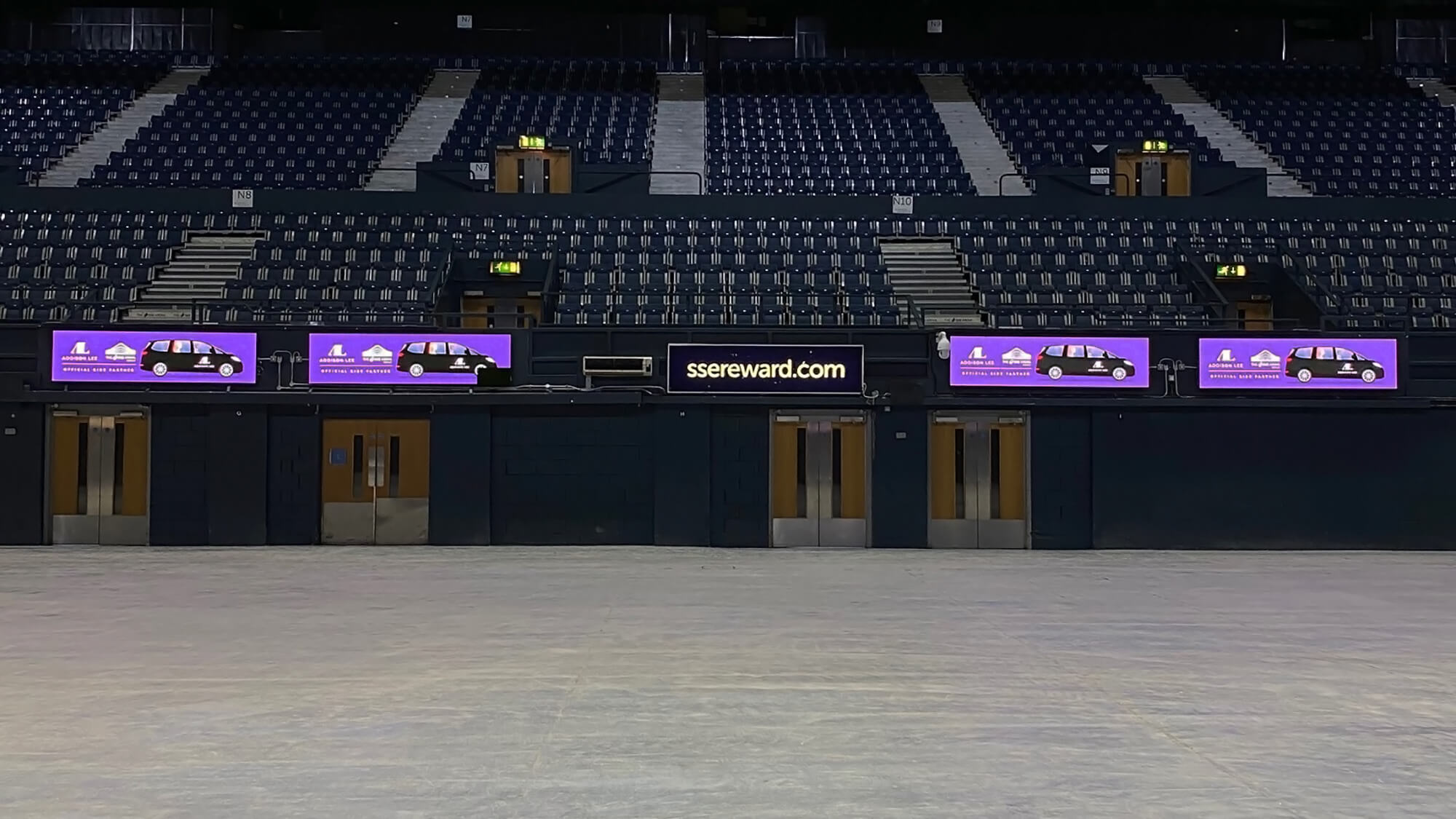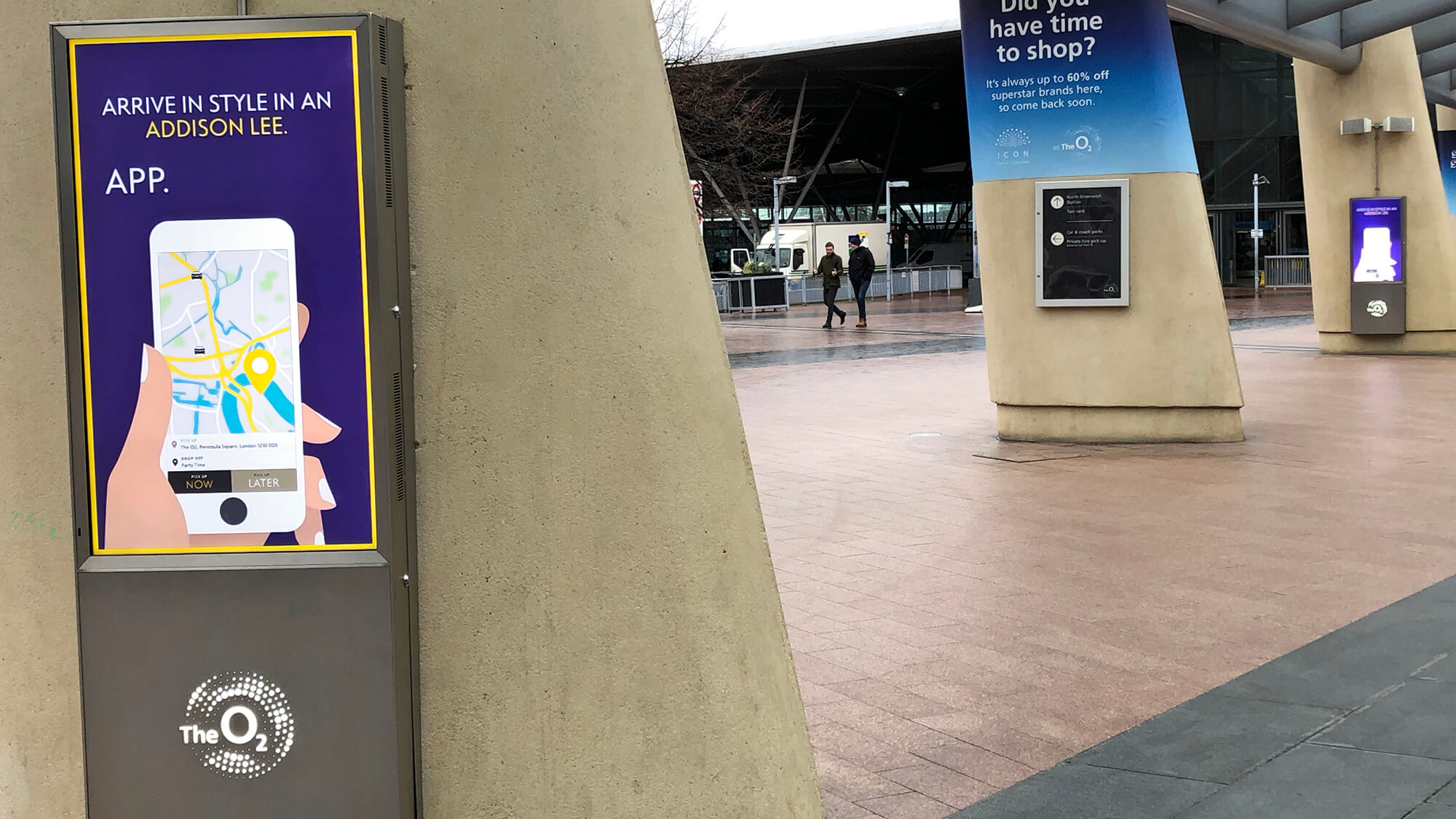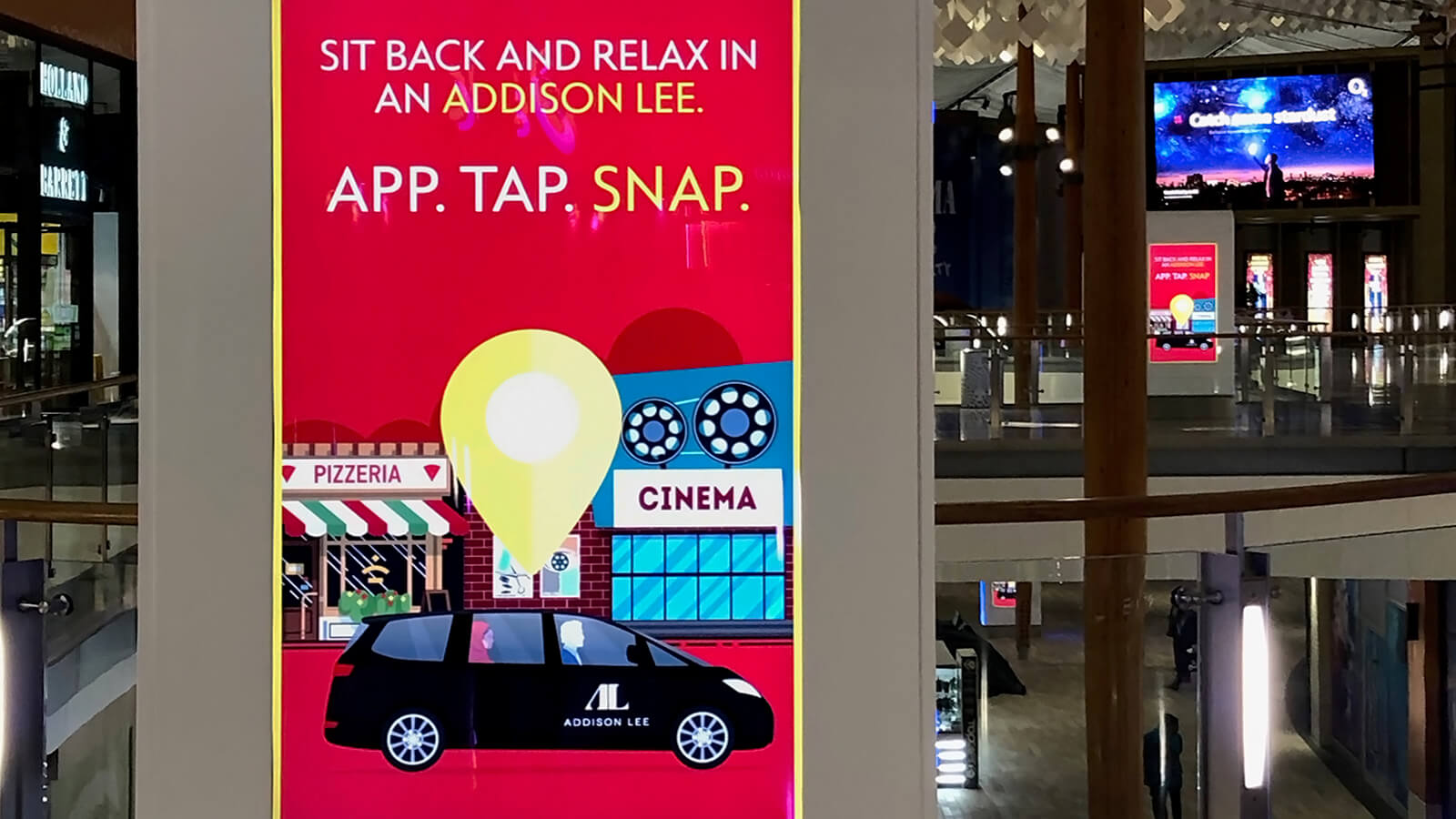 Outcomes
Addison Lee now has a fresh and modern brand style for consumer activities that can be rolled out in a variety of different formats. The two venues are equipped with Addison Lee branding on a constant roll (not just during events), providing extensive brand visibility and awareness to over 10 million visitors a year.
"JPC's work on consumer DOOH at two of London's major music and retail venues has significantly taken the Addison Lee brand forward, bringing a fresh, relevant and impactful suite of creatives that has helped increase our appeal to a wider consumer base. They produced a fantastic piece of work and it's been a pleasure to work with their team."
Rob McGinn, Chief Commercial Officer, Addison Lee Group
"I knew JPC would deliver on what we needed for this new brief and stage in our consumer branding and communications. They delivered fantastic end results on very tight timescales, which solicited positive feedback across the business and from our partner AEG. Thank you – we couldn't be happier."
David Burgess-Bellay, Global Strategic Sales Director, Addison Lee Group