How do you turn an iconic – but dusty and dated – metal industry building into a unique collaborative working space? It's a simple formula created by JPC
Originally used for hallmarking precious items such as jewellery and silverware, Birmingham's Old Assay Office has played an important role in British industry since the 1870s. Its new owner is TCN, a property development company with a mission to transform historical architectural gems into shared, collaborative workspaces through reinventions which are sympathetic to the heritage of a building and its surroundings.
When TCN tasked JPC with rebranding The Old Assay Office and turning it into a creative hub and inspirational workspace, it was clear to us that the building required a brand identity that reflected both its rich history and Birmingham's status as home of the industrial revolution. Yet a contemporary design concept and refreshing, highly usable internal space attractive to Birmingham's small businesses.

Our Solution: Our creative approach hinges on maintaining an honest and credible thread from a building's history to the present day. With a tip of the hat to the building's history in precious metals and the science of the Victorian era, we used the Periodic Table as the inspiration for the interior of what was to become 'Assay Studios'.
The Periodic Table is well known and allowed us to embed references throughout the user experience. As a collaborative space, we sought to highlight the fact that atoms interact in the same manner that humans do when they work together. Drawing on these themes, we developed a bespoke look-book of colours, art, furniture, textiles and textures. It embraced rich heritage palettes embellished with metallic elements and bold statement pieces, and was created to form the foundation of design and fit out.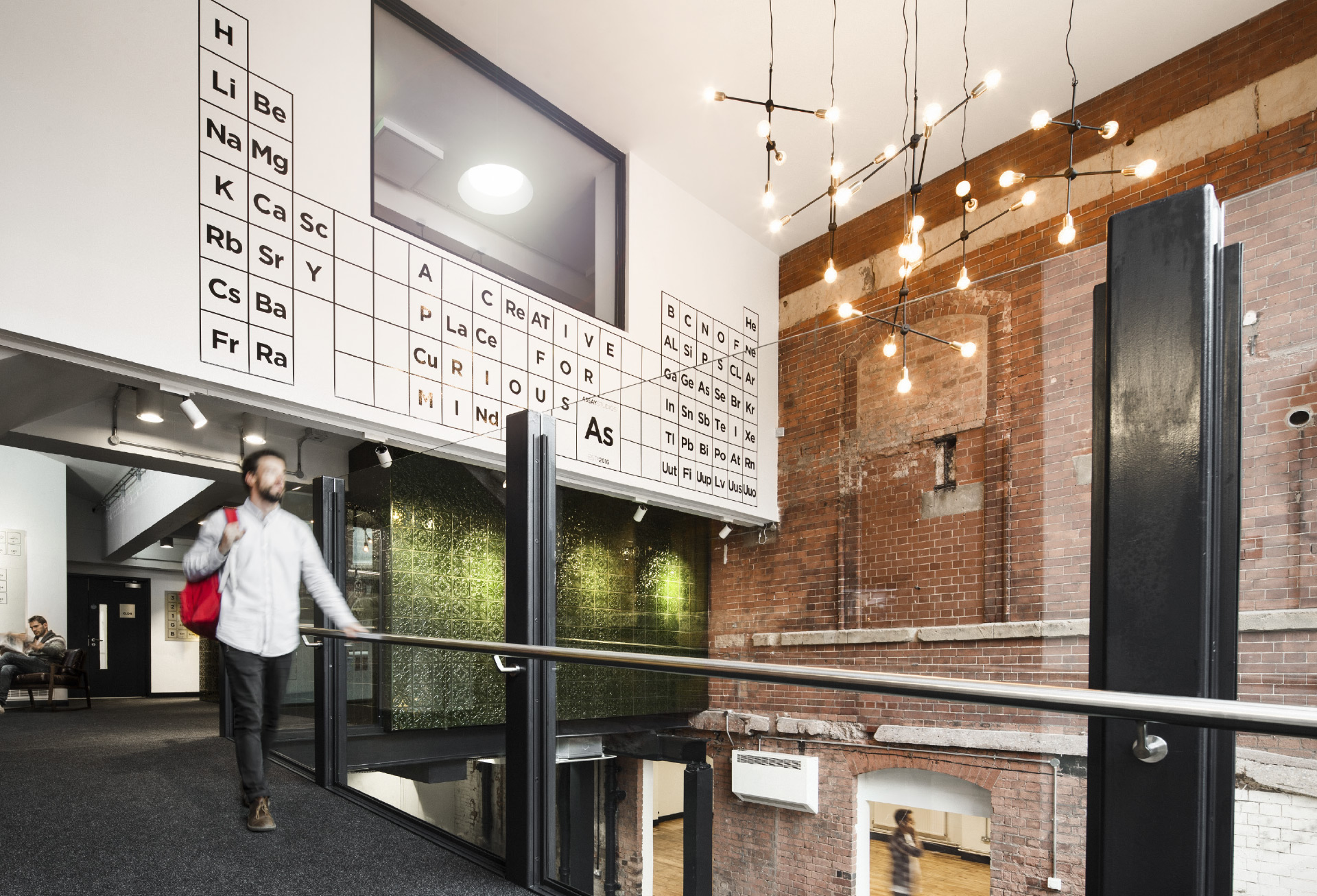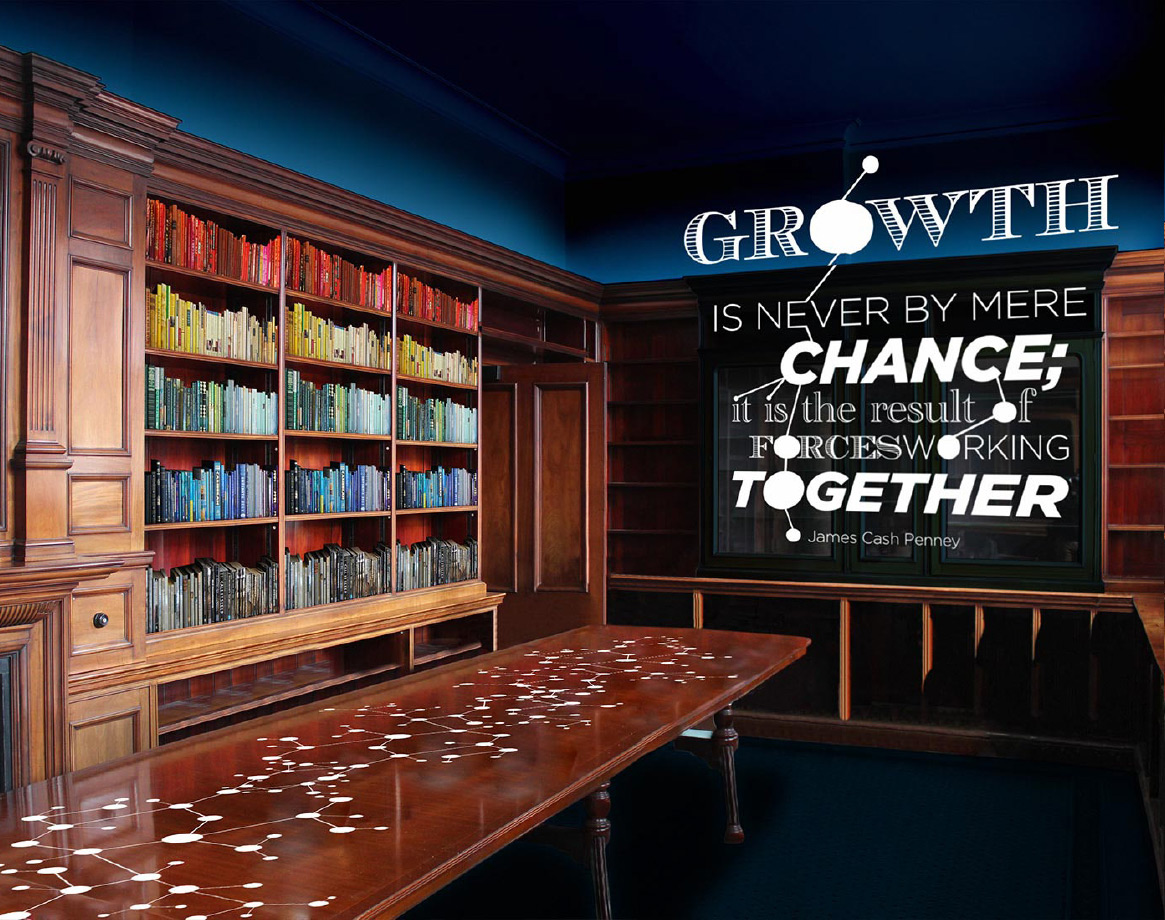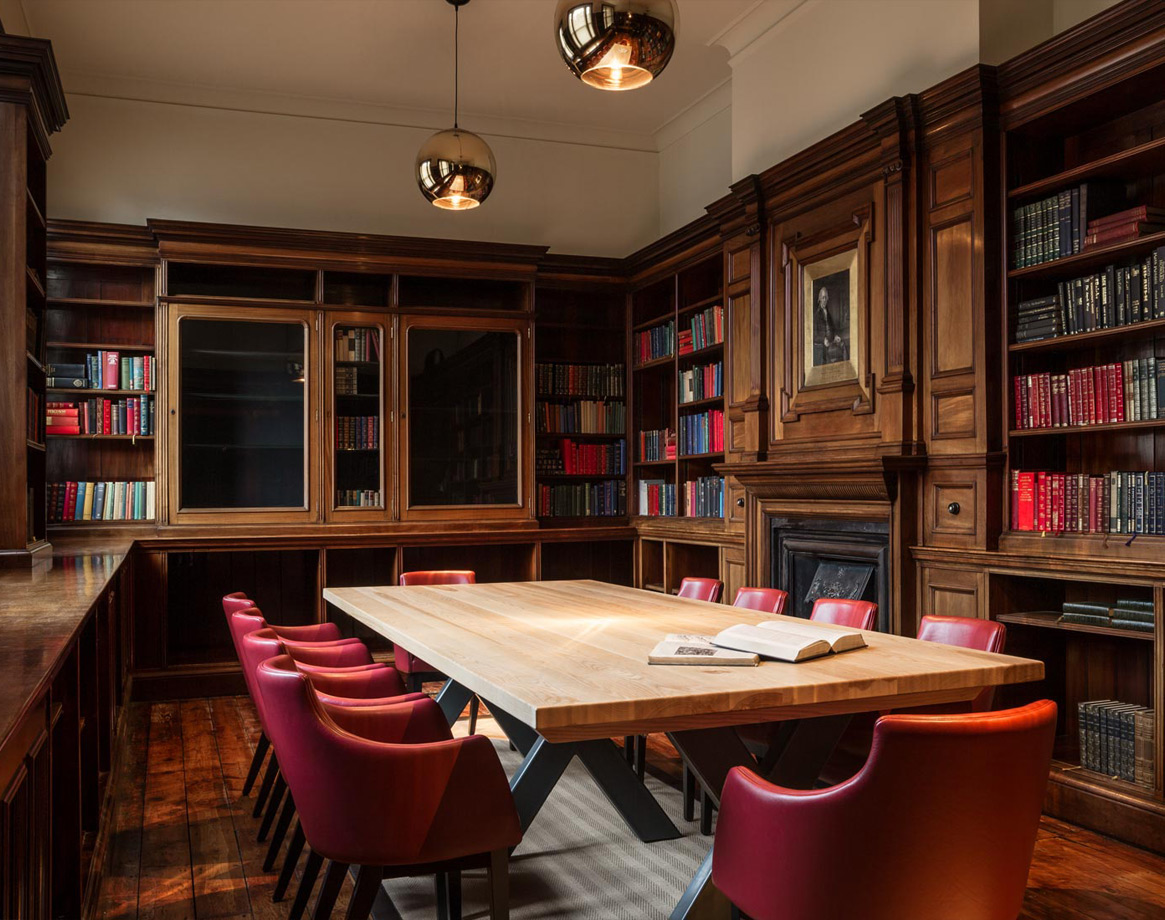 Wayfinding was a critical functional element of the project in such a vast building. To highlight the value of communal spaces and help tenants to find their way around, we used innovative and eye-catching molecular-style cut vinyl decals around the lift doors. We also placed a large reference graphic in the style of the periodic table over the mezzanine. Clever adaptations of the chemical elements direct tenants to toilets and other facilities. Finally, a dramatic brushed gold Tenants' Board with back-lit LED lighting anchors the space.

The Result: Assay Studios is now a full vibrant, creative business hub, supporting a strong community of value-creators in the heart of Birmingham while still paying homage to its industrial past. TCN's vision for a contemporary, collaborative and nurturing workspace has been realised and the site is now home to designers, communication agencies and food delivery apps. It has been warmly welcomed by the community, generating considerable positive press attention.
JPC created a brand and identity by using the history and cleverly combining it with the modern day resulting in a unique and vibrant community of business.

CEO, TCN