How do you fit the ultimate customer experience…into a single truck?
immersive zones

augmented reality triggers

sqm footprint
The Brief: As the official technology partner for the Tour de France, Dimension Data is transforming the way millions of fans across the globe view this iconic endurance event. They wanted to convey the full grandeur of this story to key customers, not only showcasing the capabilities they're bringing to the Tour, but also relating them to core business benefits. Dimension Data's vision was a fixed environment where they could deliver a highly targeted, personal customer agenda. Our challenge was to help create an immersive experience that would bring it all to life.
Our Solution: We immediately immersed ourselves in the history of the Tour de France and the services Dimension Data offers. The concept we came up with had the customer at its heart: humanising the technology Dimension Data were uses and presenting it in a way that was easy to understand, without losing the all-important tone of the Tour. We delivered this as an end-to-end presentation covering every detail, from creative executions to invitations. We even defined what the door handles would look like.

To make the experience truly special for visitors, we needed to get closer to the action. The JPC team conceived, designed and built 'Ambition', an immersive 135sq metre mobile Executive Briefing Centre. Ambition followed the gruelling schedule of the Tour de France, very literally bringing to life the innovation and business transforming capabilities that Dimension Data delivers from 3 picturesque locations across France.
Starting with the core idea of every customer's unique 'journey to greatness', we used Ambition to create a 360-degree experience in which even the tiniest detail told part of Dimension Data's Tour de France story, from flooring samples to cushion fabrics, table tops to fencing. All located on a double gullwing truck, the experience had five zones. Each zone had its own distinct bespoke décor and atmosphere, glued together with life size imagery of Mark Cavendish, taken during a photoshoot he did with us in Paris.

We didn't just provide a visually stunning space, we made sure the technology onboard packed an enormous punch. Features included an enormous 180" animation of the Tour de France history which greeted visitors upon entry, 15 augmented reality triggers, and a truly immersive experience where customers could get on a bike and race against Tour de France competitors.
The Result: Dimension Data was able to deliver a uniquely immersive experience that money couldn't buy. Visitors were blown away by its detail and the fact that as well as providing a hands-on experience of how Dimension Data was contributing to the Tour de France, it brought to life the possibilities its approach held for customers.
Exterior
An impressive 135sq metre double gullwing lorry trailer sets the tone. Complete with full wrap artwork and a lifesize Tour de France starting arch, complemented by bicycle chain fencing, bicycle tyre furniture and bicycle frame door handles.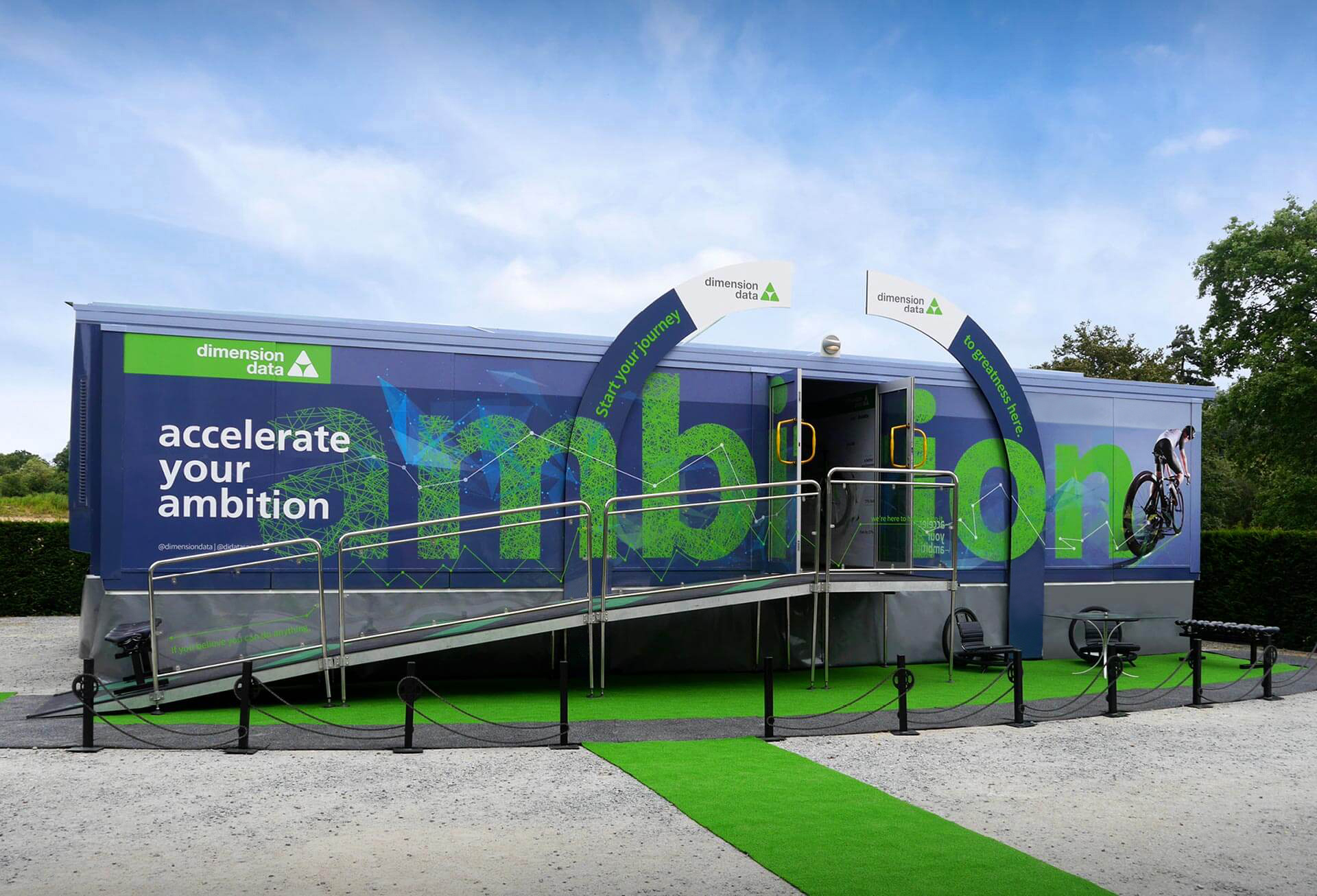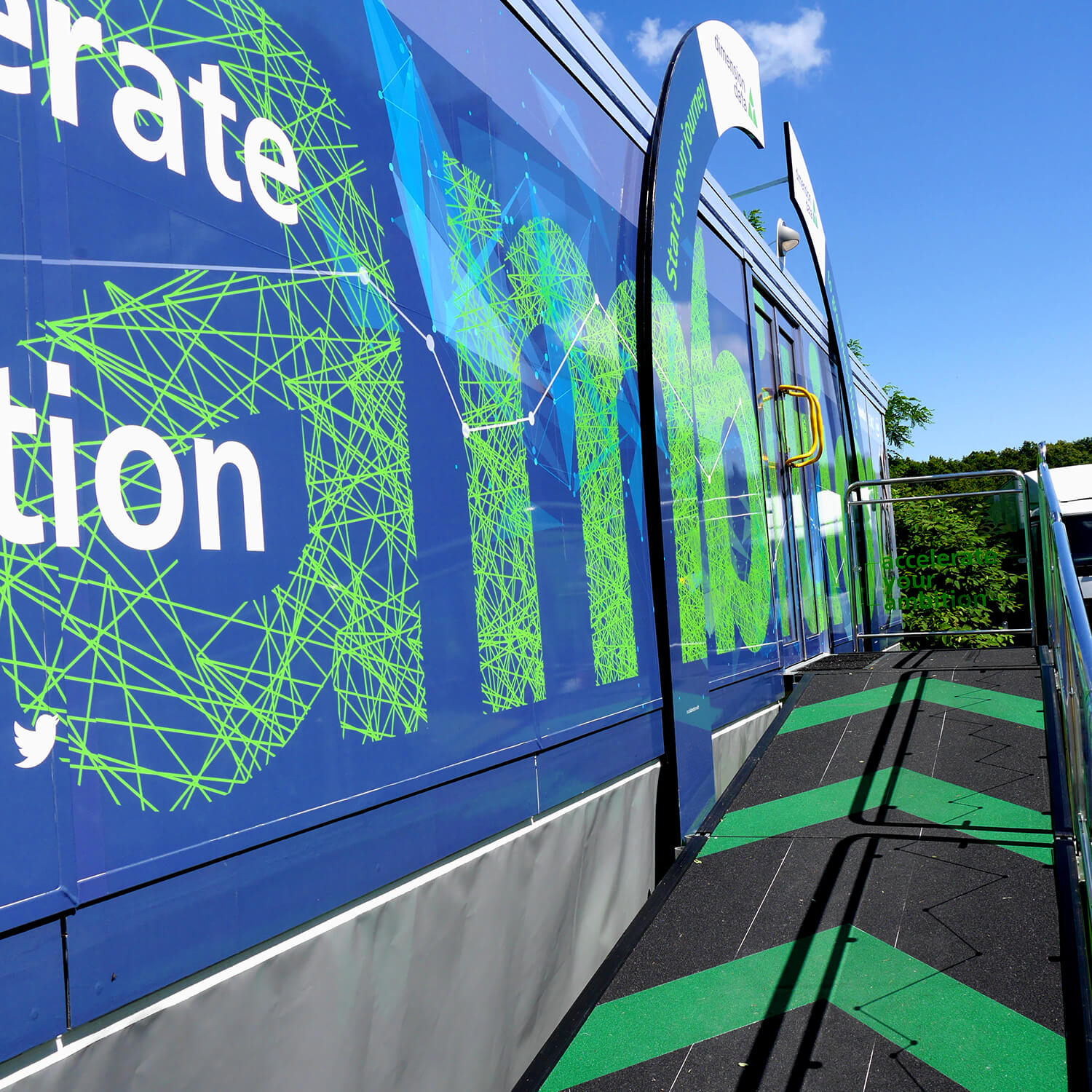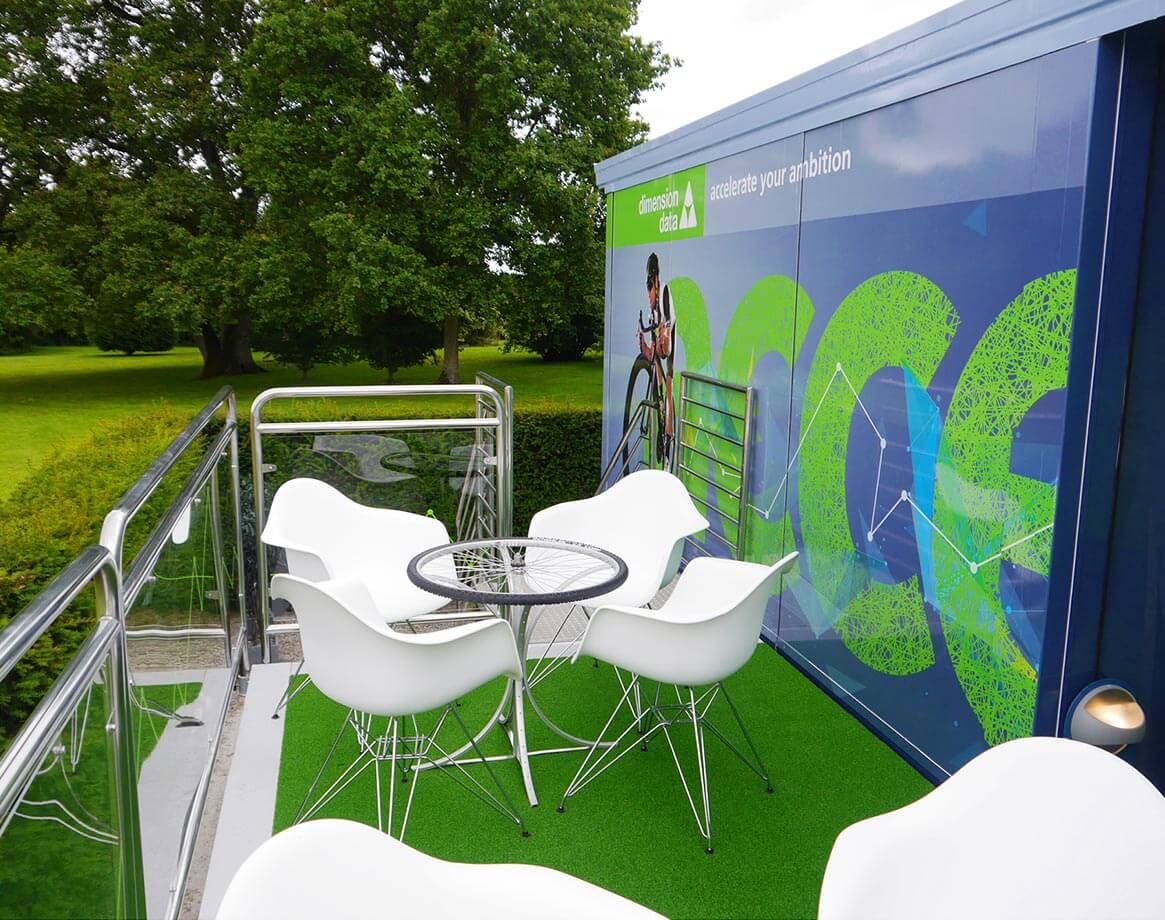 Zone One
As visitors enter, a huge 180" interactive timeline plays, explaining the history of the Tour de France and how technology has helped impact its development since 1903. This was complemented by an installation housing 103 years of bicycle advancements, complete with 5 augmented reality triggers bringing the story to life.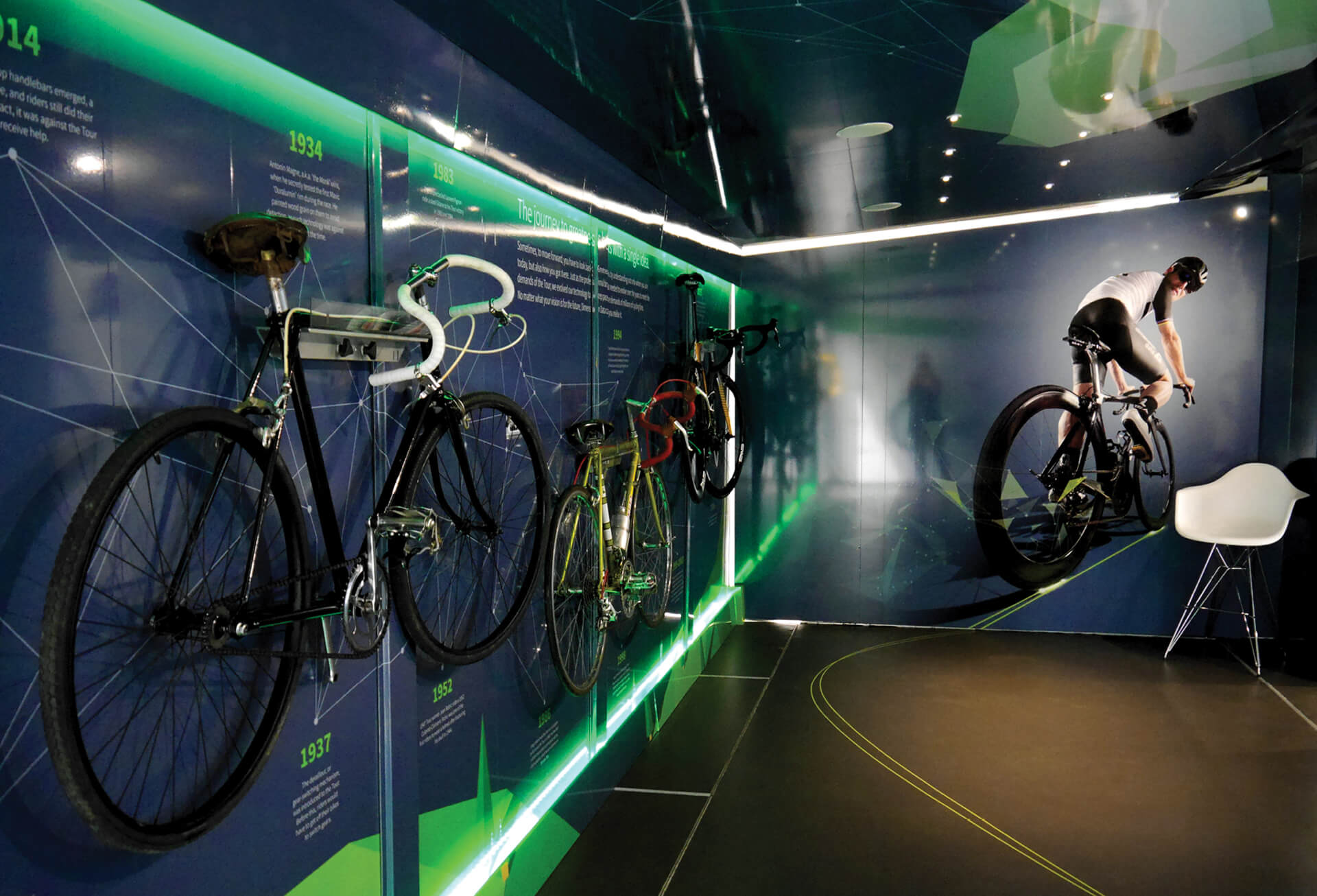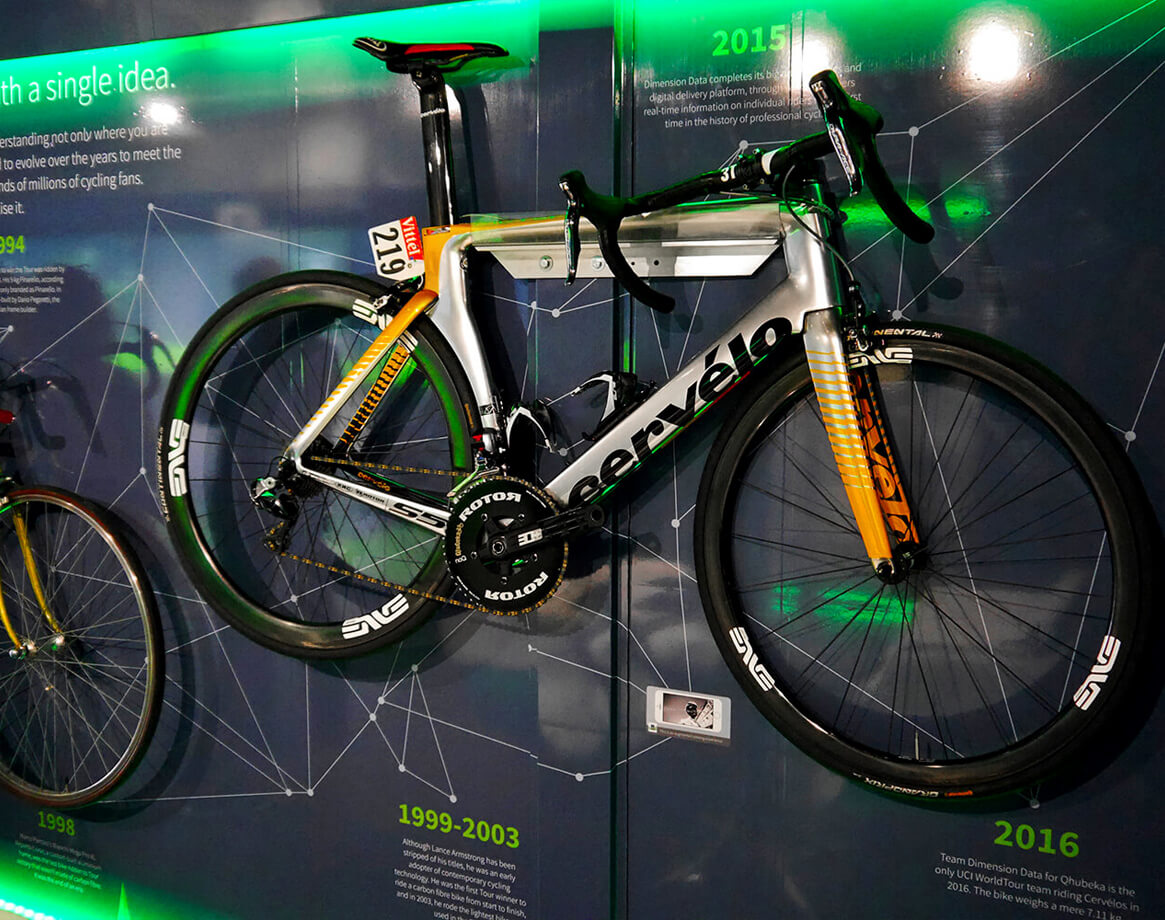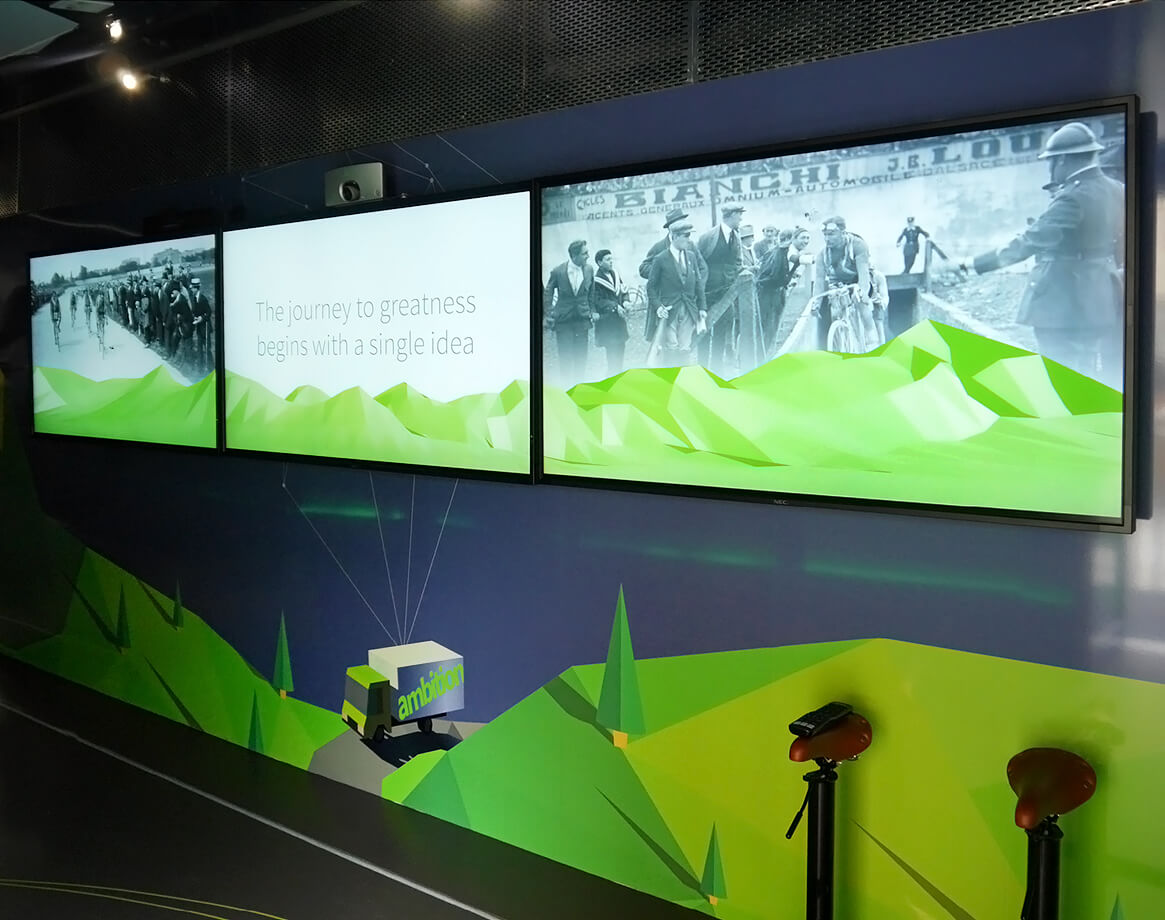 Zone Two and Three
Bespoke banquette seating immediately welcomes visitors, with an interactive 80" screen for business presentations to take place, matched with a more private area for conversations in zone 3.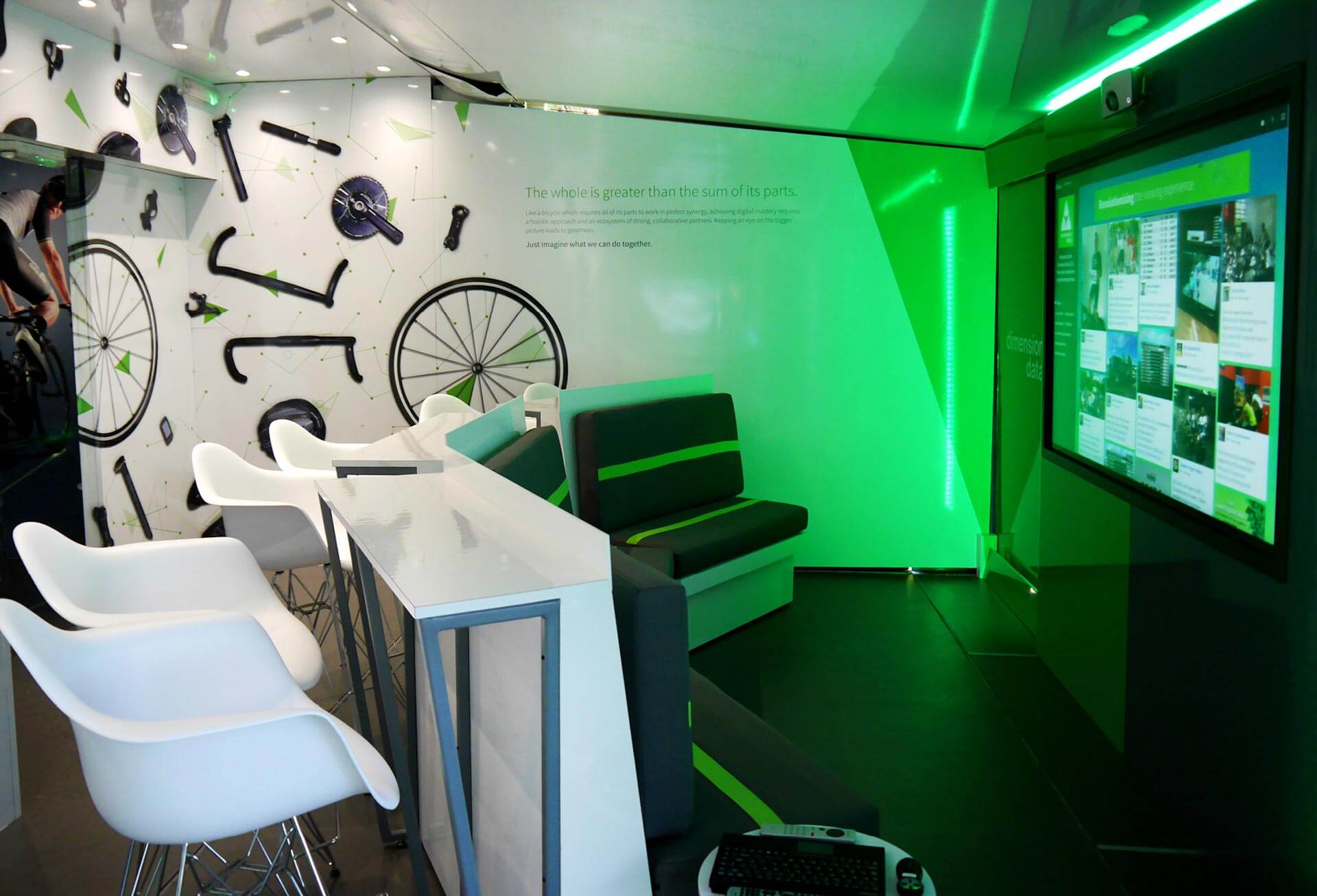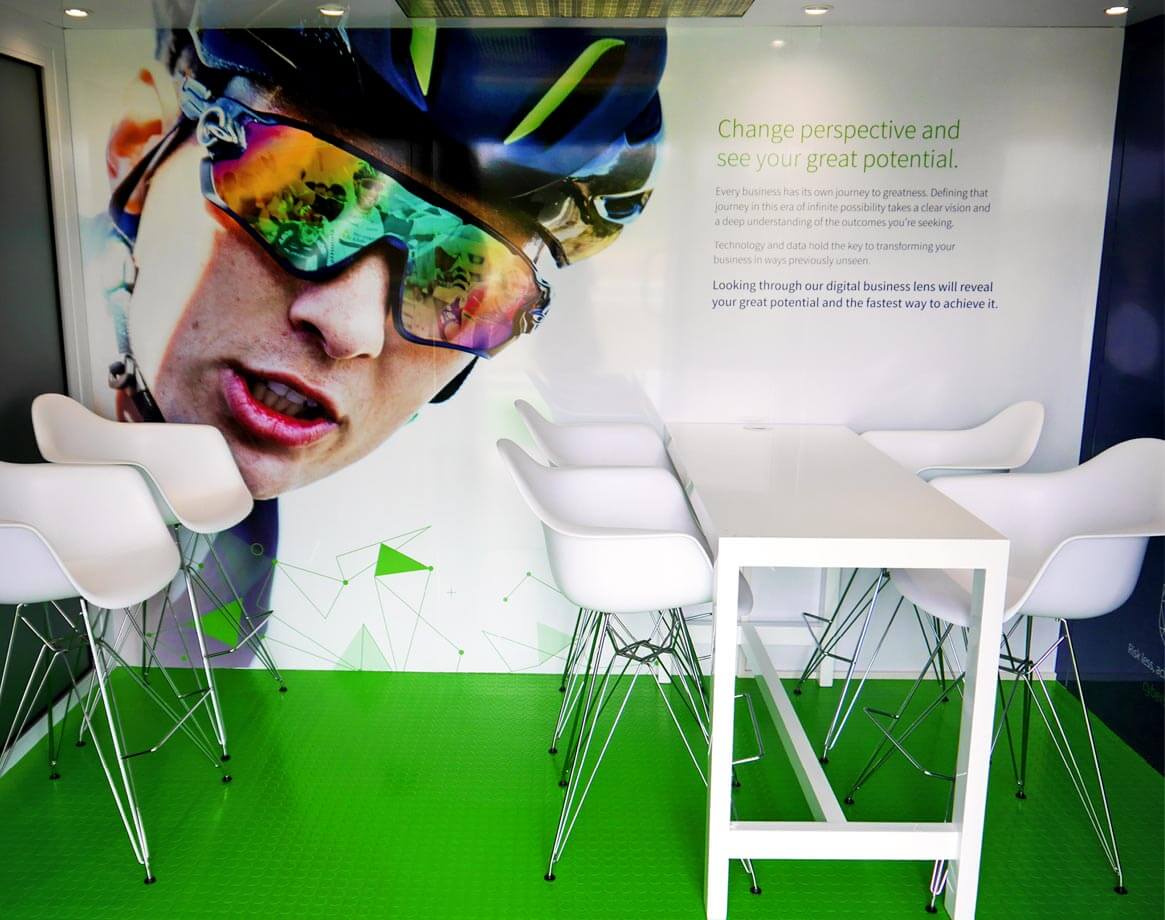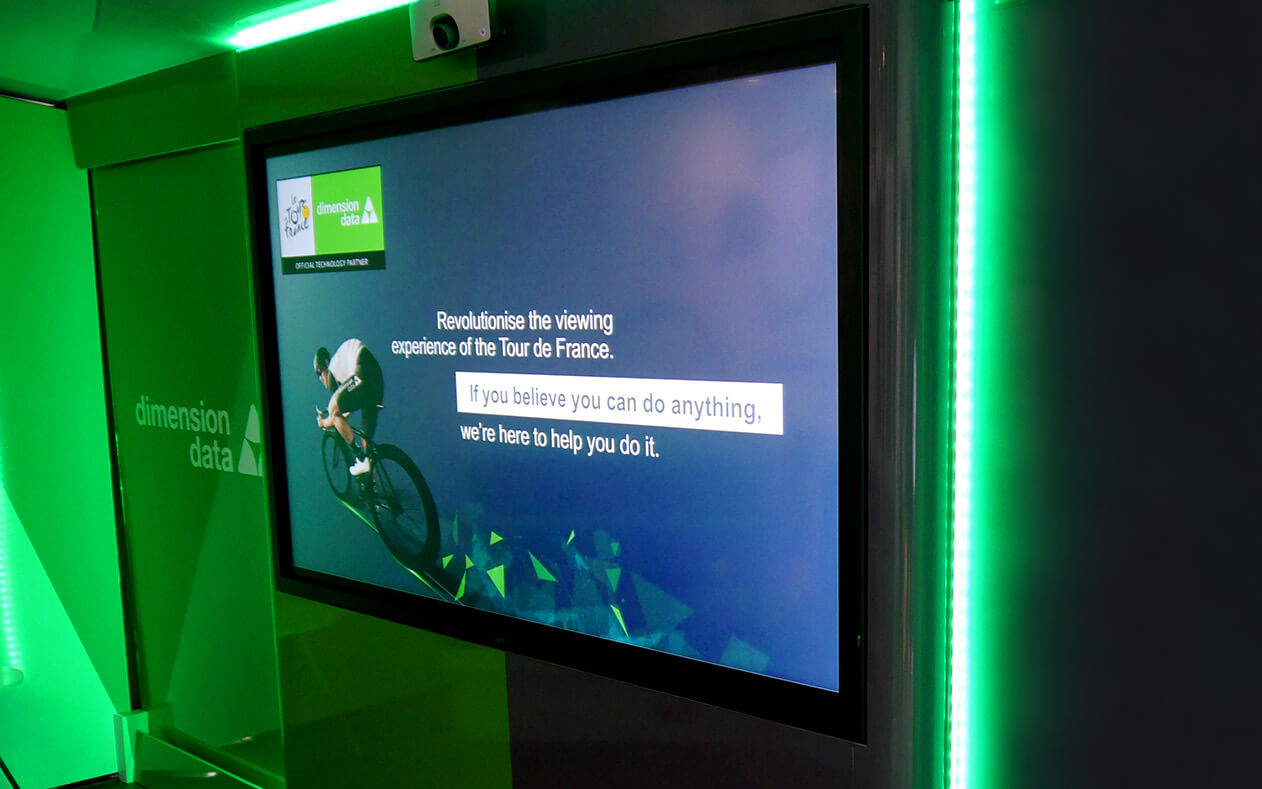 Zone Four
A giant full wall wrap creates a parallel between Dimension Data's work on Smart Cities and the difference the Tour has made to rural areas of France, boasting another 5 augmented reality triggers to reinforce our message.

Zone Five
Here customers experience Dimension Data's work with the Tour in real-time, with another 5 augmented reality triggers demonstrating the data's journey from riders equipped with sensors to the cloud and on to the Big Data Truck. Customers are then given the opportunity to interact with the engineers working on the project via satellite feed. Visitors could experience how it worked for themselves by getting on a bike to measure their own performance against those competing in the Tour.

One thing that struck me with JPC, is that you took the time to listen to the brief. To understand who we are as Dimension Data, what we were trying to achieve and for our client, the Amaury Sports Organisation and the Tour de France and take that understanding into the experience centre.

Group Executive, Dimension Data