Challenge
durhamlane, an established, lead generating and revenue accelerating business, are ambitious experts in the field of sales outsourcing. Led by Richard Lane and Lee Durham they provide a unique offering in the market and have a strong record of repeat customers. Working in an industry that is synonymous with a tactical and transactional proposition, durhamlane is committed to rewriting the rules; creating strategic relationships with their clients and on a mission to take sales to a higher level.
For over 10 years, the company has gone from strength to strength, and at the end of 2020, having won more than £1.5 million in new orders and grown their team by 15, they recognised the need to take their own brand and proposition to another level to help support the next chapter of growth as they seek to expand into new markets and build on their record breaking success. 
They approached JPC to help them capture and better reflect their offer while also evolving their brand and go to market strategy to support their ambitious goals; raising them up the value chain to target larger enterprise businesses, while also continuing to embed and grow within their core client base.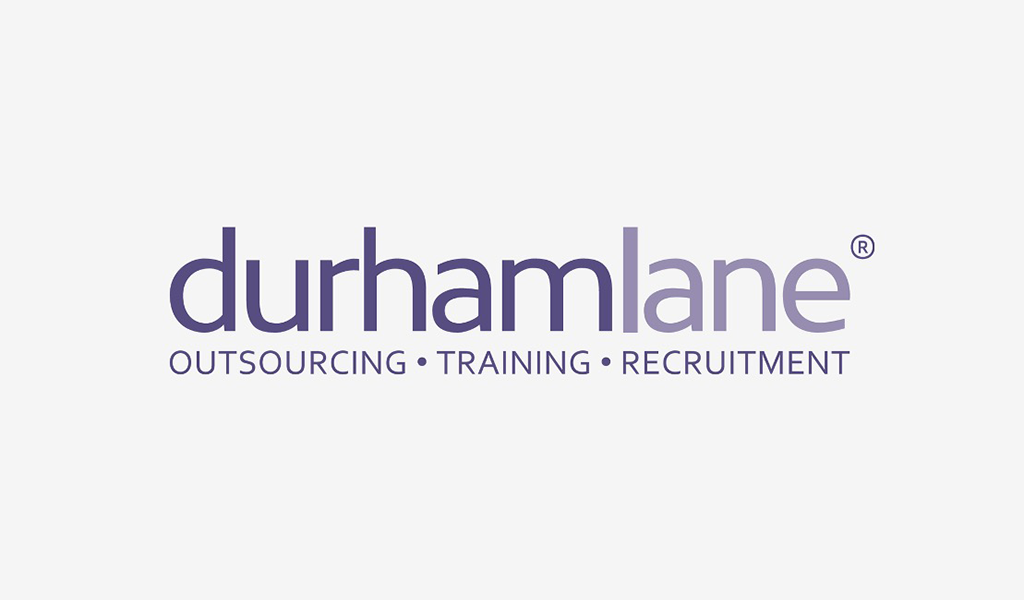 durhamlane's previous brand identity.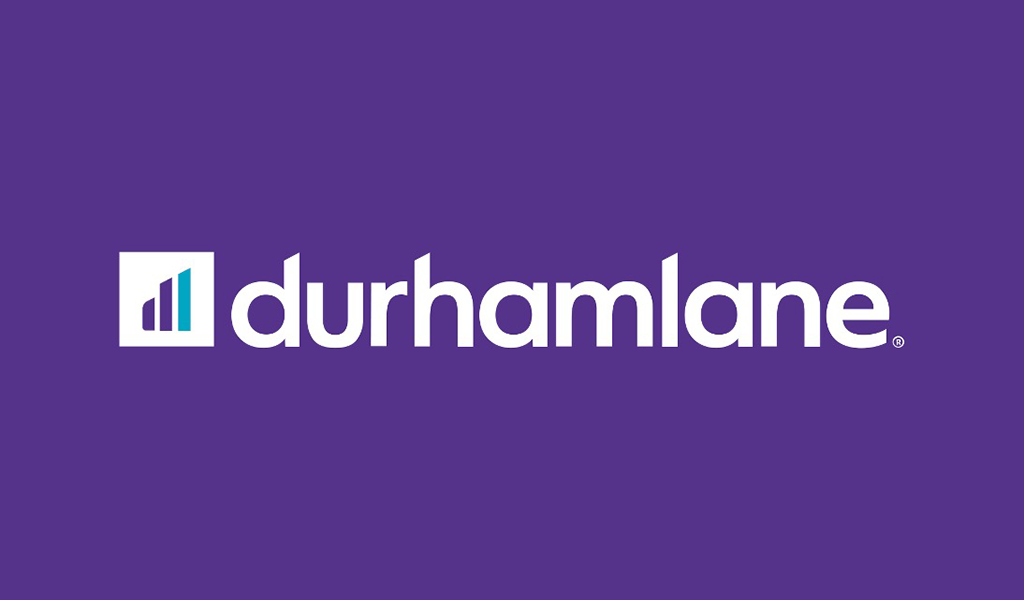 durhamlane's new identity subtly uses a conceptual d and l to show growth.
Solution
In pure JPC fashion, we started at the beginning to fully get under the skin of durhamlane. Their ethos, their differentiators, their starting point and where they wanted and needed to go. Leaving no stone unturned we undertook our own independent research, hosted in-depth discovery sessions with key stakeholders, challenging their views to push durhamlane further. To understand their customers better as well as to identify with their challenges and pain points.
We assimilated all of our insights, research, competitor analysis, customer personas and workshops into key themes and ownable areas for durhamlane and to help drive rationale for a revitalised and energised vision, mission and externally expressed proposition.
We also examined the customer journey; evaluating the key marketing and sales touchpoints and how these aligned with durhamlane's 'North Star'. The reality was, they were not working hard enough for durhamlane. The tone and overall brand was positioning them as a humble enabler, when they actually had the vision, methodology, capability and proven track record of a true leader in their industry. These were critical differentiators we needed to help them draw out.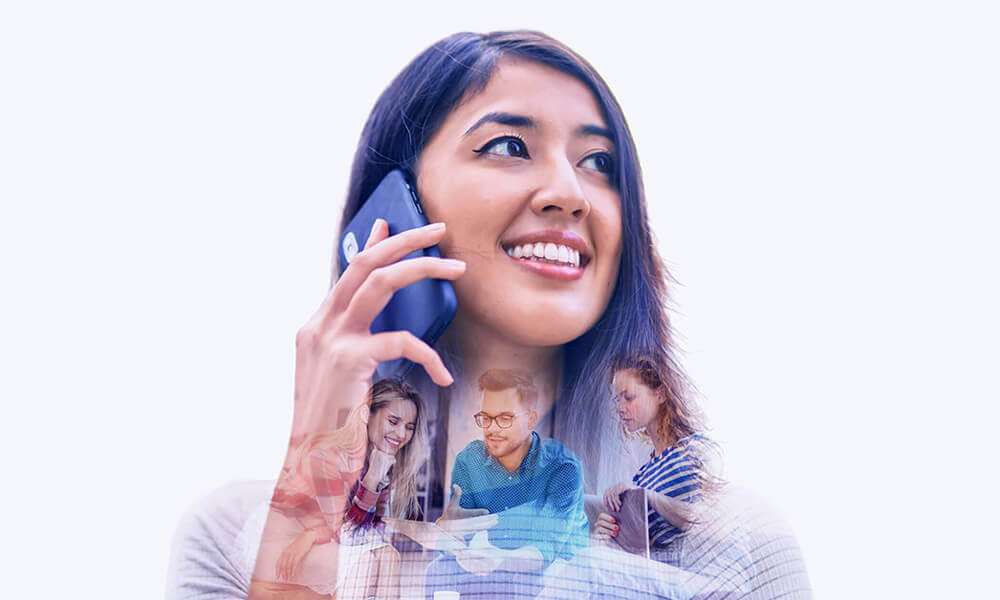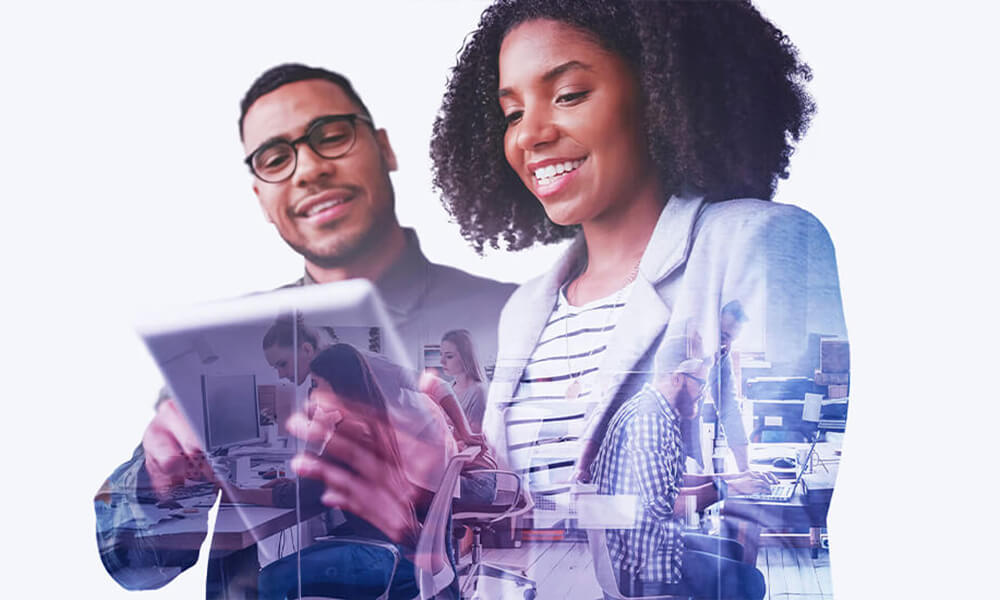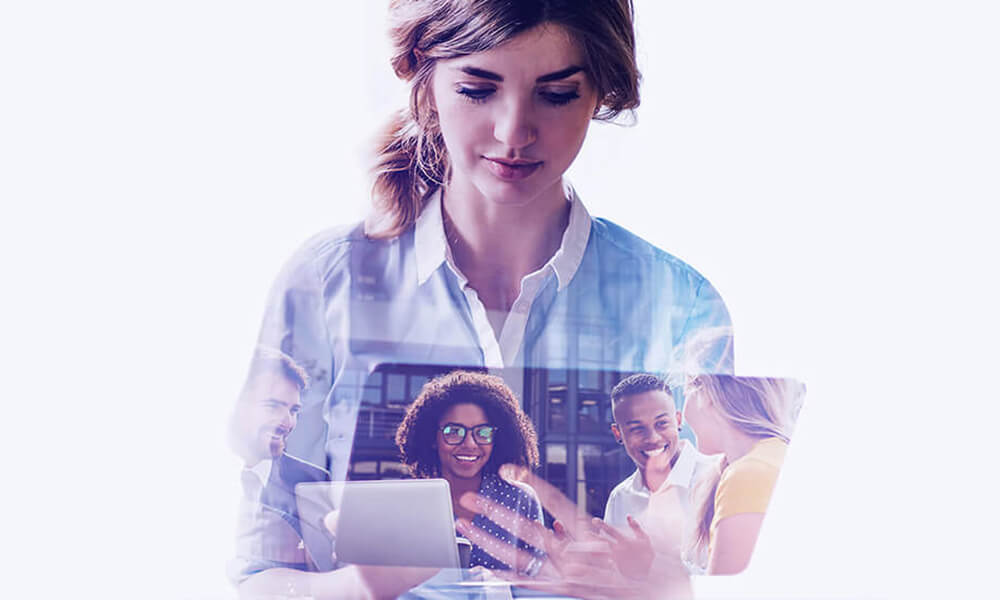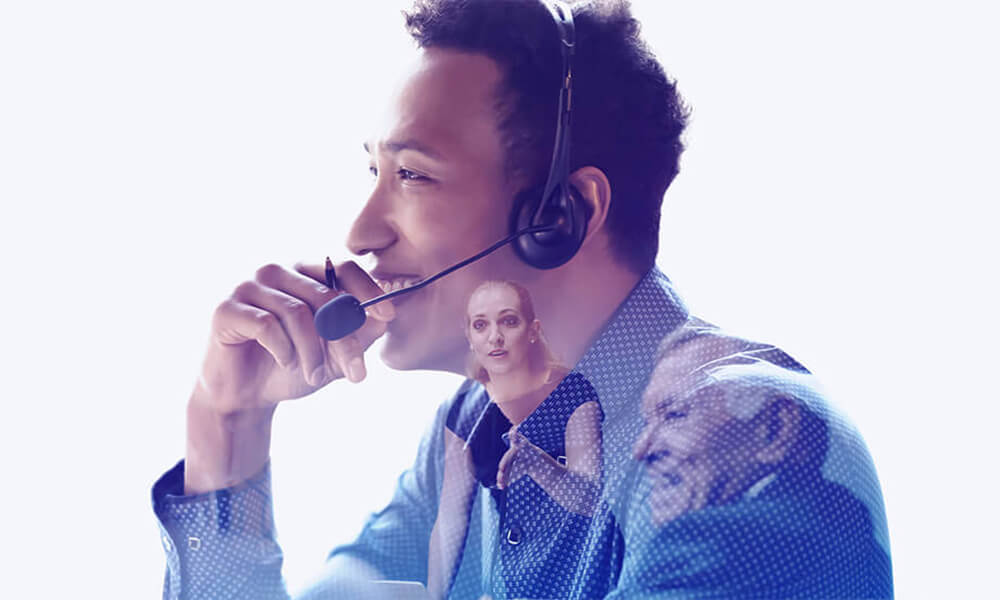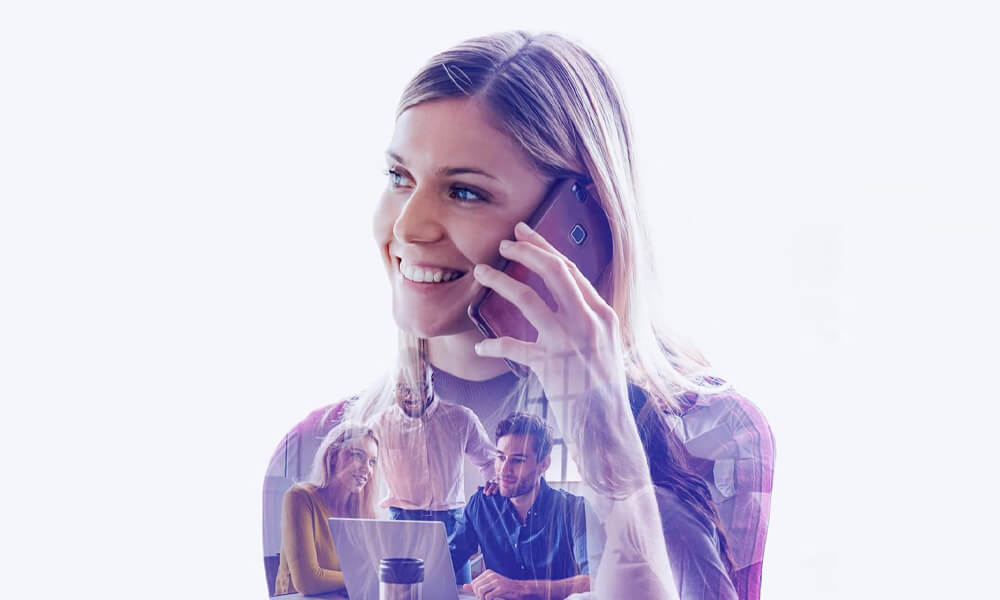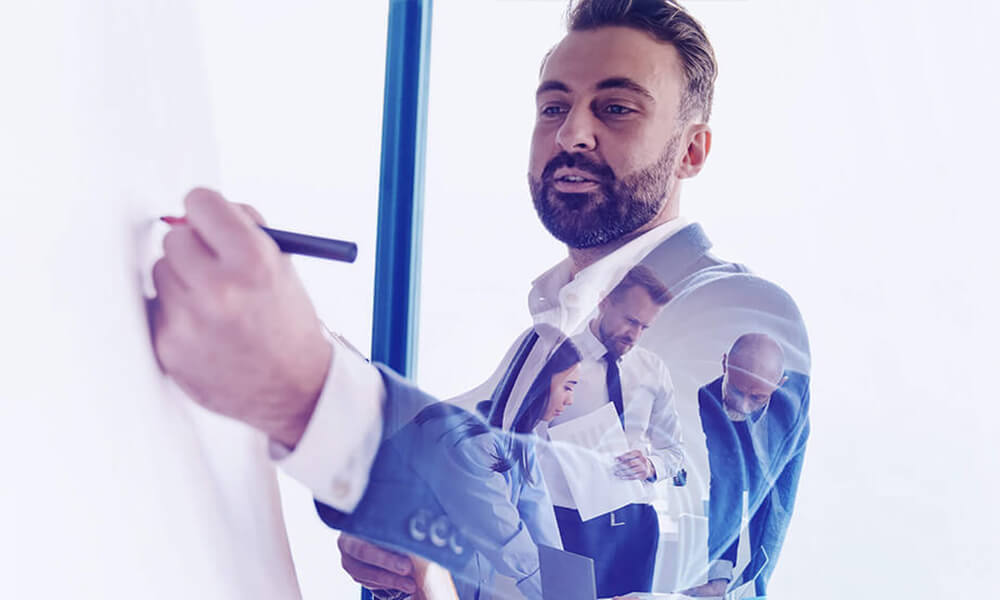 This was much more than a pure branding exercise. It was about instilling the belief, the purpose and the behaviours of an industry leader throughout every touchpoint of the business. We helped shape their vision to make it powerful, motivating and inspirational offering a far more future-proof and human message that every 'durhamlaner' could get behind. We also redeveloped their values, creating short, snappy values that every member of durhamlane can live by and articulate clearly and passionately. This was all wrapped up with a clear, innovative external proposition that really reinforced the idea of leadership and innovation.
With the messaging complete, we designed a slick, modern and intuitive brand identity to visually express the dynamic and progressive nature of durhamlane's new purpose.  From the logo, to the fonts, colour palette and unique image style, every brand element was single-mindedly focused on communicating drive, passion and acceleration. This was rolled out across sales presentations, corporate templates, core marketing and sales assets as well as a completely re-mapped, re-messaged and re-designed website; durhamlane.com before turning our attention to the internal guidelines and brand 'bible' that will help every current and future durhamlaner understand the brand essence and the critical role they can play as brand ambassadors and evangelists of the customer experience.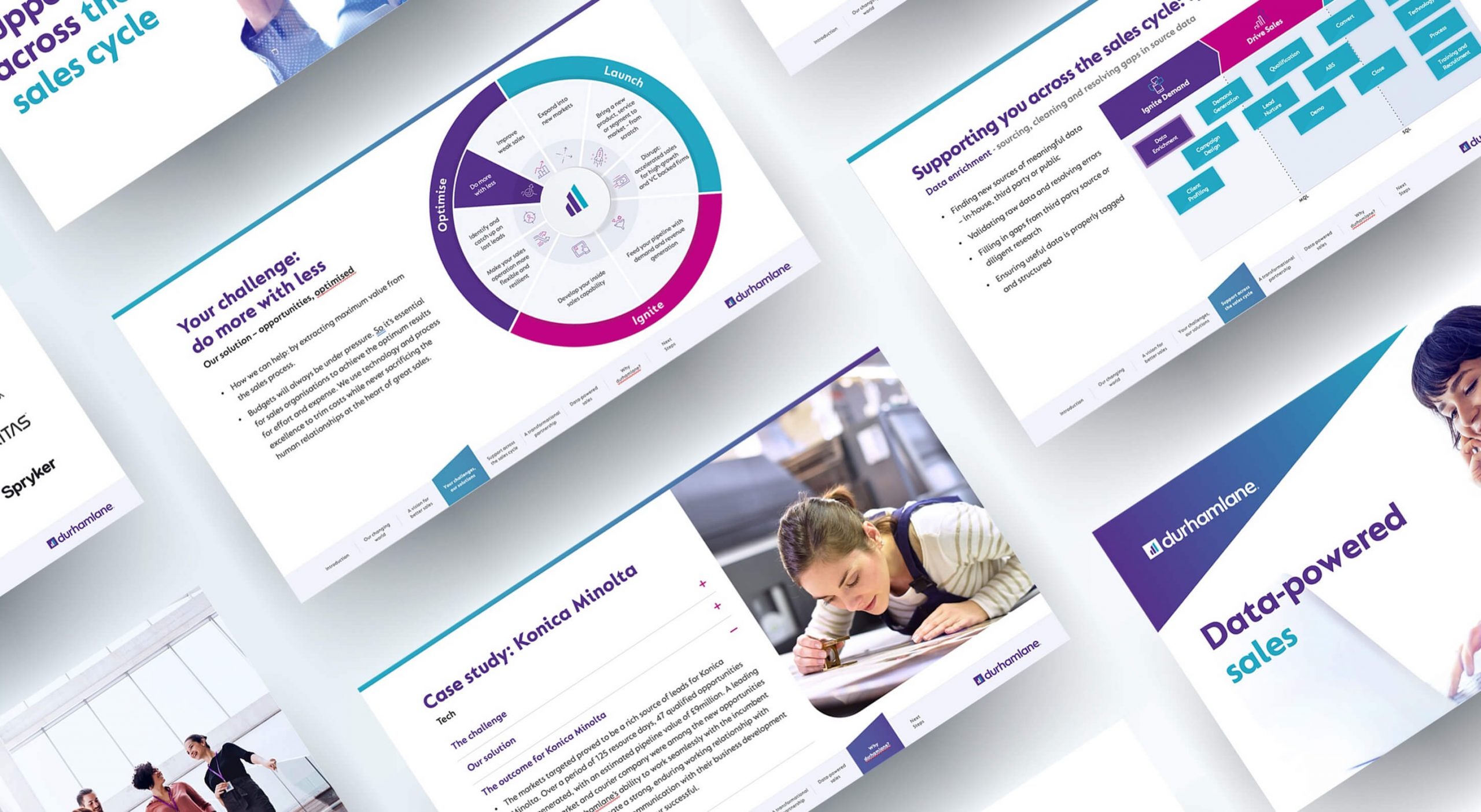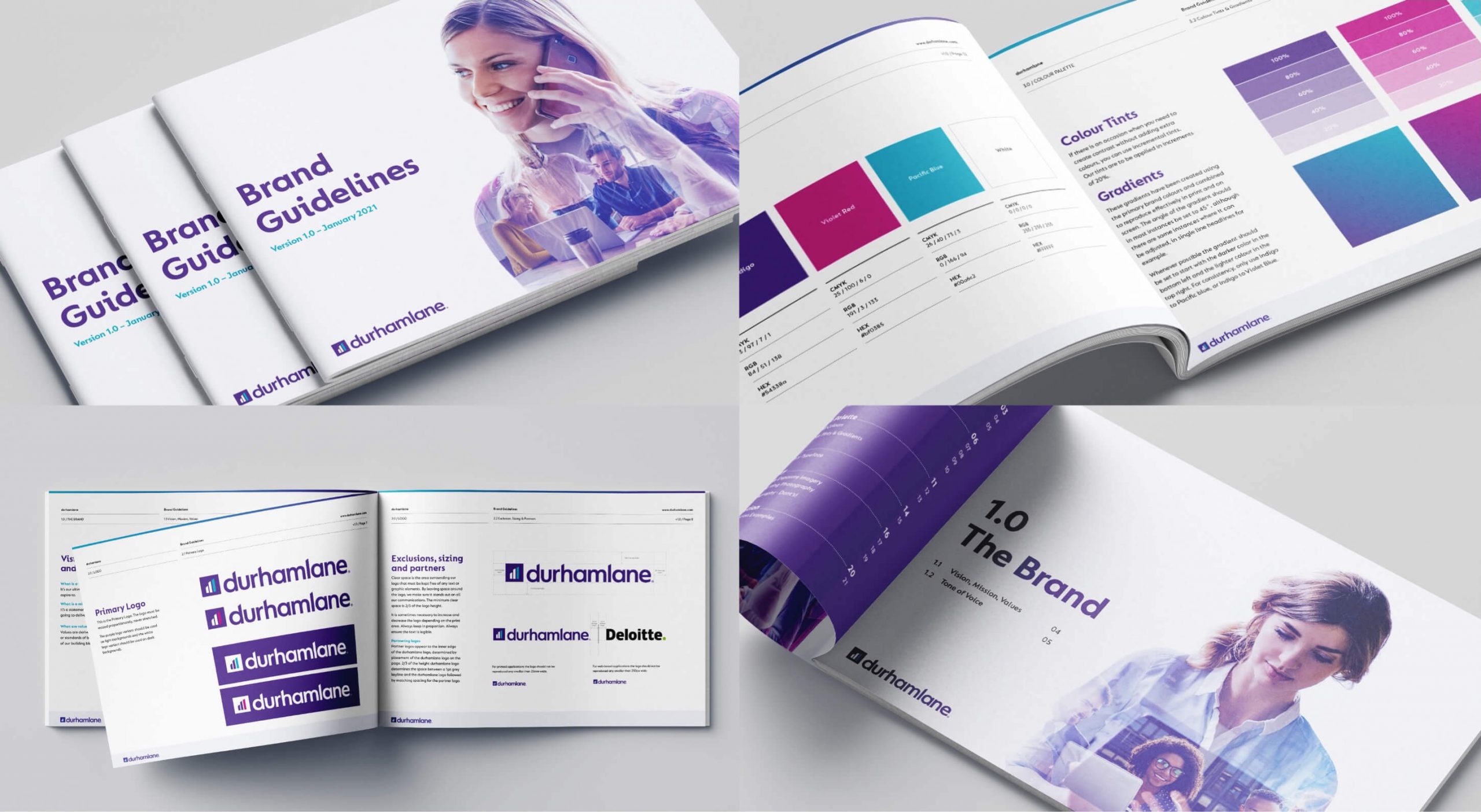 Outcomes
durhamlane now has a completely reinvigorated, dynamic, customer outcome-led brand proposition and identity that clearly articulates their offer and positions them as a strategic value partner; giving them much needed differentiation in a highly competitive and often very commoditised industry, while also giving them a strong platform to confidently reach out into new market sectors. They also have a compelling and authentic brand purpose, underpinned by action-orientated values at their core, which complements their 'Selling at a Higher Level' ethos and that is more focused on the needs of the audiences they are aiming to engage. 
The overall visual identity has been very positively received both internally and externally, providing a more modern and human expression of the brand, while also being far more representative of durhamlane's very passionate, personal and committed approach to its customers. The look creates a clean execution that is completely ownable and is very distinctly durhamlane. The website is also now more focused and streamlined around their key capabilities and growth areas while being more dynamic, adaptive and responsive both to audiences and devices. 
Since the launch of the new brand, durhamlane received some really positive feedback online, from customers and press alike. The launch reveal on LinkedIn received excellent traction with their external facing peers and customers, durhamlane said "After a period of growth, we wanted our brand to accurately reflect not only what we do, but who we are and what it means to work with 'the durhamlane difference'. We are a creative, tenacious and independent-minded team committed to supercharging sales for our B2B clients – and we believe our new brand tells you just that.".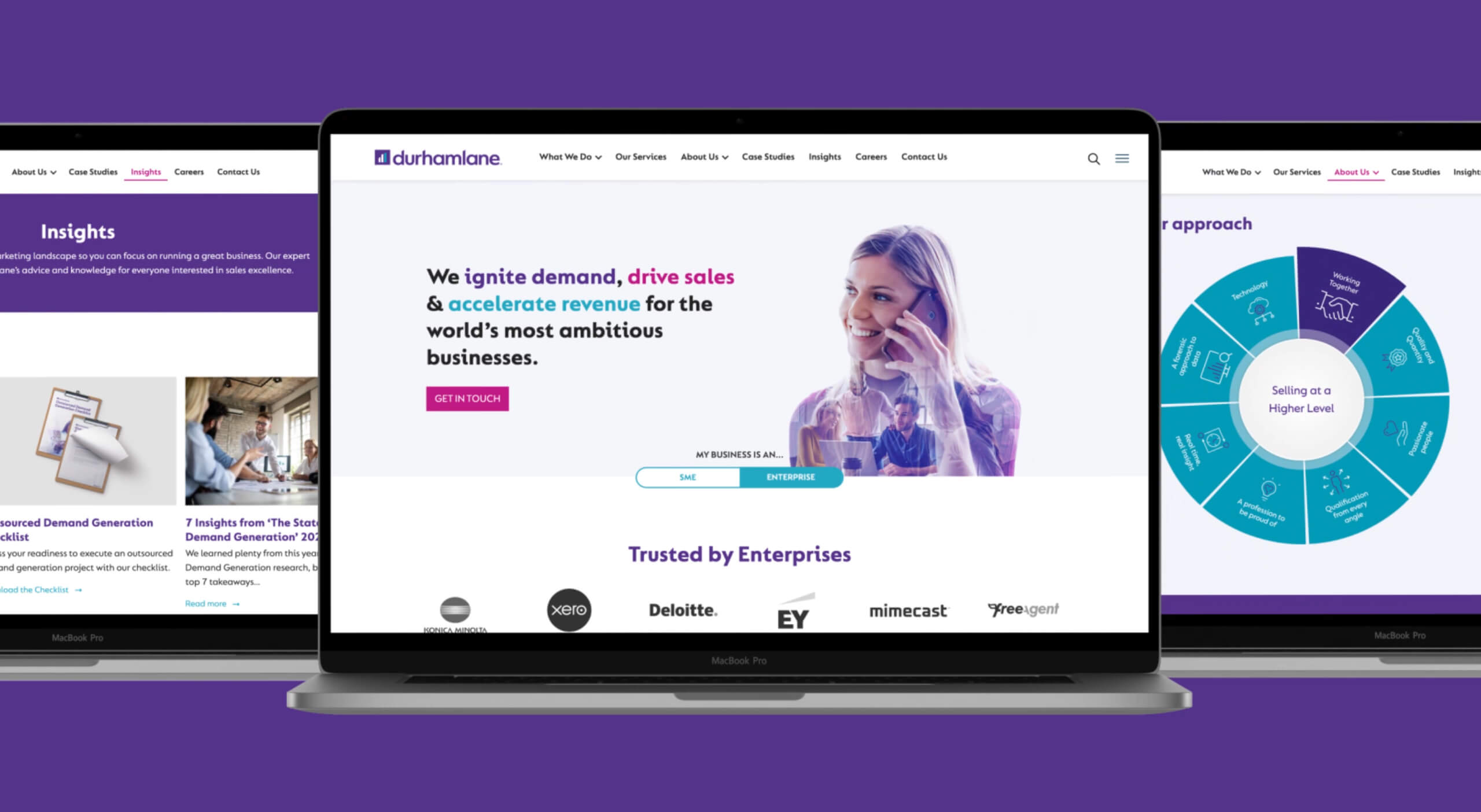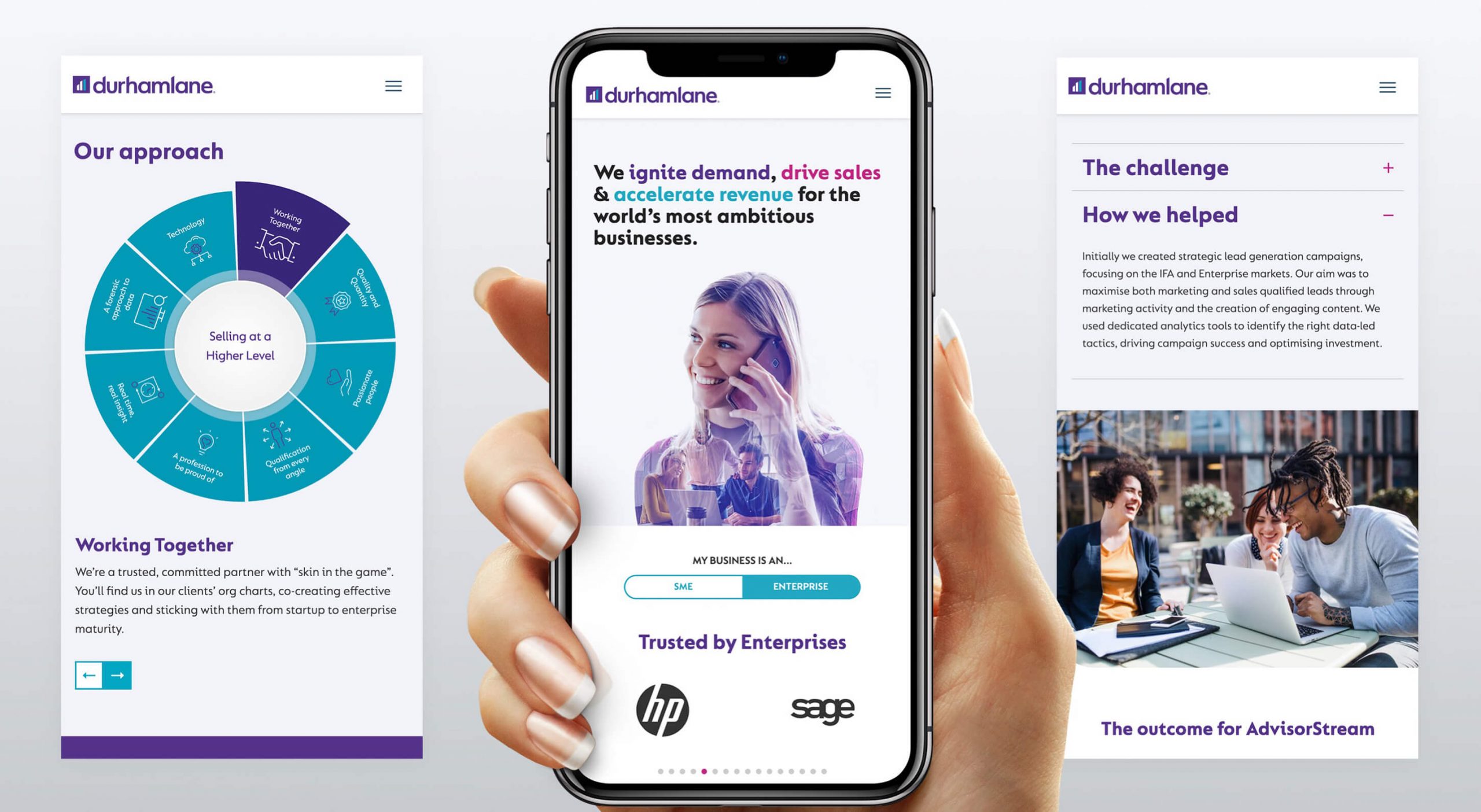 "We feel that we've been leading the way with aligned sales and marketing services for some time now. Our record growth would certainly indicate so. But now, with this introduction of a fresh look, new user-friendly website and clear messaging, we're very optimistic for the future."
– Co-Founder, durhamlane